Trending:
How to make sure the house is always clean: the secrets of experienced housewives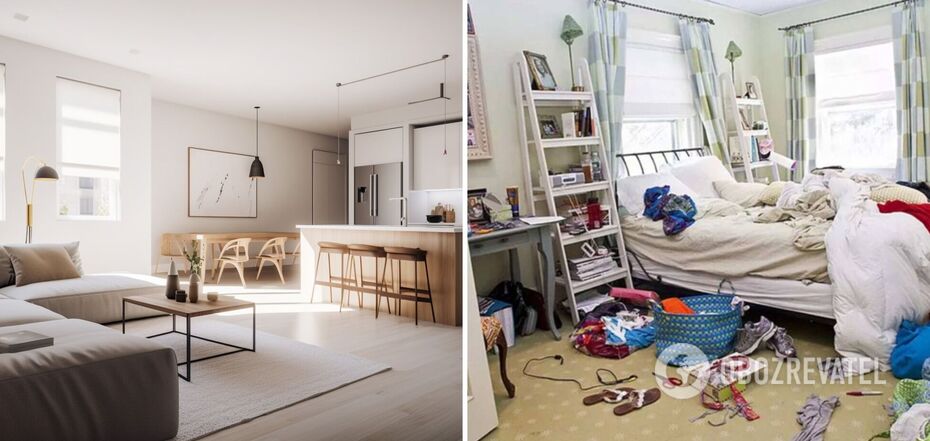 Stuff scattered around makes an apartment look untidy
To keep your home clean and tidy, you need to clean it regularly. But there is a difference between tidiness and cleanliness. You can wash dishes, wipe off dust, and shine surfaces, but scattered items, cups on the table, and toys on the floor will make a room look untidy.
Cleaning experts advise learning a few important tips to help keep your home clean at all times. ExPress tells us more.
Rule 1
You must learn to pay attention to details. Try not to throw clothes on the back of a chair at the end of the day, not to leave shoes on the doorstep, but immediately put them on a shelf, hang washed laundry in the closet immediately after it dries. These simple rules will make the house more tidy.
Rule 2
Weekly big weekend cleanings take a lot of time and effort. You can maintain cleanliness with small daily rituals:
Washing dishes immediately after meals
Wiping surfaces clean of dust daily.
Put things immediately on shelves or in the cupboard.
Rule 3
Get rid of unnecessary items. Do not accumulate a pile of old junk in the house. Don't clutter up the apartment with old worn-out clothes, broken devices, unnecessary accessories. The more free space - the cleaner the apartment seems.
Rule 4
Experts advise introducing a "recycling rule. Allocate a special box in which each member of the family will put things that are hardly used, but perhaps they will be needed someday.
And set a time - for example, 1-3 months. If you don't need it within that time frame, you should throw it away.
Rule 5
Make sure each item has its own place in a particular room. Make a shelf for cereals and spices in the kitchen, a drawer for linens in the bedroom, shelves for books and magazines in the living room, places for toys in the children's room. This way, your home will always look tidy.
Previously OBOZREVATEL told what things should never be stored in the kitchen.
Subscribe to OBOZREVATEL channels on Telegram and Viber to keep up with the latest events.