Trending:
How to clean your phone's speaker: simple life hacks that won't hurt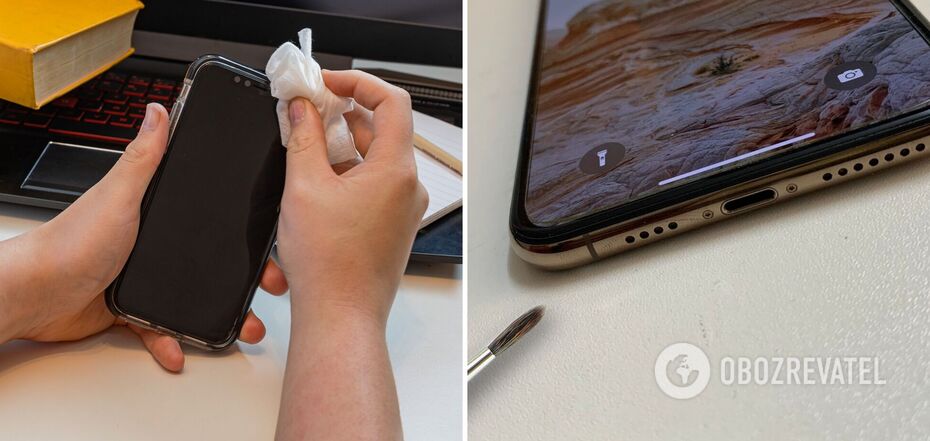 Clean the smartphone speaker carefully so as not to damage it
If you use your smartphone for a long time, it accumulates dust and dirt inside to some extent. And this can affect the quality of operation of individual components. For example, dust can impair the performance of the device's speaker.
However, you can clean it from dust. OBOZREVATEL tells you how to do it at home.
First of all, a gentle wipe with alcohol can help. To do this, treat the speaker mesh with a cotton swab slightly dipped in alcohol. Hydrogen peroxide may also work. The main condition is that the liquid wipes only the outer parts and does not get inside.
Dust can also be removed with something sticky, such as tape or gum. The adhesive substance should be applied to the speaker, pressed very lightly so that surface contaminants stick to it, and then removed immediately.
You can clean the holes in the mesh with a needle or toothbrush. But in this case, there is a danger of getting too deep into the device. This method should be used very, very carefully. It is better to use a soft brush.
Some users blow through the grille with a hairdryer. In this case, you need to choose the lowest power and cold air. It is better to choose compressed air in a cylinder.
The best option in this case is to use a special vacuum cleaner for appliances. It delicately collects dirt and does not damage the parts of the device.
If none of the above methods help, you should contact a service centre for assistance. They will disassemble the device and clean it from the inside.
Previously, OBOZREVATEL told you how to get rid of scratches on your smartphone.
Subscribe to OBOZREVATEL's Telegram and Viber channels to keep up with the latest news.