Trending:
How to clean a stainless steel fridge and microwave: stains will disappear in no time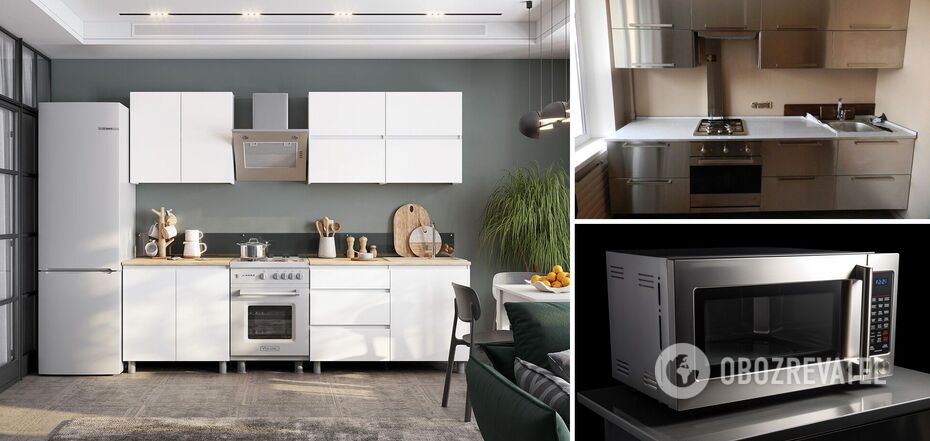 Stainless steel appliances
Stainless steel appliances such as microwaves, fridges, dishwashers and ovens have an elegant and modern look. However, the surface is also prone to stains and dirt.
With the help of eco-friendly ingredients, you can easily clean stainless surfaces to a high shine. Architectural Digest has revealed the details.
Simple life hacks
Hard water stains can be removed with a simple wipe, while frozen food and grease stains will require more drastic measures. Wipe the surfaces with a soft cloth to avoid scratches and unpleasant marks.
The simplest solution is a mixture of warm water and dishwashing gel. Finally, gently wipe off the dirt with a paper towel or microfibre cloth.
Vinegar and baking soda will help with stubborn dirt. Sprinkle some baking soda on the surface and then apply white vinegar. Gently wipe the stain with a soft cloth or paper towel and rinse with warm water.
Ron Shimek, president of Mr Appliance, suggests washing stainless surfaces with sparkling water.
Essential oils
According to Tim Conn, president and co-founder of Image One, a cleaning company, stainless steel treatment consists of two parts: the actual cleaning and polishing. Another unusual life hack is the use of essential oils. A mixture of coconut and lavender essential oils will help polish surfaces.
Plant-based detergent formulas instantly remove stains. In addition, essential oils are a natural antiseptic that effectively fights bacteria.
The oil not only acts as a protective coating, but also repels dust and stains, and can also mask small scratches.
A versatile product
For a simple cleaning solution, you need white vinegar, lemon juice and water. Ron Shimek has a step-by-step recipe.
Step 1. Fill a spray bottle with water and white vinegar in a 1:1 ratio. For a pleasant aroma, you can add a few drops of lemon juice or essential oils.
Step 2. Pour the solution onto the appliance or stainless steel worktop. Add a little baking soda and carefully remove stubborn dirt.
Step 3. Remove the remaining solution, moisten a microfibre cloth with water and apply a few drops of detergent. This additional step will remove acid residue from the vinegar.
Step 4. Polish the surfaces with olive oil. Use a small amount of olive oil on a microfibre cloth.
What not to use for cleaning surfaces
Do not use steel wool, detergent powders, ammonia or bleach for kitchen appliances - they can be too intense and damage the finish. Abrasive cleaners will only make the situation worse by leaving scratches.
Earlier, OBOZREVATEL told about the best ways to clean tiles in the bathroom and kitchen.
Subscribe to OBOZREVATEL's Telegram and Viber channels to keep up with the latest news.