Trending:
Hidden restaurants and financial police: 20+ facts about Italy that surprise tourists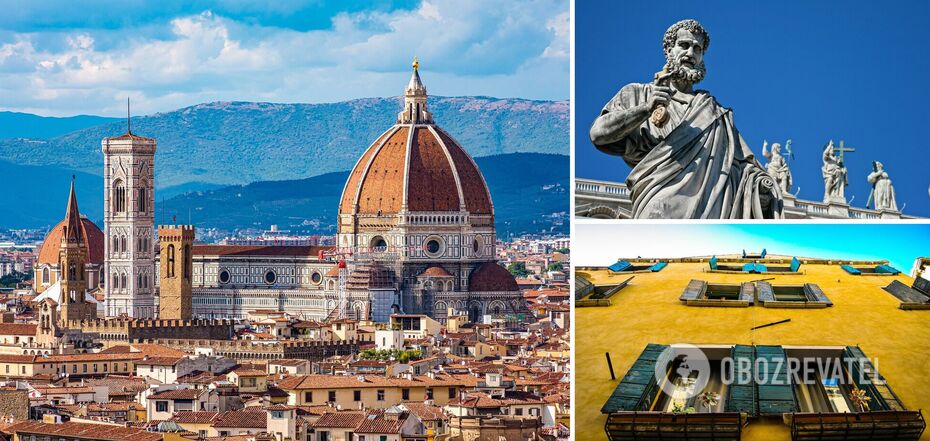 Interesting details of Italian life
There are probably not many people in the world who do not dream of visiting Italy. The ancient Colosseum, myth-shrouded Rome, romantic Venice and always pompous Florence. This makes the country of fashion and wine one of the most popular among tourists. But all of them are shocked at least for a moment when they come across things that are familiar to the locals. What are we talking about? Read in OBOZREVATEL's selection.
Some general information
Italy was named by the Greeks several centuries ago. It means "country of calves" because these animals used to be bred here on a large scale.
Italians consider themselves descendants of the ancient Romans. But historians are still arguing about this, because there is no exact confirmation or refutation of this.
Italians are a very talented and inventive people. That is why they are considered innovators in various fields. The oldest university in Europe, the University of Bologna, is located here, as well as the first bank known to mankind and the first pizzeria. In addition, the oldest film festival in the world, the Venice Film Festival, also comes from here.
Italians also value their freedom. This is probably why there are two independent dwarf states in the country - the Vatican City and San Marino. The latter, by the way, is considered the oldest republic in the world. It was here that the official constitution was first adopted.
Museums and attractions
Italy has collected 60% of the cultural heritage protected by UNESCO on its territory. We are talking about 53 monuments and about 3,000 museums.
Rome is home to perhaps the most unusual museum in the world, dedicated to a soul going to purgatory. Although, this is not surprising if we remember that the author of the legendary Divine Comedy, Dante Alighieri, was born in this region. By the way, the modern Italian language is actually a Florentine dialect, adopted after the publication of the aforementioned book.
Not far from Florence, in the city of Pistoia, there is another interesting museum where you can find everything about lying.
Italy is also famous for its fountains. Every day, tourists throw €3,000 in coins into the largest of them, the Trevi Fountain.
Hidden restaurants and a passion for pizza and pasta
"Blat" in Italy is one of the main concepts that has spread to the restaurant industry. There are many luxury dining establishments here that are impossible to get to without someone's recommendation.
Although there are also many cafes and restaurants accessible to tourists. However, we advise you to learn a few words of Italian, because if you order in English, you will have to pay twice as much. Many establishments even have two menus: for locals with moderate prices and for tourists with exorbitant prices.
In this country, you should definitely try at least one of the 2,000 types of pizza. They are baked in a wood-fired oven. By the way, it's bad form to add ketchup to this dish. People will definitely look at you strangely.
This rule also applies to local pasta. Interestingly, Italians eat it almost every day, and sometimes several times. On average, every resident of this country eats 25-30 kilograms of pasta per year.
However, they do not drink coffee with milk, such as cappuccino or latte, after 12 noon. And don't even try to find out why, the Italians don't know it themselves.
Financial police, "shortage" of juice and sour cream
Italians are well aware that you shouldn't throw away receipts as soon as you leave the store. It's not that it's a bad omen, but the financial police may stop you with the bags and give you a fine for not having a receipt.
Each product has its own "traditions" for buying here. For example, meat, fish and vegetables should be bought in small farm shops, and olive oil should be bought in the villages where it is produced.
Fruit juices are practically not consumed here. Therefore, it is very difficult to buy them. This also applies to ordinary sour cream.
However, in any store you will see a large selection of quality wine to suit every taste and budget. Italians are very fond of this drink and consume an average of 26 litres a year.
Some more interesting facts
In Italy, it is strictly forbidden to swim in the sea at night or even to be on the beaches at this time. The fine for this is one thousand euros. There are also a lot of nudists here, so find out the type of beach in advance, especially if you are with children.
Everyone is late in this country. There is not even an exact timetable for trains, buses and planes, only an approximate time is indicated.
There is no point in coming here in August. During this period, the air temperature becomes unbearably high, so all businesses and companies send their employees on holiday.
Also, Italians are not as friendly and open-minded as they are said to be. So don't expect everyone to smile at you. But don't take the locals' shouting as an insult either, it's just how they communicate.
Earlier, OBOZREVATEL told interesting facts about Peru that almost no one outside the country knows about.
Only verified information is available in our Obozrevatel Telegram channel and Viber. Do not fall for fakes!