Trending:
Crucifixion in the city center and a contest for the best effigy of Judas: unusual Easter traditions from around the world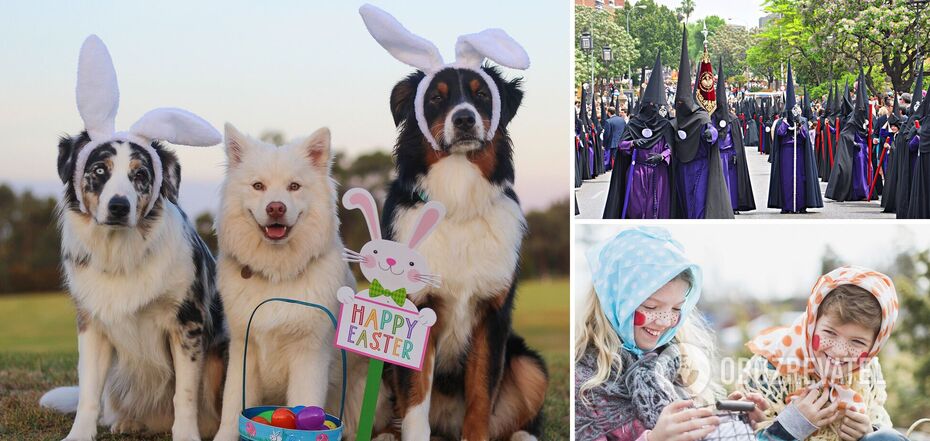 What to do on Easter in different countries
Collect a beautifully decorated basket, put a few Easter eggs in it, stock up on holy water, and, of course, after the service, have a feast. It seems that these traditions of the most important Christian holiday, Easter, are known all over the world. But it's not that simple. You have no idea what people do on this day in different countries. More about this in the selection by OBOZREVATEL.
Sweden
For this country, the main symbol of Easter is not some rabbit, but a real witch. However, she seems to be kind and does not wish people anything bad. So on this day, girls and boys wear long scarves, take brooms in their hands and go to their neighbors to congratulate everyone on the holiday and get sweets. In some ways it reminds us of American Halloween.
Denmark
In this country, they pay special attention to Easter. The preparations begin as early as Thursday, when it is almost impossible to find a single office that is open, everyone goes on the weekend. Breweries brew a special kind of beer for the holiday, and cans of this alcoholic beverage are decorated with images of chickens and lambs. Not surprisingly, after such a celebration Danes go back to work only on Tuesday. There are also many Easter symbols in Denmark, including a rooster, a rabbit and eggs.
Philippines
The people of this country are deeply devout Catholics, which has greatly influenced the way they celebrate Easter. On Good Friday, there is a rather brutal act in various cities in which male volunteers are nailed to crosses with real nails. It only lasts a few minutes, but it doesn't get any less creepy. It is done to remind people of the trials Jesus went through for people.
Poland
Have you ever heard of "smigus dyngus"? This traditional Easter pastime is still popular in various regions of Poland. Its meaning is quite simple: on the Monday after the holiday, hundreds of people gather on the streets and pour water on each other. So do not be surprised if a "water bomb" suddenly falls on you, so Poles wish you health and joy.
Spain
Here Easter is celebrated with all the Spanish enthusiasm. Seville is particularly distinguished in this respect. On Sunday, there is an hour-long ceremony during which various religious fraternities in ceremonial costumes and masks with decorated carriages walk through the streets of the city. Every year thousands of tourists come here just to see this event.
Brazil
Brazilians know how to throw a lavish party, so Easter is another occasion for almost festival-like action. On this day, various cities organize contests for the best Judas effigies, which are then burned in the city's central squares with singing and dancing. Afterwards, the people of this country go home to spend time with their loved ones.
Italy
Who would have thought that on such a holiday Italians would think of blowing something up. But these expressive people do just that. On Sunday in Florence, there is a festive procession in which white oxen pull a cart decorated with flowers across the city. When they reach the cathedral of Santa Maria del Fiore, the cart is set on fire and a fireworks show begins. This symbolizes a good harvest for the year round.
Earlier OBOZREVATEL wrote what surprises tourists with the life of the inhabitants of South Africa..
Only verified information in our Telegram-channel Obozrevatel and Viber. Do not be fooled by fakes!