Trending:
Bears and giant mosquitoes: 6 things to know before you go to Alaska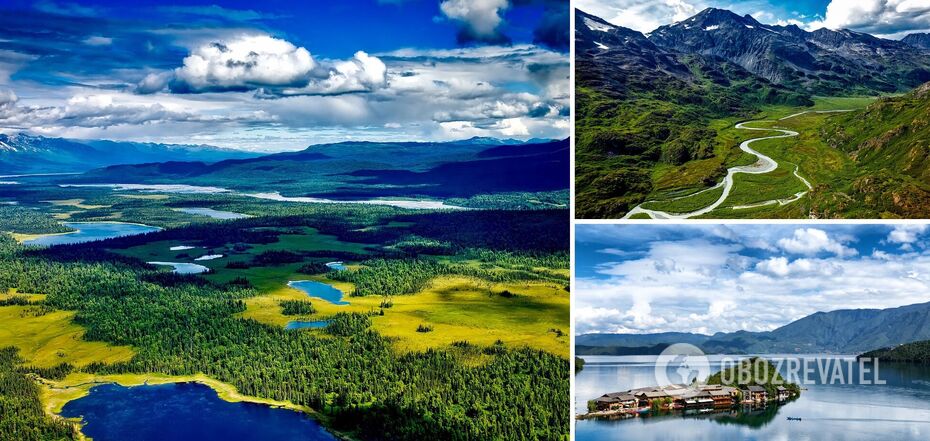 How to prepare for a trip to Alaska
Alaska has so many things with the prefix "most" that it's hard to list them all at once. It is the largest, coldest, and least populous state in the northern United States. Here, in the territory of almost three times Ukraine, just over 700,000 people live permanently. By comparison, the official population of Kyiv reaches 2.9 million people.
But tourists from all over the world still come here, and in the summer it's almost impossible to rent a house. It's no wonder because you won't find a nature like Alaska's anywhere else. However, before you set out to conquer the region, it is worth knowing a few important things.
Plan your trip ahead of time
This applies to vacations anywhere on the planet, but you might not make it to Alaska if you start preparing too late. The fact is that you'll have to work hard to get here.
First of all, you have to apply for a visa to the United States, and that's not an easy task. You need to gather a whole bunch of documents and have an interview to be allowed to stay in the country for a certain period of time.
You should book your accommodations at least 2-3 months in advance. There are very few hotels and camping areas in Alaska, so you run out of places at a breakneck speed.
Take care of transportation
Renting a car is a good way to explore new regions. But this is not the case in Alaska. Most of the state has no roads, so you might have to take a train or even a helicopter or plane.
Before your trip, do a thorough research of all the tourist routes, find out how you can get around your chosen part of the region, find phone numbers for local transportation services or arrange for a guide to help you set it all up.
Get your warm clothes ready
Summer in Alaska is more like a warm spring or fall. Even when the sun is out, cold winds can appear. And while daytime temperatures sometimes reach as much as 25 degrees above zero, at night the thermometer can drop to critical levels at any time.
Put warm clothes, comfortable shoes, a jacket against wind and rain, gloves and socks in your suitcase, you will need it on the road. But do not forget that you're not going to a famous resort, as all the bags will have to be carried yourself, sometimes for long distances. So do not take unnecessary things.
Also remember that almost none of the restaurants in Alaska have no dress code. As we have written before, the weather is very severe in this state, so in the restaurants you will see people who are dressed warmly and comfortably. You won't need heels here either, they are not made for the local roads.
Bring sunscreen and bug spray
Why would you take sunscreen on a trip through a cold, northern region? The answer is very simple. You will be out in the open air for most of the trip. In addition, much of Alaska is covered with mountains. So you should protect yourself from the negative effects of ultraviolet radiation.
As for the bug spray, we don't even need to explain here. You will see the biggest mosquitoes in your life here, so it is better to protect yourself from their bites.
Be prepared to meet a bear
On your morning run outside the store, in the middle of the road, in the park, at the gas station: bears can be seen anywhere in Alaska. Usually these animals react normally to people, but there is still a danger of attack.
So remember the algorithm of actions:
do not try to run away, this animal is faster than the most successful track and field athletes;
slowly, facing the bear, begin to move away to the shelter (if there is no such shelter nearby, just step away from the threat);
speak in a calm voice, so that the predator does not feel danger, do not shout and do not try to frighten him;
if possible, use bear spray;
If the attack is unavoidable, lie on the ground in the fetal position and cover your neck with your hands, it may save you.
Some wilderness instructors recommend fighting the animal off with sticks and rocks. But if you fail to defeat a predator that is bigger and stronger than you, it will definitely kill you. This is much riskier than trying to defend yourself.
Take care of your safety
Alaska has the highest crime rate in the United States. However, it is not the criminals who pose the greatest danger here, but nature itself. As you travel, you will often find yourself in places with no communications, no settlements, no clean drinking water, etc. In addition, there are many wild animals that can attack at any time.
Basic tips that can save your life:
use a satellite phone equipped with an SOS button;
inform in advance the acquaintances and trustees of the route of the trip with the approximate dates when you will be in touch;
be sure to sign in the visitor's log if you are going on a hike in one of the national parks and indicate the duration of the hike (they will start looking for you after the deadline has passed);
bring a water purifier, food supply, warm clothing and first aid kit;
do not forget the bear spray, there are a lot of them here and sometimes they are extremely aggressive;
if you want to reduce the risks you may encounter, hire a guide or contact one of the local travel companies.
And remember that careful preparation will help you enjoy your Alaskan vacation without any problems or obstacles.
Previously OBOZREVATEL told where to spend an unconventional vacation this summer.
Only verified information in our Telegram channel Obozrevatel and Viber. Do not be fooled by fakes!