Trending:
Banned video with Zelenskyy appears before 2022 World Cup final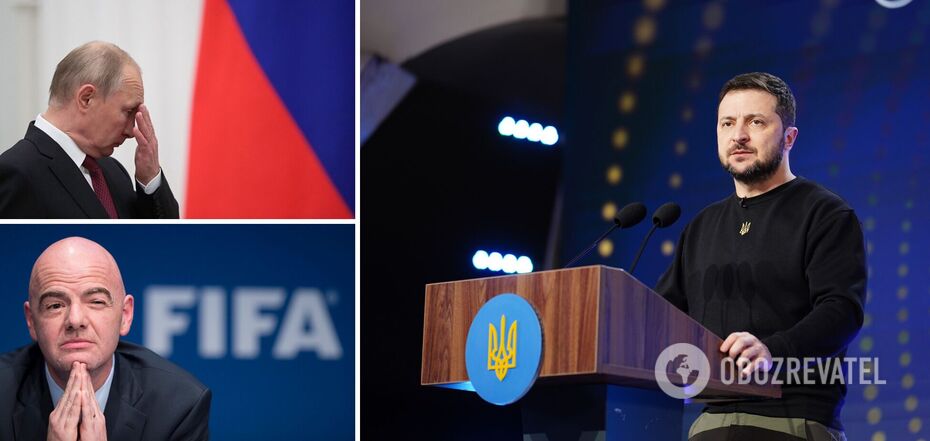 The video was to be shown before the Argentina vs France game
A video message from President of Ukraine Volodymyr Zelenskyy to be shown before the 2022 FIFA World Cup final has been posted online. The president's office sent a copy to the headquarters of the International Football Federation (FIFA) with a request to place the video at the Lusail Ikonik Stadium in Qatar before the Argentina-France match. FIFA refused.
OBOZREVATEL publishes the video itself, as well as its text translation.
"Warm greetings from Ukraine to all fans of football, the world and life. I congratulate the entire planet on the World Cup final. Today we will witness a common victory and triumph of the spirit. This World Cup has proved that different countries and nationalities can decide who is stronger in a fair game, not a game of fire, on a green pitch, not a red battlefield.
This is the dream of many people, when footballers compete, giving everyone the opportunity to enjoy the world. Every father around the world dreams of his son taking the pitch in a football match, and every mother wants her son to avoid going to war. Ukraine strives for peace like nothing else.
We offer a formula for peace. There is no champion in war, and there can be no draw. That is why I am announcing an initiative to hold a world summit on the formula for peace. A summit that aims to unite all nations around peace. After the match, the fans leave the stadium and it becomes empty. Cities become empty after a war in the same way.
This is why wars must be lost and peace must be won. As it is happening here in Qatar. A world championship, not a world war.
Please support Ukraine in its quest to restore peace. Join the peace formula summit and become a world champion. Let us witness the end of the war together. Glory to Ukraine! And happy Qatari day," he said in his address.
As OBOZREVATEL previously reported, the Office of the President of Ukraine criticised the International Football Federation (FIFA) for refusing to show a video address by Volodymyr Zelenskyy at the Lusail Stadium in Qatar on the eve of the 2022 World Cup final.
In the decisive match of the tournament at the Lusail Ikonik Stadium on Sunday, December 18, the national teams of Argentina and France will meet.
Only verified information in our Telegram channel Obozrevatel and in Viber. Do not be fooled by fakes!