Trending:
What to cook for Nativity Fast: top 5 Lenten dishes for every day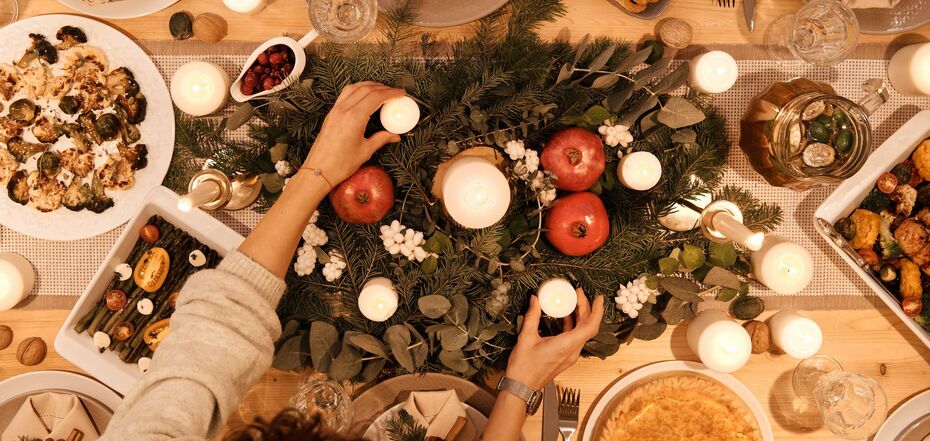 What foods can be eaten during fasting. Source: Pexels
The Nativity fast according to the New Julian calendar began on November 15. It will last until December 24. During it, believers abstain from eating animal products for spiritual and bodily purification before celebrating one of the biggest Christian holidays, Christmas. Therefore, it is worth taking care of the menu of permitted products during this period.
The FoodOboz editorial team has prepared a selection of 5 hearty dishes for every day that you can eat during the fast. The food is quite simple and affordable.
The idea of preparing a lean Olivier salad is published on the osoblyva.com cooking page on Instagram.
Ingredients:
onions - 2 pcs.
potatoes - 4 pcs.
canned peas - 1 can
carrots - 3 pcs.
mushrooms - 500 g
pickled cucumber - 2 pcs.
apple - 1 pc.
Ingredients for mayonnaise:
brine - 80 ml.
sugar - 5 g
vegetable oil - 200 ml.
salt - 2.5 g
grape vinegar - 5 ml.
Method of preparation:
1. Place the brine, sugar, salt and vinegar in the blender bowl. Whisk on medium speed for 2 minutes, pouring the oil in a thin stream. Transfer the mayonnaise to a jar and refrigerate for 2 hours to thicken.
2. Wash, cook, peel and chop the carrots and potatoes.
3. Peel, wash, and chop the onion finely and the mushrooms into slices. Fry them together in vegetable oil.
4. Dice the cucumbers and the apple.
5. Mix potatoes, carrots, and mushrooms with onions, peas, cucumbers and the apple in a salad bowl. Season with mayonnaise.
The idea of cooking lean cabbage rolls was published on the Instagram page of food blogger Liudmila with the nickname pani_gotuye.
Ingredients:
1 medium head of cabbage
1 kg of potatoes
3 medium onions
salt, pepper - to taste
oil for frying
Ingredients for the sauce:
a handful of dried wild mushrooms
1 tbsp of flour
salt, pepper - to taste
Method of preparation:
1. Soak the mushrooms in cold water for several hours. Then drain the water. Pour 1 liter of clean water over the mushrooms and cook for 20-30 minutes. Then drain the broth, but do not pour it out, let it cool.
2. Peel the potatoes. Set aside a quarter of them. Cover the rest with water and cook until tender, adding salt. Drain and let the potatoes cool.
3. Finely chop two onions and fry in vegetable oil until transparent.
4. Cut out the middle of the cabbage and put the head into a large pot of boiling water for 5 minutes to separate the leaves. Disassemble the cabbage into leaves. Cut off the thick part of each leaf.
5. Pass the boiled potatoes through a meat grinder. Grate raw potatoes separately on a fine grater and squeeze out the juice. Grate the remaining onion in the same way.
6. Combine raw potatoes with boiled potatoes. Add fried onions, salt and pepper and mix.
7. Put 1 tbsp of the filling on each cabbage leaf. Form the cabbage rolls and fry in a frying pan with vegetable oil until golden brown.
8. Then put the cabbage rolls in a baking dish. Cover the bottom of the baking dish with cabbage leaves. Cover the dish with foil and cook in the oven for 1 hour at 180 degrees.
9. For the sauce, dissolve the flour in 1/2 cup of mushroom broth. Pour the mixture into a preheated pan and stir over medium heat until thickened, adding the rest of the mushroom broth in portions. Season with salt and pepper. When the sauce thickens, turn off the heat. Add the finely chopped boiled mushrooms and stir again.
10. Serve the cabbage rolls with the mushroom sauce.
The idea of preparing a lean beetroot salad was published on the page of food blogger Liubov Prymak (lyubaprima_1) on Instagram.
Ingredients:
boiled beets - 3 pcs.
marinated herring - 250 g
canned green peas - 200 g
1 medium pickled onion
a bunch of herbs - dill and parsley
sunflower oil - 2-3 tbsp
salt, pepper - to taste
Method of preparation:
1. Cut the beets and herring into strips.
2. Cut onions and herbs randomly.
3. Combine all the ingredients and mix.
How to pickle onions:
sugar - 2.5 tbsp.
vinegar - 2 tbsp
boiled warm water - 200 ml.
The onions should be infused in this marinade for about 20 minutes. Drain through a colander.
The idea of preparing vegetable Ratatouille, which can be eaten during Lent, was published on the Instagram page of food blogger Oksana Matvieva (oksana_matvieieva).
Ingredients:
eggplants - 2 pcs.
zucchini - 1-2 pcs
tomatoes - 4-5 pcs
parsley - 2-3 sprigs
garlic - 1-2 cloves
olive oil - 3 tbsp
salt
ground pepper
a little hot pepper
Ingredients for tomato sauce:
tomatoes in their own juice (or ordinary tomatoes) - 300 g
onion - 1 pc
bell pepper - 1 pc
olive oil - 1-2 tbsp
cane sugar (or to taste) - 0.5 tsp
salt
ground pepper
Method of preparation:
1. Wash the eggplant and cut into thin slices, 2-3 mm thick.
2. Sprinkle with salt and leave for 20-30 minutes.
3. Rinse from salt and dry.
4. Wash, dry and cut the zucchini into the same shape as the eggplant.
5. Wash the tomatoes and cut into slices.
6. Prepare the tomato sauce.
7. Peel the onion and chop finely.
8. Wash the pepper, cut out the seed part and cut into small cubes.
9. Wash the tomatoes, make a cross-shaped incision on the stem, scald them with boiling water, peel and grind in a blender (or cut into cubes).
10. Put the onion in a pot or frying pan heated with oil, add a little salt and fry until soft.
11. Add pepper and fry for 5 minutes, stirring.
12. Add chopped tomato pulp, salt, pepper, and sugar and stir (you can add a tablespoon of tomato paste).
13. Simmer over low heat for 10-15 minutes, stirring occasionally (you can add chopped basil or parsley to the sauce). Put half of the tomato sauce in the bottom of the baking dish (leave the remaining sauce for serving). Add tomato, eggplant, zucchini and pepper, alternating.
14. Continue to add vegetables until the entire baking dish is filled.
15. Wash the hot pepper and cut it into small cubes.
16. Chop the parsley.
17. Peel the garlic and chop finely.
18. Combine parsley, pepper, and garlic and mix.
19. Season the ratatouille with salt, sprinkle with herbs, garlic and pepper, and drizzle with oil.
20. Cover the form with parchment paper and bake for 1 hour in a preheated 180-degree oven.
21. Let it brew and serve with the sauce.
The idea of making lean pies with apples was published on the Instagram page of food blogger Oleksandra Kozak (lichenko_a).
Ingredients for the dough:
1 cup of water
25 g of fresh yeast or 8 g of dry yeast
a pinch of salt
1-2 tbsp of sugar
500 g of flour
Method of preparation:
1. Dissolve the yeast, 1 tbsp of flour and sugar in slightly warm water. Leave in a warm place for 15 minutes.
2. Add salt, sugar, and oil.
3. Gradually (half a cup at a time) add flour and knead the dough.
4. The dough should be soft, but not stretchy.
5. Cover the bowl with plastic wrap and leave for an hour. Then knead the dough, divide it into 14 pieces or more if you want small pies.
6. For the filling, you can take apples, chopped and sprinkled with sugar.
7. You can also make a thick jam or a savory filling.
8. Make pies like dumplings, and then put them on a baking sheet covered with parchment with a seam-side down, leaving a little space between them. Set aside to rise for 10 minutes.
9. Bake in a preheated oven at 180 degrees for 20 minutes.
10. Ready pies can be greased with sugar syrup for shine.
Earlier, OBOZ.UA reported what you can and cannot eat during the fast