Trending:
The perfect dough for homemade eclairs: sharing the technology of preparation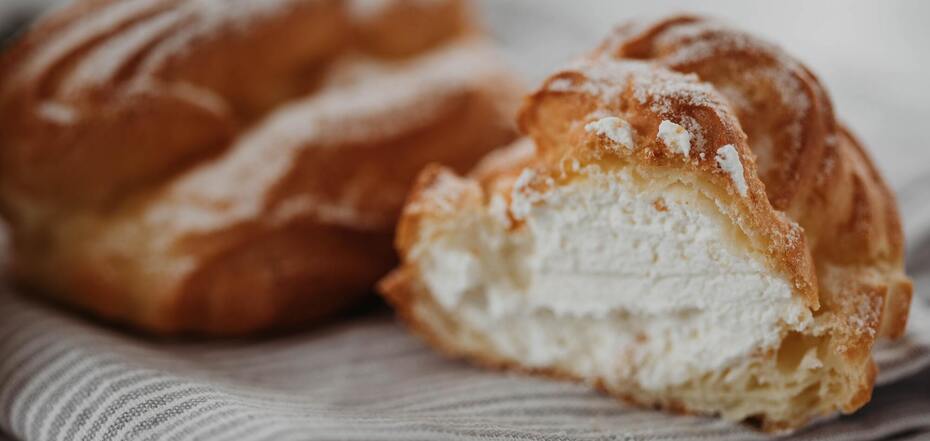 The most successful dough for eclairs
Delicious custard eclairs with cream are the perfect dessert for tea. Especially when made at home. You just need to make the dough correctly, so that it turns out tender and sticky.
The idea for making the perfect dough for homemade eclairs is posted on food blogger emiliya.yevtushenko's Instagram page.
Ingredients for custard dough for 10 to 12 pieces:
160 grams of water
80 grams of butter
1 pinch of salt
1 tsp. sugar
120 grams of flour
2-3 medium eggs
Ingredients for the cream:
500 ml milk
2 eggs
150 grams of sugar
2 tablespoons of flour
100 grams of butter
Method of preparation:
1. Combine the butter and water, put it in a saucepan, put it on the stove. We add sugar, salt. Turn the heat to medium and wait for the butter to melt and almost boil.
2. Remove the pan from the heat and add the flour. Knead well and return the pan to the fire to dry out the dough.
3. A white film of dough will appear on the bottom of the pan. After about 15-20 seconds.
4. Transfer the dough to a bowl and leave to cool;
5. Beat the eggs in a separate bowl, whisk and add in batches to the cooled dough. First add about 1 egg and knead with a spatula, as the consistency of the dough should not be too liquid. Then add some more egg mixture and knead well. We repeat this process until the mass becomes soft and does not fall easily from the whisk. The softer the dough becomes, the fewer eggs we add.
6. Transfer the dough to a pastry bag. It is advisable to have a pastry brush. Squeeze the eclairs onto a baking tray lined with parchment. Bake at 190 degrees for about 35 minutes.
7. Do not open the oven for the first 20 minutes. The eclairs should be brown. Just in case, pull out better 1 and see if it falls off.
8. For the cream, combine 2 eggs, mix lightly. Add sugar, mix. Add 2 tablespoons of flour and vanilla sugar.
9. Pour in the milk and send on the stove. Cook on medium heat, stirring constantly until it thickens.
10. Remove from the fire and let cool. You can cover with clingfilm. In the barely warm cream add the butter at room temperature. Knead well.
11. Fill the éclairs with the cream. Melt pulses of chocolate in the microwave and decorate the éclairs.
Also on OBOZREVATEL you can read the recipes: