Trending:
Strawberry panna cotta: an easy dessert without baking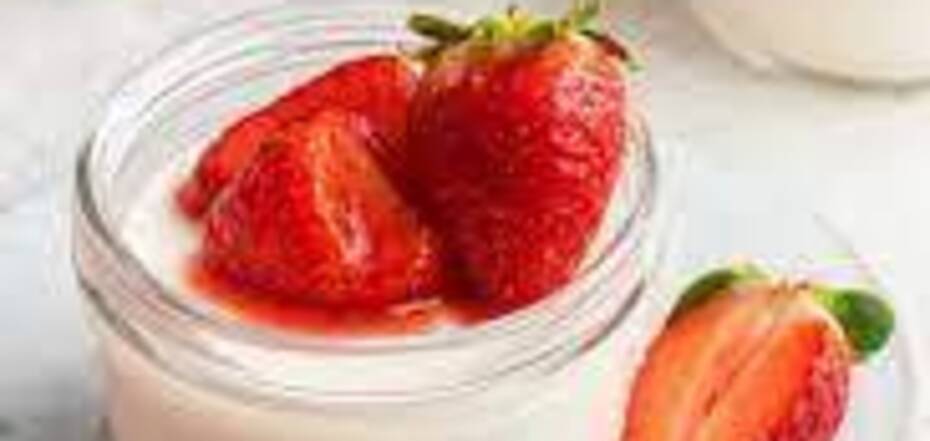 Strawberry pana cotta recipe. Source: dessertfortwo.com
Summer is a time for light fruit and berry desserts. Many of them don't even need to be baked. As an option, it can be pana cotta. The milk mass freezes perfectly in the refrigerator. You can put strawberries on top.
The idea of making creamy pana cotta with strawberry sauce was published on the Instagram page of food blogger Anastasia Zhakulina (anastasia_zhakulina). The prepared milk mass is simply poured into molds and refrigerated.
Ingredients:
cream 20% - 200 ml
milk - 50 ml
sugar - 40 g
vanilla sugar - 10 g
gelatin - 5 g (this is 1 tsp)
cold water - 40 g
strawberries - 200 g
sugar - 25 g
Method of preparation:
1. Dilute gelatin in cold water and leave for 10 minutes.
2. Combine milk and cream in a heavy-bottomed saucepan. Add sugar and vanilla.
3. Bring the milk mixture to a boil over medium heat, but do not boil (stirring constantly), then remove from heat.
4. Add the swollen gelatin to the milk mixture and mix very well until completely dissolved.
5. Pour into silicone or glass molds and leave in the refrigerator for at least 3 hours.
6. Combine strawberries and sugar in a saucepan for sauce and boil for a few minutes.
7. Remove the finished pana cotta from the mold by lifting the edges with a knife and immersing the mold in hot water for a few seconds.
8. Serve with hot strawberry sauce.
You can also find more recipes on OBOZREVATEL: