Trending:
Simple and delicious potato omelet for every day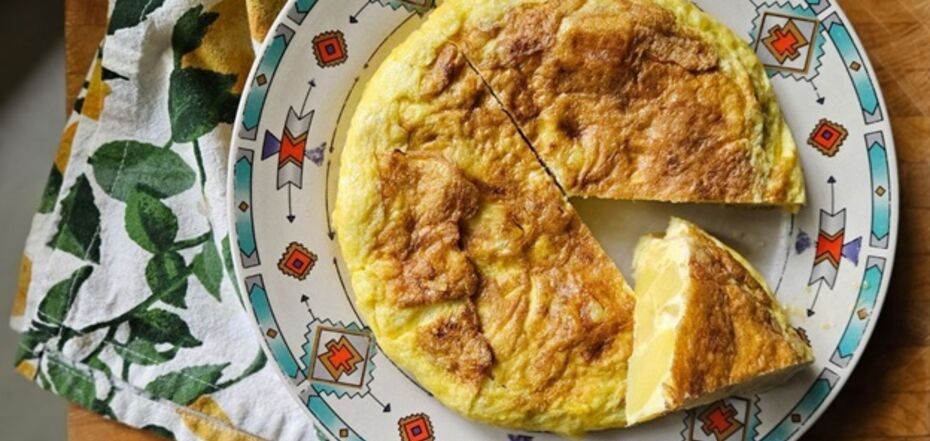 Simple and delicious potato omelet for every day
The Spanish are very fond of their national potato tortilla. It is served both hot and cold, as a side dish, appetizer, main course, for breakfast, lunch and even as an aperitif with a glass of wine. What is the secret? We believe that it is in the simplicity, accessibility and delicacy of the flavor.
There are many variants of tortilla preparation, we share what our country likes.
Portions: 4
Cooking time: 45 min
Ingredients:
- 6 eggs
- 3 medium potatoes (preferably yellow)
- small chicken
- ½ tbsp. olive oil
- salt
- clove of chives (optional)
1. Prepare the ingredients. Cut the potatoes into large cubes and add small chopped onions. I recommend yellow, not black or white potatoes. It will be sweet and not dry. Saute the vegetables with a large amount of olive oil (100 ml) on medium heat until cooked through. It will take approximately 10-12 minutes. It is important that the vegetables not burn.
2. Beat 6 eggs. Add vegetables and mix. I often use the ratio of 2 eggs per 1 medium potato. According to this formula, you can adjust the recipe. Saute everything and return it all together to the oven.
3. Fry the tortilla under the lid on low heat for about 10 minutes. The frying pan must be a non-stick one so that nothing sticks or burns underneath.
4. Take another frying pan and turn the tortillas over onto it with the raw side down. Use a spatula to form a round shape, if the eggs are too runny. Fry for another 5 minutes. Interestingly, the Spaniards love this passion so much that in many countries there is a special pan for cooking it: two identical pans with a hook that clamps them together to make turning over as easy as possible. It is ready! Treat your loved ones at home, wrap it up for school or take it with you to work.
Tasty!