Trending:
Risotto with porcini mushrooms for dinner that is tastier than pilaf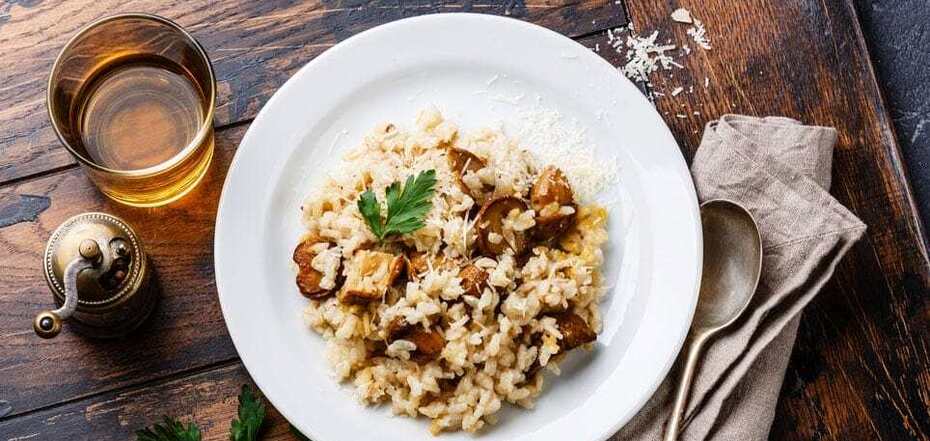 How to cook risotto with porcini mushrooms. Source: nonnabox.com
When the smell of mushrooms is in the air, it means that fall has arrived. This product is best used to make risotto. The dish turns out to be very juicy and satisfying, which is perfect for lunch.
The idea of cooking risotto with porcini mushrooms is published on the tastystories.feed culinary page on Instagram. Wine adds a special flavor.
Ingredients:
dried porcini mushrooms - 100 g
mushrooms - 2 pcs (you can take any)
onion - 1 pc
garlic - 1 clove
meat broth - 400 ml
wine - 250 ml
water from mushrooms - 2 scoops
butter - 20 g
Parmesan cheese - 100 g
rice for risotto - 150 g
Method of preparation:
1. Pour boiling water over the dried mushrooms for 15 minutes (do not drain the water).
2. Chop half of the mushrooms. Cut the other half into large pieces.
3. Chop onion and garlic.
4. Separate the dried mushrooms and cut them into small and larger pieces.
5. Fry onion and garlic in butter in a non-stick frying pan.
6. Add the soaked porcini and all other mushrooms.
7. Fry until golden brown.
8. Add rice, stir and fry for 1 minute to absorb the flavor.
9. Add 2 ladles of water from the mushrooms.
10. Add white wine and salt and wait 5 minutes for the alcohol to evaporate.
11. Add half the broth, cover and wait until the rice absorbs all the liquid.
12. If the rice still tastes hard, add more broth and cook until tender.
13. Add 50 g of Parmesan cheese and stir.
14. Serve in a bowl and sprinkle with more parmesan.
You can also find more recipes on OBOZREVATEL: