Trending:
How to fry chanterelles so that they do not lose their flavor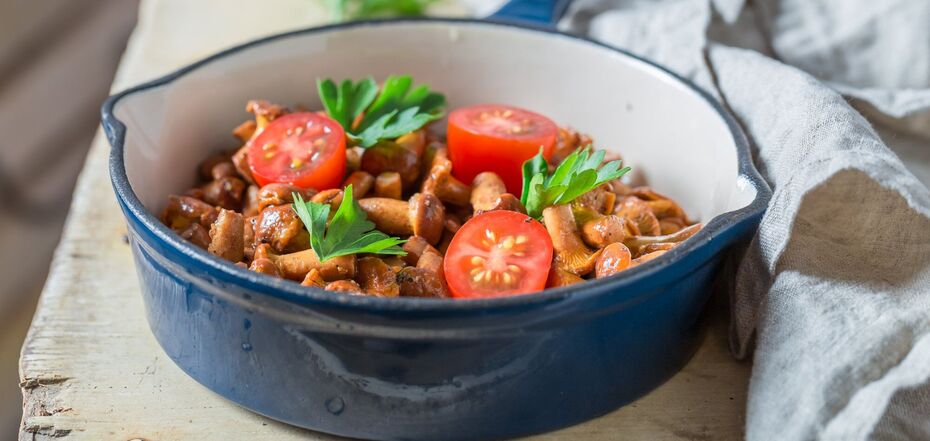 Fried chanterelles. Source: depositphotos.com
Chanterelles are quite useful mushrooms that include a large number of vitamins. They can be fried and eaten on their own, served with garnish or added to the first and second dishes.
Chef Oleksandr Horodnyk (o_gorodnik) on his Instagram page shared a recipe for fried chanterelles that do not lose their flavor and shape.
Ingredients:
chanterelles
onion
garlic
parsley
salt, pepper
butter
Method of preparation:
1. Heat a pan to the so-called smoky state.
2. Pour vegetable oil and put washed mushrooms.
Tip: you do not need to add too much mushrooms, otherwise the juice will come out and they start to boil. It is enough to lay out an even layer and do not stir for 1-1,5 minutes.
3. When 1.5 minutes have passed, the mushrooms need to be stirred. There should be a nice browned crust. Pour the mushrooms onto a plate.
Tip: chanterelles do not need to be fried for a long time, 2-3 minutes is enough.
4. Chop and fry the onion until golden.
5. Add garlic and butter to the onions. Fry for 30 seconds and add the mushrooms and chopped parsley. Salt and pepper again.
6. Place the finished dish in a container and store in the refrigerator for up to 7 days. Mushrooms can be also added to soup, pasta, sauce and eaten on their own.
Earlier OBOZREVATEL reported how to cook stewed eggplant so it tastes like mushrooms.