Trending:
How to cook pumpkin porridge deliciously: a recipe in a multicooker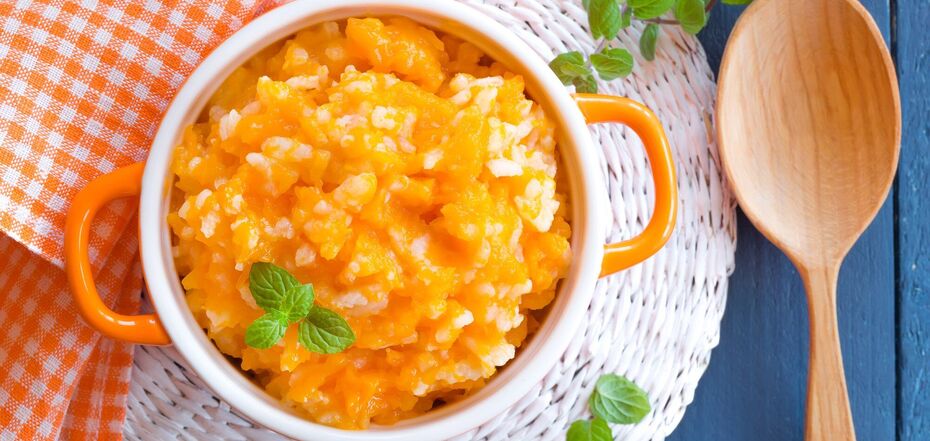 Pumpkin porridge in a multicooker. Source: depositphotos.com
Pumpkinporridge isone of the best autumn pumpkin dishes. It can be cooked with water or milk, supplemented with cereals such as millet or rice, as well as dried or fresh fruit. At the same time, you can cook the dish in a saucepan or in a multicooker.
One of the culinary blogs(zefirok_recipes) on Instagram published a recipe for pumpkin porridge with millet in a multicooker.
Ingredients:
millet - 200 g
water - 250 ml
milk - 500 ml
pumpkin - 500 g
sugar - 2 tbsp
butter - 25 g
cranberries, dried apricots, raisins
salt
cinnamon
Method of preparation:
1. First, you need to prepare the millet, namely, pour hot water over it and leave it for 5 minutes. After that, rinse the cereal with cold water until it is transparent. This is necessary to avoid bitterness in the finished dish.
2. Next, peel and seed the pumpkin and cut it into cubes. Put it in a multicooker bowl greased with oil.
3. Add millet to the pumpkin, cover with water and milk, add sugar and salt. Turn on the program for cooking milk porridge, for example, "Rice". Cook the porridge for 20 minutes.
4. Add the washed dried fruit, cinnamon, and butter to the cooked porridge. Enjoy your meal!
You can also find more recipes on OBOZREVATEL: