Trending:
How to cook delicious liver pate to avoid bitterness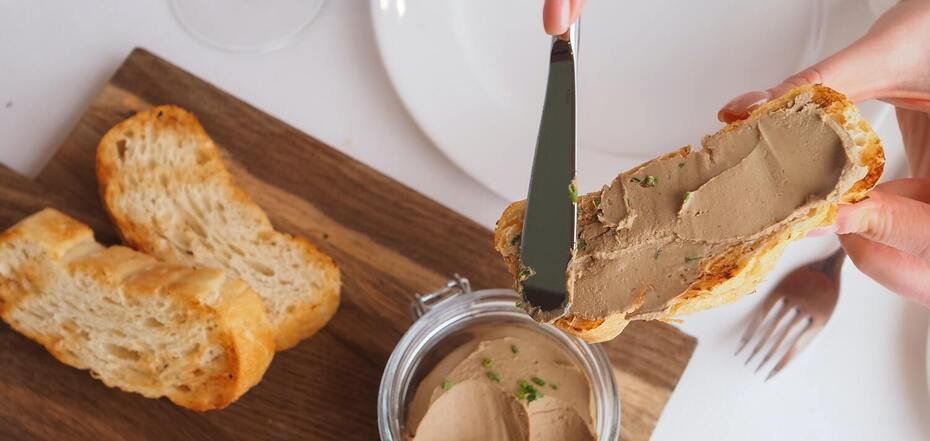 Liver pate . Source: pexels.com
If you want to make a delicious and simple appetizer, liver pate is the perfect option. You can serve it simply on a plate or make a roll. The liver will not be bitter if you follow some tips.
The idea of making tender liver pate with spices was published on the Instagram page of food blogger Oksana Kretsul (oksana_kretsul). Soak the meat in milk before cooking.
Ingredients:
chicken liver - 630-650 grams (raw)
carrots - 400 grams
white onion - 500 grams
butter (82.5%) - 1/2 pack (90 grams) + a little for the roll
spices: salt, pepper, sweet paprika (3-4 spoons inside + outside)
milk (for soaking the liver)
Method of preparation:
1. Rinse the liver under running water and soak in milk for 1 hour.
2. Boil the liver (without salt) for no more than 15 minutes so that it does not become hard. You can check the readiness with a knife.
3. Cool the liver.
4. Cut onions into half rings and fry in olive oil. Add finely chopped or grated carrots. Add all the spices and salt.
5. Cover the carrots and onions with a lid and simmer until the carrots are soft. At the end, you can remove the lid and brown it a little.
6. Allow the vegetables to cool.
7. Remove veins from the liver, add it with carrots and onions to a blender, and beat until smooth.
8. Add soft butter and beat again.
9. Put the pate into small molds and sprinkle with sweet paprika. Leave it in the refrigerator for several hours.
10. You can make a roll too. Put the pate on a greased parchment, add butter, and roll it up. Let it sit in the refrigerator overnight. Sprinkle with sweet paprika or sesame seeds before serving.
You can also find more recipes on OBOZREVATEL: