Trending:
How they prepare scrambled eggs in Turkey: with yogurt and sesame seeds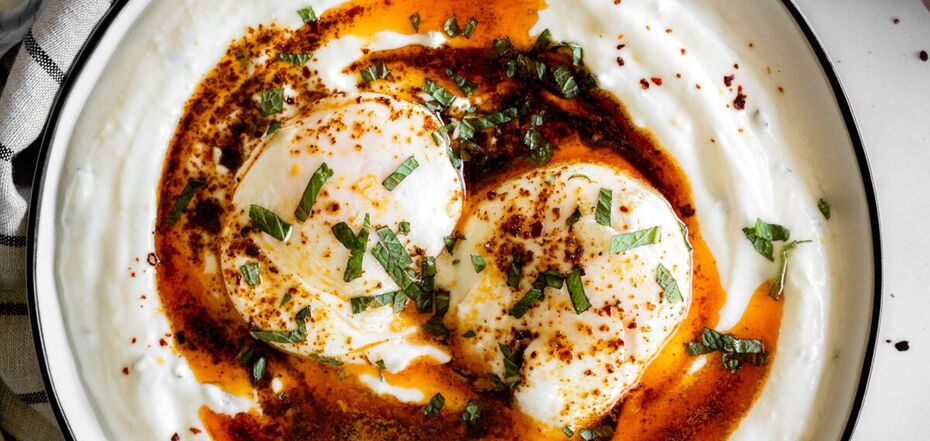 Turkish-style scrambled eggs recipe. Source: forksandfoliage.com
Scrambled eggs in Turkey are a very spectacular and exquisite dish. They should be served poached, placed on a yogurt bed, with fragrant golden butter on top. They turn out very hearty and aesthetically pleasing.
The idea for making Turkish-style scrambled eggs is featured on the Instagram page of food blogger Victoria Popin(picantecooking). All the ingredients are very simple.
Ingredients:
4 poached eggs
300 grams thick natural yogurt 10%
salt to taste
2 tbsp. sesame seeds (brown them in a dry pan)
pepper
Ingredients for the aromatic oil:
80 grams of butter
2 tsp chili pepper flakes
2 cloves of garlic (squeeze)
Cooking method:
1. In a small saucepan, melt butter over low heat.
2.Add the garlic and sauté until the garlic flavor no longer has a strong pungency.
3. Stir in the chili peppers and cook everything together for another 1-2 minutes.
4.The aroma of the chili peppers should be slightly nutty, and the color very intense.
5. Spoon the yogurt mixed with salt into small, deep plates
6. Place the hot poached eggs on top.
7. Drizzle the poached eggs with the yogurt and the flavored butter.
8. Season with salt and pepper to taste and sprinkle with sesame seeds.
Also on OBOZ.UA you can familiarize yourself with recipes: