Trending:
You've been dusting the wrong way! A simple trick that will significantly improve your cleaning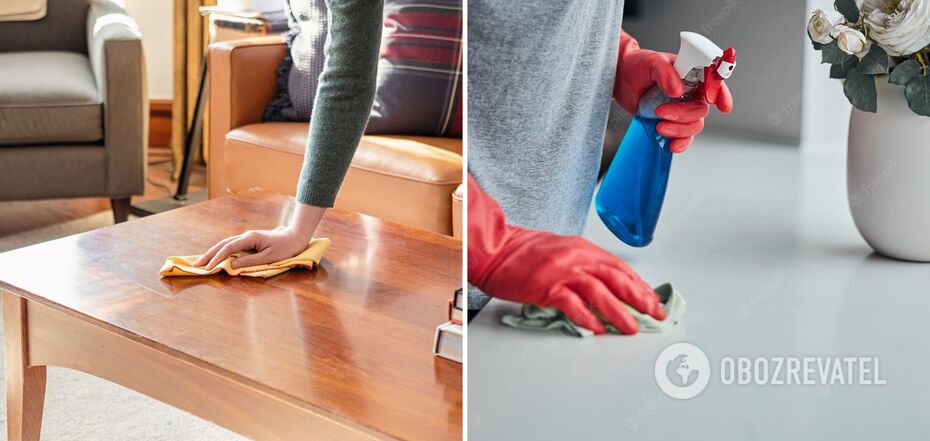 Wet cleaning is a bad idea when it comes to dust
Dusting can be a real punishment, because the rag picks up some of the dirt in the air, and no matter how long you hold it, it will settle back down. That's why many people moisten the cloth with water or moisten it with a dust remover. It turns out that this is a bad idea. Bloggers have told us how to wipe dust properly.
A useful life hack was shown by cleaning experts Purdy and Figg, who have a TikTok channel with simple but effective tips for more than 220,000 subscribers. To watch the video, please watch the news to the end.
It turns out that moisture only hinders effective dust removal. In the video, the bloggers specially wipe the tank of a white toilet with a wet cloth to make the results more revealing - there is a lot of dust left on the surface, which simply clumps together.
Expert advice is that before wet cleaning, dust should be collected with a dry microfibre cloth. Since it is a lint-free material, it does not leave behind any unnecessary traces, and small particles, along with dust mites, stick to it.
In the comments, one of the viewers of the video joked that you can also use a vacuum cleaner for this purpose. "That works great, too!" replied Purdy and Figg.
Earlier, OBOZREVATEL told how to make a spray that will remove dust, slow down its settling, and kill harmful dust mites.
Subscribe to OBOZREVATEL's Telegram and Viber channels to keep up with the latest news.