Trending:
What to clean the floor to make it shine clean: effective remedies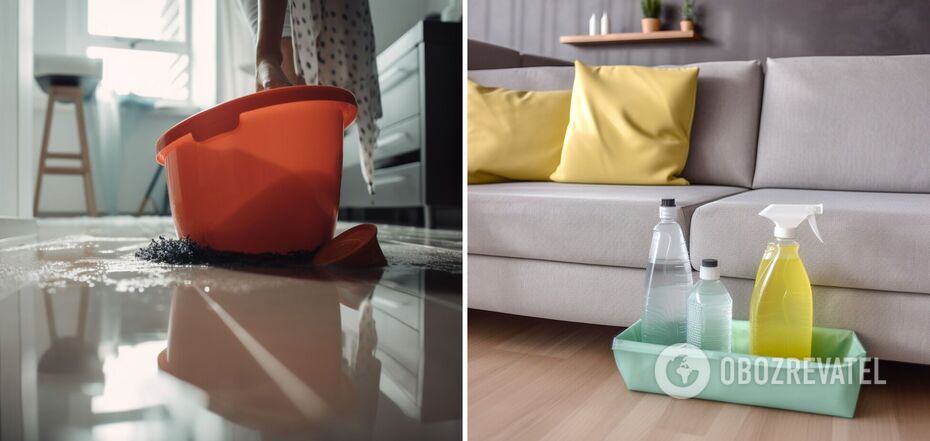 In the care of the floor is important not only means, but also the choice of tools
A dirty floor is a problem that can't be ignored like the dust on the top shelves. It is in plain sight all the time, and our feet are constantly touching it. So the floor has to be cleaned, if not often, then very regularly.
But water and detergents can leave streaks on the surface. And the wrong chemicals can damage the coating. OBOZREVATEL tells you how to properly clean the floor so that it shines and pleases with cleanliness.
So for linoleum to look good, regular washing with warm water without special products is enough - just pick up a good mop. A vacuum cleaner with a washing function is a good choice. But if you want to keep it shiny, linoleum flooring can be polished once a month and once every three months with a protective wax.
Laminate or parquet is very sensitive to excessive moisture. Therefore, here a good mop, as follows squeeze water - not a recommendation, but a necessity. Also have to give up hot water. For the care of these types of coating is suitable only warm or cold liquid. Detergents should be chosen only specialized. This is especially true for parquet.
Ceramic tiles or porcelain tiles are the least fussy about the choice of care products. They can even be disinfected with a weak solution of chlorine bleach (in accordance with the instructions), washed with any suitable soap and even cared for with vinegar water (a solution of white vinegar and water in equal parts). But in this case, you will have to separately take care of the inter-tile joints, which quickly clog with dust and dirt.
Previously OBOZREVATEL told than you can clean the joints on the tiles.
Subscribe to OBOZREVATEL channels in Telegram and Viber to keep up with the latest news.