Trending:
"Queen of the Night: what the world's darkest model looks like and why she thought about suicide. Photo.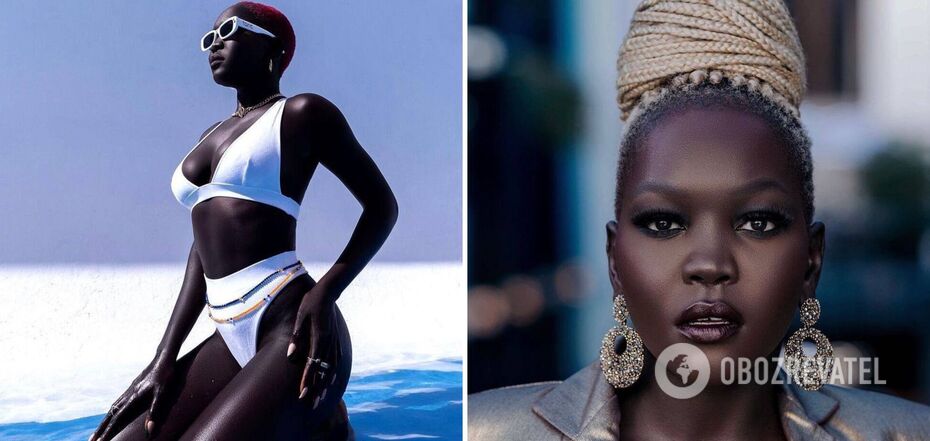 The model now lives in New York.
Nyakim Gatwech, a 30-year-old from South Sudan, has been officially recognised as the owner of the world's darkest skin among professional models. The girl was repeatedly offered a skin whitening procedure, but despite the rejection of her appearance by others, she refused.
The fate of the artist can hardly be called easy. Her mother, while pregnant, fled the war in South Sudan. Nyakim herself was born in a refugee camp in Ethiopia and lived in another camp in Kenya for nine years before immigrating to Buffalo. Since childhood, she has endured ridicule and ruthless comments. OBOZREVATEL wants to show what Gatwech looks like, who has an unconventional beauty, and also tell shocking details from her life (to see the photo, scroll to the end).
"I was sitting at my desk in class, and the students in front and behind me were getting up and walking away as if I had some kind of illness. Some of them were also dark-skinned, but they distanced themselves from me. When the classroom lights went off and I raised my hand to answer, my classmates did not hesitate to ask the teacher: "Do you even see her?", the model said in an interview.
She admitted that she was so tired of the children's cruelty that at one point she thought about suicide. But the thought of the risk her mother took to leave the country pregnant and give life to the girl saved Gatwech from death. The beauty watched the model Tyra Banks and thought that if she was able to succeed, she would be able to do it too.
According to Nyakim, not all modelling agencies wanted to work with her, explaining that she had too "unusual" an appearance and would not be in demand. However, Gatwech proved that her skin colour is a kind of zest, which, by the way, turned her life around. Now the model speaks for herself: "I am elegance itself. I am a queen from a nation of warriors."
The star has 970 thousand followers on Instagram. The celebrity has become a role model for her fellow models of African descent, proving that it is important not to focus on your exotic beauty and not to be shy about showing your intelligence. "Don't let the standards affect your soul, be yourself," Nyakim inspires her followers on social media with these words.
Recently, OBOZREVATEL showed how a girl who had 6 ribs removed for a 36cm waist looks like. The model almost died because of the extremely complicated surgery. However, she did not stop and continued to undergo plastic surgery, bringing her appearance "to perfection".
Only verified information is available in our Obozrevatel Telegram channel and Viber. Do not fall for fakes!