Trending:
Nikolai Baskov, Grigory Leps and others: 5 Russian celebrities who supported the bloody war against Ukraine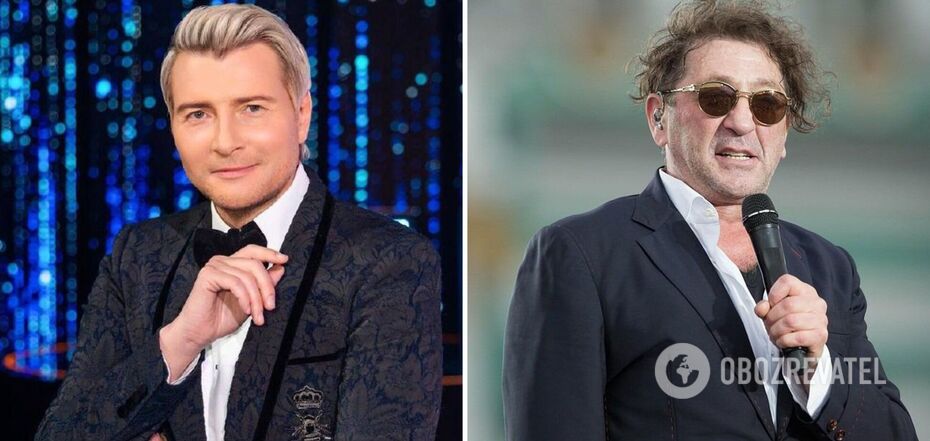 This list is much longer
For more than 16 months, the Russian Federation has been cynically shelling homes, hospitals and schools in Ukraine on a daily basis. It kills innocent citizens, rapes women, and abuses prisoners of war. The whole world admires the heroism of Ukrainians and supports our people. But many Russians, including pop stars, rejoice in the deaths and are proud of the Kremlin Fuhrer's sick ambitions.
In today's article, OBOZREVATEL would like to remind you of the main Putinists who have nothing sacred left. By the way, they have been to Ukraine many times, and now they are praying for the Russian president, calling for more and more crimes (to see the photo, scroll to the end).
Grigory Leps
From the very first days of the full-scale invasion, Grigory Leps, who has given hundreds of concerts in our country, has been supporting the genocide of Ukrainians. He claims that he trusts and appreciates Putin, so he believes his actions are right. In addition, every citizen of Ukraine is his enemy, regardless of gender or age. Recently, the 60-year-old artist promised that he would pay the Russian military a million rubles for each Leopard tank he damaged. His friend Nikolai Baskov, who will be discussed below, also joined this "action".
Nikolai Baskov
Singer Nikolai Baskov believes that the "military operation" in Ukraine is fully in line with international law. He calls it "peacekeeping" and emphasises: Russia is thus protecting its allies and stopping the genocide in Donbas. In addition, in his mind, Ukrainians want to destroy the "mighty" Russian Federation. For such statements, even in Latvia, Putin was blacklisted. It is worth noting that in October 2004, Putin's fan was awarded the title of "People's Artist of Ukraine" for "significant contribution to the development of cultural relations between Ukraine and Russia".
Tina Kandelaki
The famous TV presenter Tina Kandelaki says that all the videos of dead Ukrainians and screams are a virus that wants to confuse Russians. Today, Russia is defending the people of Donbas, who have been suffering from the cruelty of the Ukrainian government for eight years. She is confident that Putin will not be broken by the Americans, let alone the Ukrainian Armed Forces. By the way, for her "patriotism", the venal artist was put on the US sanctions list.
Olga Buzova
In October 2022, pro-Putin singer Buzova was put on the NSDC sanctions list because of her position. In the same year, she travelled to Donbas on a "humanitarian mission", during which she brought "everything necessary" to the residents of eastern Ukraine and the occupiers. She also claimed that she wanted to organise rehabilitation centres in Donetsk and Luhansk regions for children who had suffered from the Ukrainian regime.
Oleg Gazmanov
The performer Oleg Gazmanov is convinced that America has been "pumping" Ukraine with weapons for 30 years and fostering hatred of Russia in its citizens. He once wrote in his personal blog: "There is a danger of nuclear weapons appearing there (in Ukraine - ed.), which, under the Nazis and an inadequate government controlled from abroad, could be used against us... Good relations and laws, even those officially written on paper, cannot stop the enemy. If a fight is inevitable, strike first!"
Earlier, OBOZREVATEL told how the star of Glukhar, Maxim Averin, tried to sit on two chairs in the midst of the war. After the annexation of Crimea, he said that he did not support Putin's actions, but during the full-scale Russian invasion, it became clear that the actor was a real coward and a Kremlin jester.
Only verified information is available in our Obozrevatel Telegram channel and Viber. Do not fall for fakes!