Trending:
Judicial showdown and high-profile scandals: how was the fate of Angelina Jolie's children and how they look now. Photo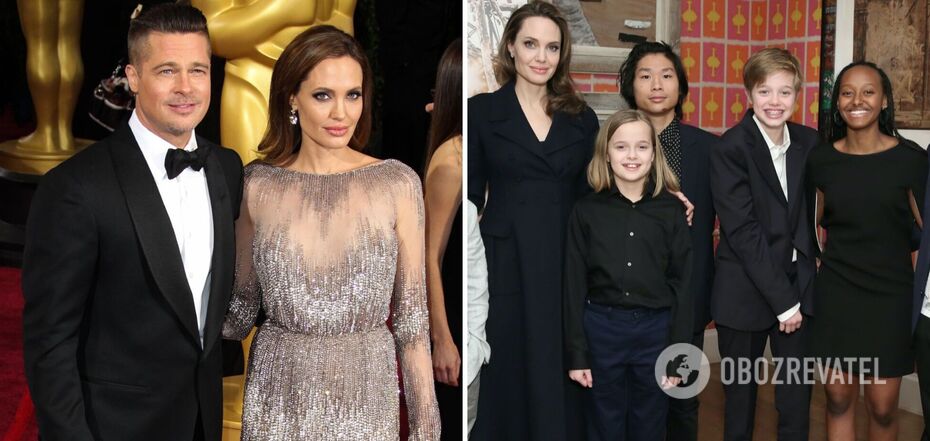 Judicial showdown and high-profile scandals: how was the fate of Angelina Jolie's children and how they look now. Photo
Hollywood actors and former spouses Angelina Jolie and Brad Pitt have six children: three of whom are adopted. None of the heirs have social media, so we do not get to watch their lives. In 2016, the celebrities announced their separation. More than five years of court proceedings, during which Pitt's lawyers sought custody of the children. The artist was against it and insisted on sole custody. Brad won the case in 2021, but his ex filed a counterclaim.
In the end, the man still managed to get joint custody of five minor heirs. OBOZREVATEL will show you how the children of one of Hollywood's most beautiful couples look now and tell you some interesting facts about them (to see the photo, scroll to the end of the page).
The actors raised their heirs according to the rules that are alien to the official pedagogy. It is known that none of them ever went to school. Parents invited teachers to their homes. The little ones had no clear schedule, no homework, and no tests. They studied only what they were interested in. In addition, Jolie allowed them to express themselves and forbade them nothing.
Maddox Sheehan.
Jolie and Pitt's oldest son's real name is Rat Vibol and he was born in Cambodia. Angelina took the baby out of the orphanage in 2002 when he was only 7 months old. At that time, the actress was working on the movie "Fringe". She adopted Siobhan back together with ex-spouse Billy Bob Thornton, and after the divorce, she became the sole guardian. After marrying Brad, the star shared custody with him. Growing up, Maddox developed a passion for movies and even helped his mother on the set of the drama They Killed My Father First. Today, the oldest of the couple's children is studying bioengineering at a university in South Korea.
Zahara Marley.
Zahara Marley is the second foster child of the Jolie-Pitt family, having been adopted in 2005. The girl was born in Ethiopia. The actress met her when she was in that country as a goodwill ambassador to the UN refugee committee. At that time, Celebrity reported that Zahara's mother had died, but two years later the woman showed up. She stated that she had put Zahara in an orphanage for a while and demanded her daughter's return. Today, Marley is passionate about creativity and trying to decide on her future profession. In 2019, she created her own jewelry collection.
Pax Thien.
Angelina adopted her son Pax in 2007 in Vietnam, at which time the boy was three years old. His real name is Pham Kwan. At the age of 16, the boy became interested in photography and studied acting. In the future, he dreams of acting in films.
Shiloh Nouvelle.
Shiloh is Angelina Jolie and Brad Pitt's first biological child. The blonde baby girl was born on May 27, 2006, in Namibia, after the premiere of "Mr. and Mrs. Smith," where her parents met. The lovers sold the first pictures of their newborn daughter to People and HELLO magazines for $10 million. It was the highest price ever paid for celebrity photos. Today, Shiloh can be called the Exes' most famous child. For a long time, there were rumors that the heiress wanted to change sex, but then this information was denied and more and more often began to see the beauty in dresses.
Knox Leon and Vivienne Marcheline
Two years after Shiloh was born, twins were born - son Knox and daughter Leon. The artist gave birth in France. This time, the first pictures of the newborns were sold for $14 million. And while we know almost nothing about Knox Leon, the 14-year-old Marcheline managed to star in such films as "The Mysterious History of Benjamin Button", and "Maleficent" and compete with her star parents. It is known that Vivien learns Arabic and Knox learns sign language.
Recall, recently OBOZREVATEL told why Monica Bellucci and Vincent Cassel are hiding their youngest daughter Leonie from the paparazzi. The girl was born on September 12, 2010. She has inherited the best of her parents and may soon eclipse her sister Virgo.
Only verified information on our Telegram channels Obozrevatel and Viber. Do not be fooled by fakes!