Trending:
How to wash greasy dishes if there is no hot water: 3 natural remedies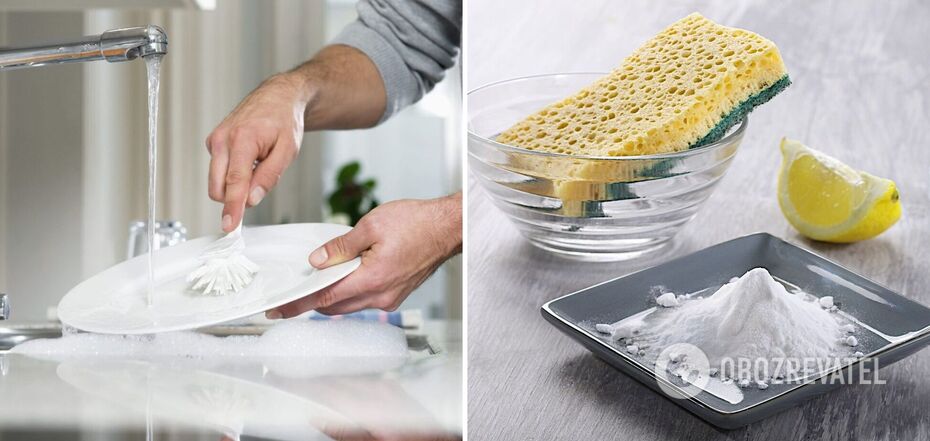 For washing in cold water, use detergents that are easy to rinse off
Washing dishes when there is no hot water in the house is not a pleasant experience. In addition to the fact that your hands get cold, the detergent does not work as well and does not rinse off as well. However, the latter problem can be solved with natural products. Even if they don't wash off completely, it won't do any harm.
OBOZREVATEL has collected three options for such natural products. And rest assured - it won't cost you anything extra.
Laundry soap
This option requires a thorough rinse, but it is still less aggressive than factory detergents. You can apply laundry soap to a sponge by rubbing it on a dry bar, or you can buy it in liquid form.
Baking soda
Soda is an excellent degreaser and is suitable even for washing children's dishes, as it is completely rinsed off with water. It also acts as a scouring powder and can remove stubborn dirt. Simply pour a little baking soda into the dish, rub it with a sponge and rinse under running water. However, this product is not suitable for different types of non-stick coatings - it can scratch them.
Mustard powder
You can use this product in the same way as baking soda, or you can dilute it with water to a paste. Mustard powder is less abrasive, so it can be used on scratch-sensitive surfaces. To remove stubborn dirt, it can be mixed with vinegar.
Earlier, OBOZREVATEL talked about improvised means that will wash plates to a shine.
Subscribe to OBOZREVATEL's Telegram and Viber channels to keep up with the latest news.