Trending:
How to remove any stains from the carpet: top effective products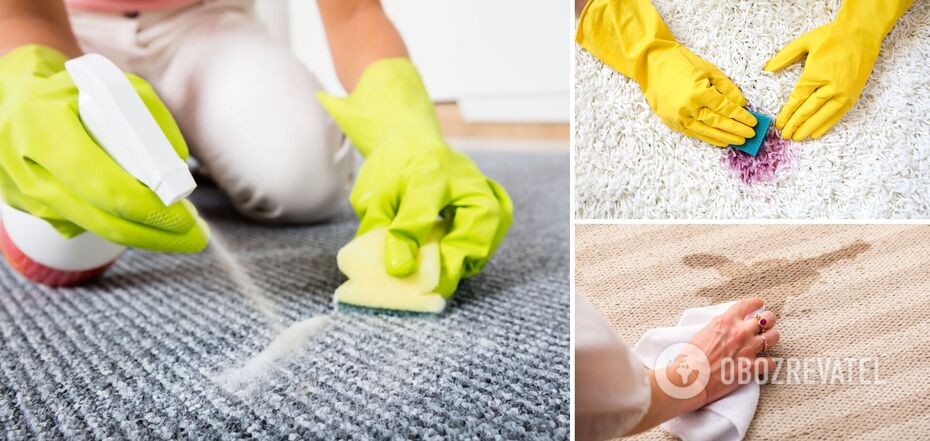 You can save the carpet from stains with home remedies
A beautiful carpet on the floor is an easy way to create a stylish and cosy interior at home. So, in 2023, monochrome options and natural colours, in particular sand, will be in fashion. On which even the smallest speck is particularly visible. So, if you plan to decorate your home in this way, you need to know how to clean carpet stains with home remedies.
OBOZREVATEL tells you how to create a stain remover for this item from what you definitely have at home. But don't forget to test the chosen option in an inconspicuous place on the carpet, as it can discolour the fabric or leave other marks. In an emergency, this can play a cruel joke on you. So be prepared in advance.
Dishwashing liquid
A liquid found in every kitchen can be used to make an effective remedy for food and drink stains. It is suitable for both natural and synthetic carpets. The main caveat is that it is better to use a colourless liquid, especially if your carpet is light.
To clean a synthetic carpet, dilute 1/4 teaspoon of the product in a glass of warm water; for a natural carpet, the concentration should be 1 teaspoon per glass of water. Using a sponge, apply the solution gently, without friction, to the stain and leave it for a few minutes. You can also apply the product with a spray bottle, but avoid waterlogging the fabric. Then blot the liquid from the stain with a dry cloth. Repeat the procedure if necessary. It is better to persistently repeat delicate cleaning and achieve the disappearance of the stain than to rub the contaminant deep into the fibres - then you will definitely need dry cleaning.
Vinegar
Acetic acid in low concentration dissolves dirt on both synthetic and natural carpets. The main thing is to use white or distilled vinegar to prepare the cleaner. To clean synthetic fibres, dilute it with water in a 1:2 ratio, natural fibres - 1:1. The rest of the procedure is similar: moisten the stain with a solution using a sponge, let the vinegar work, and blot the remaining liquid.
Ammonia
This tool is suitable only for natural carpets. To prepare the solution, you will need 1 tablespoon of alcohol and 1/2 cup of warm water. Mix them together and then follow the standard procedure.
Solvent
Household solvents, such as cement-free nail polish remover, can help clean a natural carpet. But make sure that the option you choose is safe and does not leave stains on its own. In addition, such substances should be used in a well-ventilated area. Otherwise, the stain removal technology in this case is similar to the previous ones.
Earlier, OBOZREVATEL told how to make the fibres of even an old carpet rise so that it becomes fluffy again.
Subscribe to OBOZREVATEL's Telegram and Viber channels to keep up with the latest news.