Trending:
How to easily clean the bottom of a pot or pan: 4 simple ways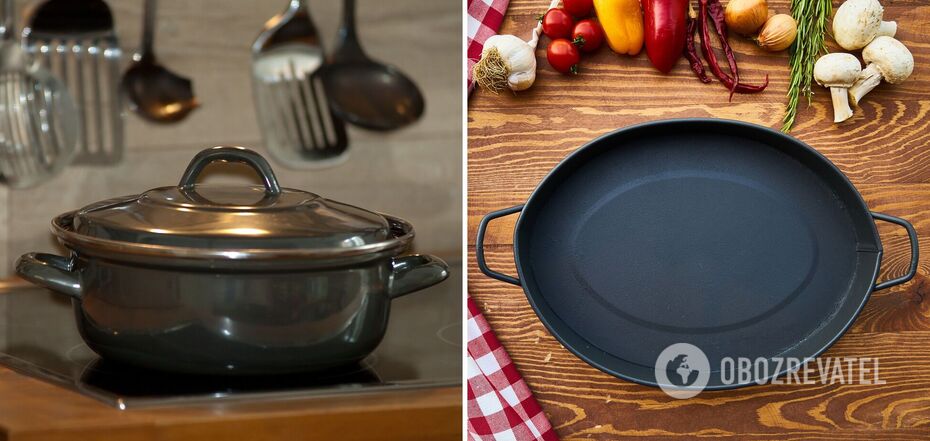 4 tips for caring for pots and pans
You can remove the carbon deposits that form on the bottom of pots and pans not only with special products from the store, but also with home remedies. However, you should take into account the material of the cookware.
MasterClass experts have identified four methods for cleaning pots and pans. Before trying a new method, always test it on a small area and only then apply it to the entire bottom.
Baking soda
Baking soda is a mild abrasive that works well with any type of pan, including stainless steel pans, cast iron pans, ceramic pans, and even non-stick pans. But be careful not to get baking soda on the non-stick surface, as it can damage the coating.
To clean pans with this method, mix three parts baking soda with one part warm water to make a paste. Spread the paste over the bottom of the pan and leave it for ten to twenty minutes. Then, using a non-abrasive scraper, toothbrush or sponge, scrub off the baking soda, ideally removing any caked-on grease with it. To increase the effect of baking soda, add a little dishwashing detergent to the paste or add a little white vinegar while cleaning.
Salt for cast iron and copper
Salt is a popular method for cleaning cast iron and copper pans, although it also works for stainless steel cookware. For this method, sprinkle coarse salt on the bottom of the pan and then use a soft-bristled sponge to rub the salt in. For greater effect, add a little baking soda to the salt and then spray vinegar on top, leave for ten minutes before starting to clean.
Mild acid for copper and stainless steel
For pans made of copper, ceramic or stainless steel, a mild acid such as lemon juice, lime juice, white vinegar or even tomato paste or ketchup will work. To use acid to clean a burnt pan, soak the bottom of the pan in the acid for ten minutes. Then use a non-abrasive scouring pad to apply the acid to the stains.
Commercial cleaning products
There are many commercially available cleaning products that can help clean the bottom of your cookware. If homemade cleaning methods don't help get rid of baked-on grease and dirt, find a cleaner and follow the instructions on the packaging. Do not use oven cleaner or other strong products that can damage the pan.
As OBOZREVATEL previously reported, a cleaning specialist named the 3 dirtiest places in the house.
Only verified information is available in our Obozrevatel Telegram channel and Viber. Do not fall for fakes!