Trending:
George Clooney at 56 and Steve Martin at 67: celebrities who became parents after age 50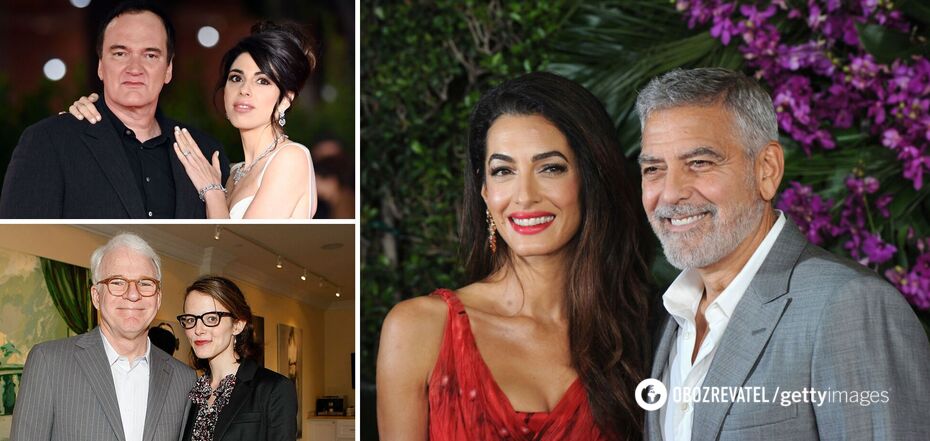 Some of the celebrity fathers did not want to have children.
Singer Tom Jones, the singer of the legendary song "Sexbomb," became a father at the age of 16, and actress Sofia Vergara gave birth to a son, Manolo, at 18. And there are stars who took their time with parenthood. For example, Richard Gere went to the hospital for his son at the age of 50, and Steve Martin went when he received his pension certificate.
What other celebrities have become fathers after the age of 50? Read the article in OBOZREVATEL.
1. Quentin Tarantino
In an interview, American director, screenwriter and actor Quentin Tarantino admitted that he could not do anything else but work: "Everything revolves around the movie. I don't have a wife. I have no children. I made these sacrifices without having a clear goal. And I am happy." The director, whose filmography includes more than 40 films, got married for the first time only at the age of 55. His chosen one was the 35-year-old Israeli singer Daniela Pick. A year after the wedding, in 2020, the couple had a son, Leo.
2. George Clooney
Shortly before he met British lawyer Amal Alamuddin, American actor and director George Clooney claimed in all his interviews that he was not going to marry and have children. In 2014, the couple got married, and two years later, the 55-year-old actor became a father for the first time - his chosen one gave birth to twins.
3. Hugh Grant
English actor Hugh Grant became a father five times after reaching the age of 50 (at 51, 52, 55 and twice at 57). The first child was born to Chinese actress Tinglan Hong, and the second to producer Anna Emberstein. Later, the man returned to his previous girlfriend, and she gave birth to his third child. Their relationship did not work out, so Hugh resumed his romance with Anna, who became the mother of two more children. After that, the couple decided to legalize their relationship. In an interview, Grant shared his impressions of fatherhood: "It's wonderful to have children. At one point, you start loving someone more than yourself. And the most amazing thing is that they love you too!"
4. Steve Martin
American film actor and comedian Steve Martin married for the first time at 41 and for the second time at 62. His second wife was journalist Anne Stringfield. She made her husband happy with the birth of his first child when he was 67. The actor, who became famous for his roles as a father, does not regret that he really felt it in adulthood: "I am incredibly happy. All the time in this world belongs to me. I have already achieved everything in my life. There is no need to build a career. I have a lot of free time for my daughter. And it's wonderful!"
5. Chris Noth
American television actor Chris Noth, like his TV character in Sex and the City, took his time with his wedding and childbirth in real life. He walked down the aisle with waitress Tara Wilson, whom he met at a bar. The couple got married when their son turned 9. Knott became a father for the first time at the age of 53, and decided to have a second son at 65.
Earlier, OBOZREVATEL wrote that Svyatoslav Vakarchuk became a father for the second time.
Only verified information is available on the Obozrevatel Telegram channel and Viber. Do not fall for fakes!