Trending:
Driving themselves into the abyss: 5 celebrities who died of alcoholism. Photo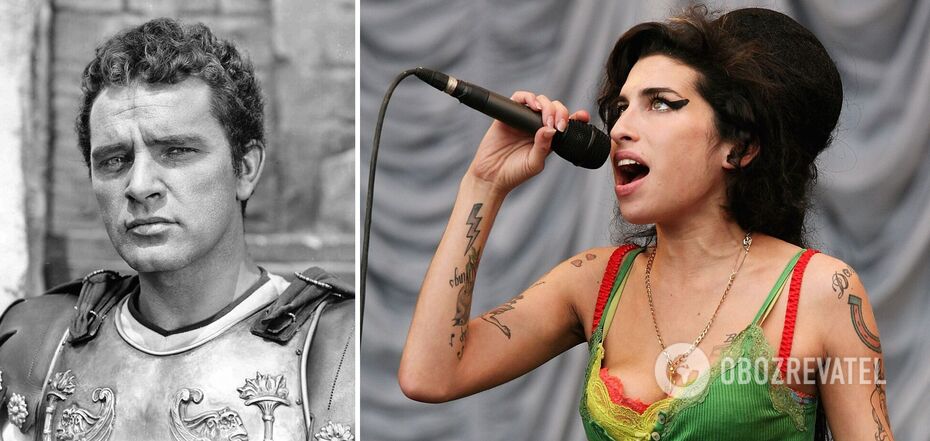 Stars who died from alcoholism
It has been scientifically proven that alcoholism is not just a lack of self-control, but an addictive disorder, i.e. a real disease. And, as is the case with some diseases, it can be fatal. Addiction to alcohol has ruined hundreds of talented musicians, actors, inventors, artists, fashion designers, athletes and representatives of other public professions. The death of famous people for this reason always resonates with their fans.
OBOZREVATEL offers to learn about some of the celebrities whose lives were cut short by an inexplicable love of alcohol. These stars drank every day, which eventually led to serious liver and heart disease.
Amy Winehouse (1983 - 2011)
The iconic British singer gained worldwide fame after the release of her 2006 Grammy Award-winning album Back to Black. However, Weingaus's erratic behaviour, tumultuous personal life, drug abuse and alcoholism cut short her rapidly developing music career.
In one of her interviews, the artist admitted that she started drinking when she was a 12-year-old girl. She said that she drank every day, and in the second half of her life, she became addicted to drinking Jack Daniel's and Dooley's toffee vodka, which were her "company" for every evening. Amy Winehouse's great talent was cut short by her addiction to alcohol and drugs. She tragically died on 23 July 2011 at the age of 27 from alcohol poisoning.
Jason Molina (1973 - 2013)
The American singer and songwriter became famous as the frontman of Songs: Ohia and Magnolia Electric Co. Molina had a huge army of fans and great prospects, which were not as valuable to him as a bottle of rum or whiskey. The musician died at the age of 39 in March 2013 from organ failure associated with alcohol dependence. According to rumours, he was a chronic drunkard, and his death was caused by excessive alcohol consumption.
Dolores O'Riordan (1971 - 2018)
The well-known rock singer was a real superstar in the 1990s. She was even called the face of rock and was considered one of the most prominent representatives of this style in the world. At the age of 20, Dolores O'Riordan was one of the richest women in the UK. However, illicit substances ruined her career and her life in general.
It is said that the singer used alcohol and drugs to cope with depression, difficulties and social pressure. She even tried to commit suicide by swallowing pills. It is believed that O'Riordan accidentally drowned in the bathtub of her hotel room while intoxicated. An official report showed that her blood alcohol content exceeded the legal limit.
Richard Burton (1925 - 1984)
Richard Burton was a prominent actor of his time, nominated for a record seven Academy Awards, but never winning any of the statuettes. After a long history of alcoholism, which led to his diagnosis with kidney and liver cirrhosis, Burton died on 5 August 1984 at his home in Switzerland.
Veronica Lake (1922 - 1973)
Lake was a renowned film noir actress and pin-up model who became famous for her iconic hairstyle and fatal looks. Alcoholism combined with mental illness led to her decline and eventual death on 7 July 1973. The star of the films Sullivan's Travels, Hired Gun, Blue Dahlia, and I Married a Witch was diagnosed with acute hepatitis, which appeared on the background of her alcoholism. The actress was 50 years old.
Earlier, OBOZREVATEL wrote about the children of celebrities who committed suicide. The list includes Sylvester Stallone's son, Marlon Brando's daughter, and others. Read more in our article.
Only verified information is available in our Obozrevatel Telegram channel and Viber. Do not fall for fakes!