Trending:
Don't do that! Five makeup mistakes after 30 that are very aging. Photo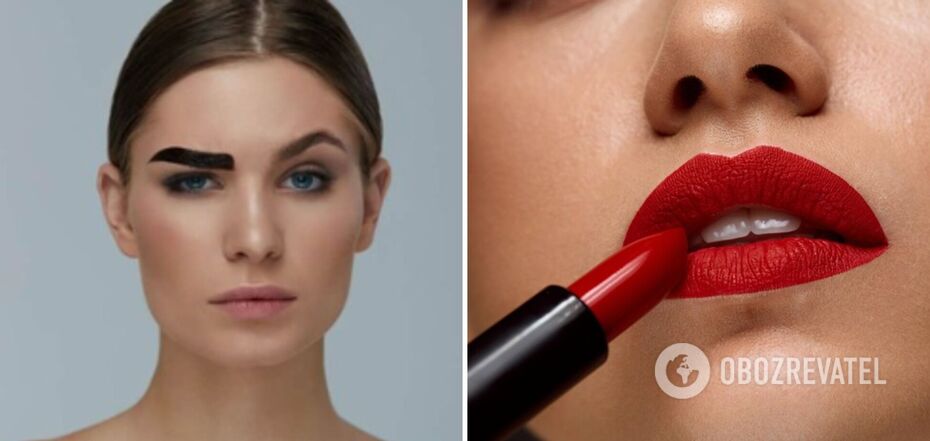 Many girls make mistakes in makeup that visually add a dozen years
Makeup can work wonders in most cases, but many girls make mistakes that visually add a dozen years to their appearance. We are talking about blunders with shadows, lipstick, blush, eyebrows and "under-makeup".
Such mistakes should be avoided especially by girls aged 30+, so as not to accidentally add a few extra years to your body. What should be considered in the makeup to look radiant and unique, read the article OBOZREVATEL.
Mistake 1. Fear of blush
Very often women, especially over 30, try to avoid blush for fear of overdoing it. However, according to experts, blush is not as terrible as its absence. Bright cheeks can give a girl a healthier, fresher and more youthful appearance than it really is.
A common mistake is the shade. Too light, translucent color has as little resemblance to a healthy blush as paint of a strange brown hue. To determine which one you need, take a look in the mirror after an active walk. You will see the shade you need on your cheeks. Most likely it will be reddish, but do not be afraid of this.
Mistake 2. Matte shadows
It is the shade without glitter that is often preferred by adult women. However, no shadow will hide wrinkles, and matte shadows will only give a "dry desert" effect, which definitely does not look young, fresh and inspiring.
In rejuvenating makeup, you should pay attention to satin shadows, whose texture can be described as silk, it has a slight shimmer. It allows you to create a light glow on the eyelid, visually enhance the moisture of the eyes.
Mistake 3. Mistakes with the eyebrows
Often women either under-do or over-do their eyebrows. In this case, their "life" should be interfered with minimally, always making light corrections and refinishing. Brow pomade is a thing of the past today. It is better to make a design by an eyebrow specialist and style them with an eyebrow gel, at least a transparent one.
Mistake 4. Lips not painted over
A very common mistake with girls who are afraid to make themselves "dumplings", underdrawing the contour of the lips. Experts advise that when applying color, especially bright, completely ignore your pigment and "draw" new lips on the actual contour. Then everything will be fine.
Mistake 5. Incomplete makeup
Very often girls only touch up certain parts of the face without doing anything good. For example, they eyeliner their eyes and paint their eyelashes with mascara, but leave bruises under the eyes, eyebrows, complexion, lips... More often than not, this mistake occurs in older women and in everyday life.
However, the order in the application of makeup is very important. First you need to remove imperfections (mostly it is correction of complexion, concealer), then apply blush, and then, for example, neatly comb the eyebrows.
Let's remind: earlier OBOZREVATEL told, what colors of eye shadows you need to say goodbye to after 30. Otherwise, using the wrong shades, ladies risk emphasizing wrinkles and other skin irregularities.
As reported by OBOZREVATEL:
- the new trend Diamond Crumbles conquered women and men all over the world.Steel glitter on the eyelids became so popular that even singer Jared Leto repeated it;
- If you use too dark a lipstick, apply foundation on unprepared skin and make thick arrows, you can add a few years to your appearance. To competently refresh your appearance, you need to follow certain rules.
Only verified information in our Telegram channel Obozrevatel and Viber. Do not be fooled by fakes!