Trending:
Can help you withstand hot days: top 3 products to keep you cheerful in summer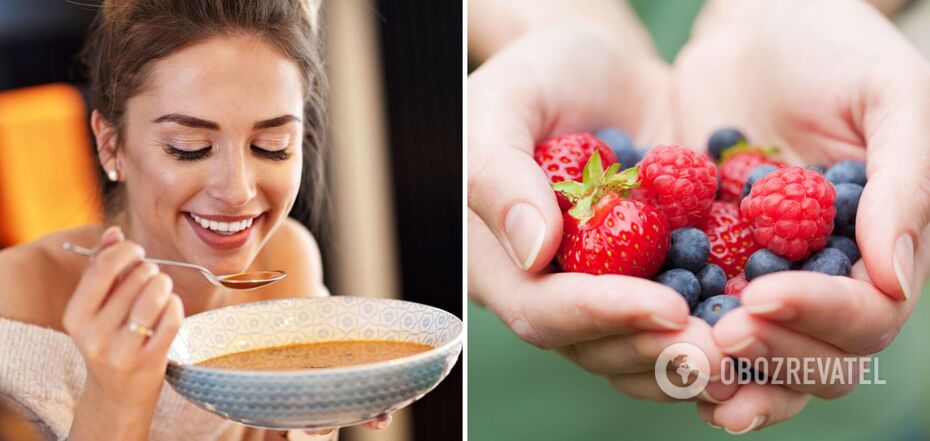 Products that will help you withstand hot days
Summer is a time for delicious seasonal berries and fruits, a time for seaside holidays and an opportunity to shed layers of warm clothes. However, as the thermometer rises higher and higher, we start to swear at summer for its heat. There is more to dealing with such days, which have a significant impact on well-being, productivity and overall health, than just using an air conditioner or fan. Certain foods can also help to cool the body and withstand the hot period.
Of course, it's important to keep hydrated by drinking cool water, milk, freshly squeezed juices or light natural drinks without added sugar. You should avoid salty and sweet water. And here are the foods you should definitely include in your diet so that the summer heat doesn't bother you and you feel cheerful even at +40°C, says doctor and health expert Ulyana Werner.
Berries
Berries are rich in antioxidants such as vitamin C and polyphenols. These substances protect cells from damage caused by free radicals that are formed by sunlight and other external factors. They also help reduce inflammation, improve skin health and contribute to the overall functioning of the body.
"Strawberries are 92% water, and berries such as blueberries and blackberries are more than 85% water. Proper hydration is important at high temperatures. Watermelon is 92% water and does a good job of maintaining water levels in the body. Plums are 85% water, and they also help prevent heart disease, stroke, and type 2 diabetes," the expert commented.
Vegetables
Cucumbers, tomatoes, aubergines and courgettes help to maintain water balance. Vegetables are a great source of vitamins and minerals, such as potassium and magnesium. These nutrients are important for health and maintaining the proper functioning of the body, including the immune system. A huge advantage is that you can experiment in terms of cooking: grilling vegetables, making various delicious salads, as well as smoothies, juices, etc.
"Some vegetables, such as tomatoes, contain natural antioxidants (lycopene) that can help protect the skin from UV rays. They reduce the risk of sun damage and improve skin health," Werner said.
Soups
Few people think that soup is a great idea when it's +30 or more outside. First of all, soups, stews and porridges can help to increase hydration levels, i.e. the body's ability to manage water resources.
"In addition, if you are a fan of spicy food, it can help you cool your body. When you eat hot or spicy foods, your nervous system senses a rise in temperature, and this triggers sweat glands called eccrine glands to release salty substances. Since there are 2 to 4 million sweat glands in the human body, sweating actually cools you down more effectively than an ice cream cone or a cold drink," the doctor assured.
Earlier, OBOZREVATEL wrote what to wear in summer to escape the heat and look stylish. Find out about the three best ideas in our article.
Only verified information is available in our Obozrevatel Telegram channel and Viber. Do not fall for fakes!