Trending:
A woman spent 72 thousand dollars to look like Marilyn Monroe: the result has caused controversy. Photo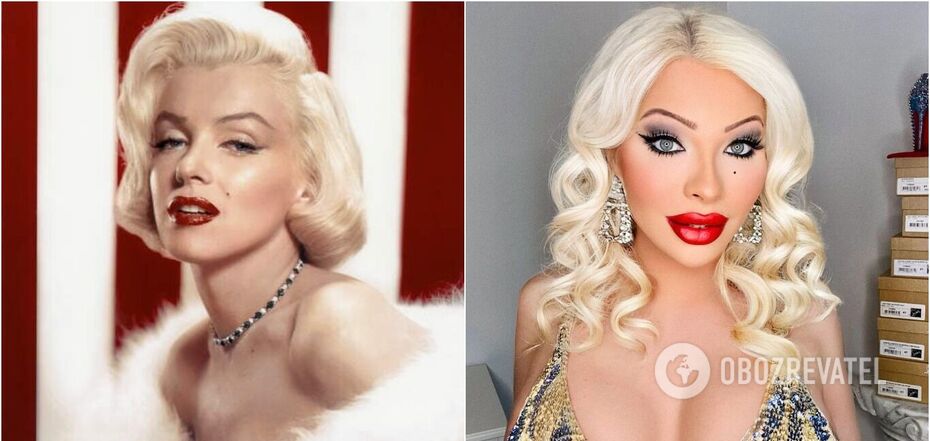 A woman spent $72,000 to look like Marilyn Monroe
There are many instances in history where both women and men have become so infatuated with someone in the public eye that it has gone beyond normalcy. Something similar happened to Serena Smith of California. She is a blogger, a singer, and the star of various reality shows, but it was her looks that made her famous, or to be more precise, her great desire to change her appearance and become like the famous Hollywood beauty and sex symbol of all time, Marilyn Monroe.
In six years, the American spent about 72 thousand dollars (2.7 million hryvnias) on plastic surgery. She first went under the surgeon's knife in December 2016, when she was only 18 years old. Since then, Serena has not been able to stop, but on Instagram, many believe that the girl went overboard with plastic surgery.
Smith's first surgery was a mammoplasty. Then the 18-year-old had her breasts enlarged from size one to size five. She paid 11 thousand dollars for it.
Next was a $16,000 rhinoplasty to get a miniature and glamorous "Hollywood nose". In addition, Serena on a regular basis resorted to such procedures as Botox and fillers in the lips. As soon as she notices that her lips are getting smaller, she rushes to the beautician for a new injection.
But the American constantly felt that she hadn't changed enough, so she decided on the Brazilian buttock lift (BBL). It is considered one of the most dangerous plastic surgeries with the highest mortality rate. One out of every three thousand patients dies on the surgical table during a buttock lift. Smith, as she herself assured, was very careful in choosing a surgeon, so she took a risk and was happy with the result.
"I'm very happy with the results, they turned out great, the surgery completely changed the proportions of my body and gave me a more rounded look," Smith said after the surgery.
Note that BBL involves taking fat from undesirable areas such as the abdomen, back and sides with liposuction and transferring it to the buttocks and thighs, resulting in a more graceful hourglass figure. Such sacrifices are made by girls who are ready for very high risks, as well as a long and difficult recovery period after surgery.
"I felt like I had been hit by a truck. The most painful part of recovery was the first two weeks. I was sore, bruised and very swollen. For almost two weeks I had drains collecting all the blood and fluids coming out of my body, which was not a very pleasant sight. The hardest thing was to find a comfortable sleeping position," the blogger shared.
Serena lives by the motto that "beauty is pain. She assures that she is not going to stop having surgeries, because she still does not look the way she would like.
"I will never stop doing surgeries. When I have completed everything I wanted to do and am satisfied, I will be happy. The surgeries make me feel strong, I like that we can create ourselves the way we want. I want to have more surgeries in the future, because I like to constantly improve myself," shares the girl.
And although Serena herself says that she became much more confident after she began to radically change her appearance, on social networks she has a lot of followers. Some Internet users say that she does not look like Marilyn Monroe, others - advise the blogger to spend money not on plastic surgery, but on a psychologist, hinting at problems with the head and self-perception, but others write that Smith only spoils herself.
However, Serena herself does not pay attention to critics. She says she "feels sorry for her abusers, because they want to confuse others instead of dealing with their own lives.
"I don't offend anyone with my choices... You can never please everyone in life, because not everyone chooses to be happy and positive," Serena assures.
Earlier OBOZREVATEL wrote that Australian model Amber Luke, who is famous for her 600 tattoos all over her body, showed how she looked five years ago before turning into the "dragon girl". She also showed off her transformation process and the increasing number of permanent drawings.
Only verified information on our Telegram channel Obozrevatel and on Viber. Do not be fooled by fakes!