Trending:
"The work is not over yet": the British "Rambo" who miraculously survived the shelling of the occupants returned to Ukraine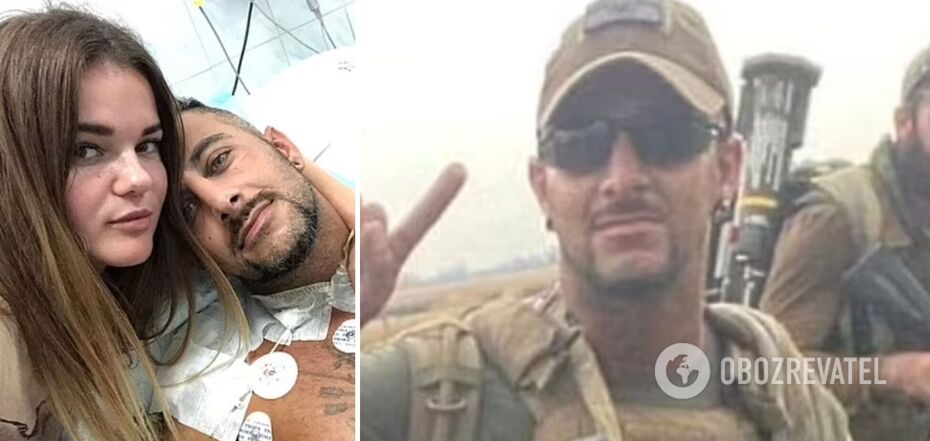 British volunteer ''Rambo'' returned to the front after severe wounds
A British volunteer with the call sign "Rambo" returned to the front in Ukraine after being seriously wounded. A few months ago he and his Ukrainian brothers-in-arms came under heavy artillery fire from the Russians and almost lost an arm and a leg.
The warrior explained his decision to defend Ukraine again by the fact that he could not "turn his back on the people of Ukraine" and believed that the work to "stop the bloody mad dictator," Russian President Vladimir Putin, was not over yet. The story of 40-year-old Sharif Amin "Rambo" was told by the Daily Mail.
The publication reported that Sharif Amin, a 40-year-old British Army veteran with the call sign "Rambo," served nine years in the British 1st Rifle Battalion and completed two rotations in Afghanistan.
Last October, a group of Ukrainian soldiers, including "Rambo," came under fire from Russian troops during a reconnaissance mission deep behind enemy lines.
Sharif miraculously survived his wounds, nearly losing his right leg and arm, bullet wounds, damage to both lungs, and shrapnel lodged in all four extremities.
Treatment and rehabilitation took about nine months. As Amin returned to the front again in Ukraine, he said that "he could not turn his back on the people of Ukraine."
"I originally went to fight for freedom at a time when peace in Europe was threatened by a crazy dictator. That work is not over yet. I will do everything in my power to help Urkraine win. I have made a commitment to the people of this country and I intend to honor it until the very last bullet is fired," the British volunteer explained to reporters.
After being wounded, Amin was pulled from the battlefield by his comrades-in-arms. In a military hospital in Odesa, medics saved his arms and legs.
In December the warrior was evacuated to his homeland on a private medical plane, where surgeons in Bristol undertook his treatment. Amin's friends raised money to pay for the flight to Britain for the volunteer's fiancée, Ukrainian Olena Vitvitska, and her 10-year-old son, Platon.
Now Sharif Amin has returned to Ukraine. He published a video from Kherson, which suffered a terrorist attack by Russian troops blowing the Kakhovka hydroelectric power plant. There he rejoined the Ukrainian soldiers.
The volunteer admits: the injuries he received still bother him. But he has learned to cope with the pain and, as long as he is alive, he intends to continue "fighting for a just cause".
In a published video from Kherson, Amin said that he returned to Ukraine only a few weeks after the Russian terrorist attack on the Kakhovska hydroelectric power plant, at a time when Ukrainian troops had already begun counteroffensive operations.
"So, guys, finally back in Ukraine after months of rehabilitation. We've almost finished the last stage of crossing the border, and here comes the second round. Glory to Ukraine," he stated.
Immediately after the start of Russia's full-scale war against Ukraine, Amin came to our country as a volunteer. But as the fighting intensified, he began to share the skills he learned during his service with Ukrainian soldiers, and as a result he signed a contract with the AFU.
While still in the hospital, Amin told reporters how he had been wounded. When the Russians started shelling, he and his Ukrainian sworn brother, "Professor," tried to take cover in a shallow trench.
"[We stood] helmet to helmet, hand to hand, as the artillery shells kept flying. At one point I felt a tremendous impact. I felt as if someone had dragged me under the ground. Everything around me was red... "The Professor," crumpled like a rag doll, fell on top of me and I could not get out from under his body.... At that moment I realized I was hurt. I thought, 'This is where I'm going to die,' and I realized and accepted it," Amin said.
The wounded warrior was able to shout to another comrade-in-arms, Oleh Shumov, with a call sign "Shum", that he was alive and needed help. Even as the shelling continued, "Shum" jumped out of his hiding place and rushed to the British man to help him out from under the dead "Professor's" body.
It was only then that Amin realized how badly he had been wounded: his right arm was practically torn off at the wrist and a piece of shrapnel "the size of a tin can" had embedded in his right leg. Shrapnel also lodged under his body armor in his back, puncturing both lungs. When Amin tried to move, he was in terrible pain.
"I only had my left arm. I had my waist kit on, my body armor, everything on me. I don't know how I had the strength to get out of that ditch, but I did. When I did, I noticed this huge piece of shrapnel sticking out of my leg. It looked like a tin can. So I made myself roll over onto my back and my commander dragged me to some cover while the shells kept falling," the warrior recounted.
Then, Amin recalls, the commander who saved his life promised, "Don't worry, I don't know how, but I'll get you out of here."
Soon Sharif and "Shum" were rescued by Kozak Warrior armored personnel carriers and were handed over to paramedics 20 minutes later, who took the warriors to the hospital. He remembered the doctors whispering beside his bed that he was unlikely to survive.
Sharif was awarded for his bravery in combat.
"I don't regret anything. I couldn't just sit around... If I sit at home even though I have skills that can help, what kind of person am I?" says the warrior.
As a reminder, the ISW said earlier that the Bakhmut situation could force Russia to withdraw troops from southern Ukraine. The activation of Ukrainian forces in the Bakhmut direction has already forced Russia to move airborne troops from other parts of the front to hold the city, which is primarily of propaganda value to Russia. If this does not help to stop the AFU, Moscow will face a difficult choice.
Only verified information on our Telegram channel Obozrevatel and Viber. Don't be fooled by fakes!