Trending:
"The priority is military support." Zelenskyy meets with Danish Defense Minister. Video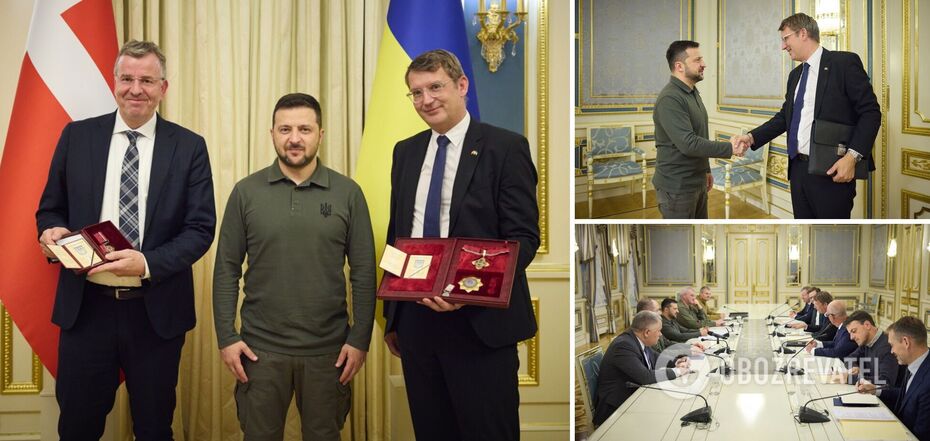 Zelenskyy holds talks with Danish delegation led by Defence Minister Poulsen
On October 24, President of Ukraine Volodymyr Zelenskyy met with Minister of Defense of Denmark Troels Lund Poulsen, who arrived in Kyiv on an official visit. The Head of State thanked the Danish government and people for their continued support and assistance to Ukraine, primarily military, since the beginning of Russia's full-scale aggression.
In return, Poulsen expressed hope for the successful completion of the work begun on the arrival of Danish companies in Ukraine to establish joint ventures with Ukrainian companies in areas that our country needs to "catch up". Zelenskyy himself spoke about the meeting on his Telegram channel.
The President published a kind of video summary of the meeting between the Ukrainian and Danish delegations.
First of all, the Head of State thanked the head of the Danish Defense Ministry for the constant support that his country provides to our country.
"At the very beginning of our meeting, I would like to express warm words of gratitude to your government and your society for the enormous support from the first days (of the full-scale invasion - Ed.) to the present. We highly appreciate your support. Of course, our priority during this war has been military support. And so, first of all, I thank you for those 12 packages that strengthen our army on the battlefield," Zelenskyy said.
He also thanked Denmark for the first reconstruction office opened in Ukraine.
"Today it is in Mykolaiv, and it is very helpful. A few days ago, I met with the head of the Mykolaiv Regional Military Administration in the hospital. I was there and talked about it with the mayor of Mykolaiv. And all these people told me that it helps a lot. Because they have a direct opportunity to solve problems, to manage quickly and directly... It really works and after this experience we want to do it in other regions as well. It's not easy, but we are already coping with it," the Head of State emphasized.
The third thing Zelenskyy thanked Denmark, represented by Troels Lund Poulsen, for was its support of Ukraine on its path to EU membership.
"Now we are on the way to fulfilling all seven recommendations. And we will be very happy if we can open accession negotiations by the end of this year. And thank you very much for Denmark's acceptance of our people (refugees - Ed.)," the President emphasized.
In response, Zelenskyy thanked the Danish Defense Minister for what Ukraine and the Ukrainian people "are doing for the free world."
"We will do everything to help you on this path... We have an agreement in the Danish parliament to support Ukraine, the entire parliament supports Ukraine, not only in the short term, but also in the long term. This includes military support, financial assistance, reconstruction issues, support for Ukrainian society - everything you may need in the future," Poulsen emphasized.
He spoke about his meeting with his Ukrainian counterpart Rustem Umerov and the Minister of Strategic Industries of Ukraine and announced plans to develop joint Danish-Ukrainian production in our country, including in the military sphere.
"I hope that it will be possible for some Danish defense companies to come to Ukraine and establish production with local Ukrainian companies in the industries that Ukraine needs to win the war," the Danish Defense Minister said.
During the meeting, the parties focused on strengthening the Ukrainian air force with modern fighter jets and new air defense systems. They also discussed cooperation within the aviation coalition and training of Ukrainian pilots on F-16 aircraft, which Denmark and other partners are preparing to provide to Ukraine.
The meeting ended with the presentation of high state awards. Poulsen received the Order of Merit, First Class, from Zelenskyy, and Kesper Hoj-Jensen, State Secretary for Security Policy and Operations at the Danish Ministry of Defense, received the Order of Merit, Third Class.
"The Danish officials were awarded for their significant personal contribution to strengthening interstate cooperation, supporting Ukraine's state sovereignty and territorial integrity," the Presidential Office explained.
Earlier, Zelenskyy said that Ukraine was working on agreements on joint production of air defense systems with partners. The President called this area a priority. In particular, Ukraine has started cooperation in this area with Germany.
It was also reported that Zelenskyy appealed to European commissioners to start negotiations on Ukraine's accession to the EU this year. The head of state assured them that Ukraine has "done a lot" to fulfill the conditions necessary to qualify for EU membership.
Only verified information on our Telegram channel OBOZ.UA and Viber. Do not fall for fakes!