Trending:
"Without the occupant and all these bogs": the champion of the Eurogames Bech-Romanchuk told how she helps the AFU and whether the world is tired of war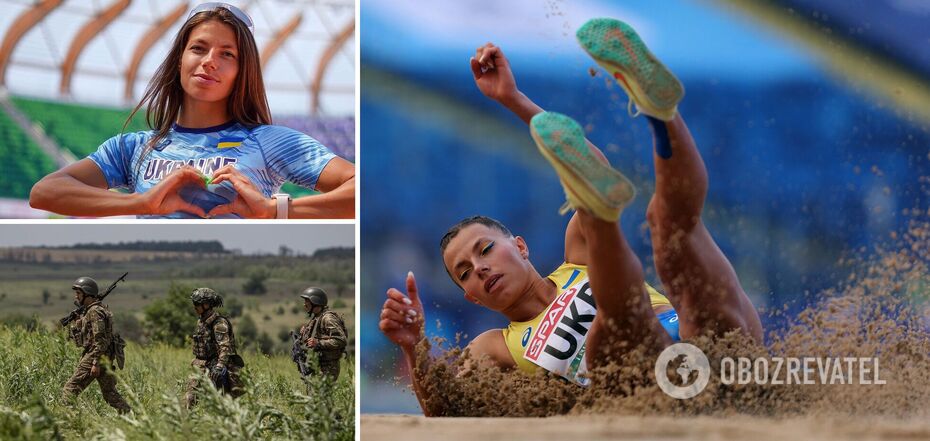 Marina Bekh-Romanchuk feels at home only in Ukraine
European Games-2023 triple jump champion Marina Bekh-Romanchuk, who now lives in Germany because of Russia's full-scale invasion, admitted that she misses Khmelnitsky very much. She decided that after the Olympics 2024 in Paris she will definitely come back home no matter what.
In a conversation with OBOZREVATEL Maryna told about donations to the AFU, whether she feels Europe's tiredness of the war in Ukraine and why she has recently failed her crowning long jump at the Eurogames in Krakow because of three stumbles.
- Because we're doing two events, I have to have a technical workout in the week for both the triple jump and the long jump. And it has to be sprinting and strength work, and everything has to be planned quite intelligently. Plus there are starts coming up. And so far there hasn't been an opportunity to, say, run out specifically for the long jump.
Now in Stockholm we are jumping in the long jump, then there are two weeks before the competition in Chorzów - there will be an opportunity to work and do the work for which we have not had enough time so far.
- Do you feel that this is the European Games? Not the European Championships, but something bigger?
- Not at all. I didn't feel it in any way, because the format in general is so amazing. It seems to me that they are constantly, every time, coming up with something like this... The impression is that they have a very sad life and are trying to make life "easier" for us as well. Also here there is a completely different atmosphere - no fans, we are not in the Olympic village, we are not with the team, we are on our own. That's why it's kind of sad.
- Yes, and you like to ask for help from the audience before you jump...
- Of course, you have to feel that you are competing, that there is support, that you are cheered on, that you are not doing it for yourself, you are doing it so that people will enjoy your work.
And in our case it so happened that everyone performed for himself, trying to earn the highest score for his team, but no one thought about the medal of the European Games, because after us the first division competed, and they performed in a completely different environment and there was a completely different competition.
- At the beginning of the full-scale invasion, you did a lot of volunteering, hosting and helping people who fled the war in Khmelnitsky. How is it now?
- Frankly, I just keep transferring money to the VSU. There are very few opportunities to volunteer. Last year and this winter my father did a lot as a volunteer. Now he has minor health problems and, unfortunately, no opportunity. So the bare minimum we can do is perform and show results and help our military by discounting for training camp.
I think if you can't drop any big sum, you can help them at least with a couple of hryvnias, and they will be very valuable, because there are a lot of us and together we are a force.
- Are you following what's happening on the front?
- Of course. Well, how can you not follow? You know, a lot of people say you should abstract yourself, read the news less. But... Well, you can't do that. You try somewhere, at some point, but it's still home. So, of course, I read the news, I wonder what's going on, and until the last one, I will, because this is my home and I don't want to go anywhere else.
In fact, I want to go home from this Europe terribly. I told my husband that if someone had told me before the war that I would live in Germany temporarily, I would have just laughed very loudly and said: "That will never happen in my life."
And now I want to go to Khmelnitsky, even though it probably does not sound funny, because our people have this stereotype that Europe is better. But I do not think so. The best is with us, in Ukraine. We are much more developed and we have achieved much more. And our people have much more, aspire to and do.
In general, I feel like a stranger in Germany. And you will always be like that. It's not home. I don't know about other people there, but wherever I end up, my opinion is that your place is where you were born. And you'll always miss the place you grew up in, the place you love. Even if you live in some other city for 20 years, you'll still be a stranger there. You are not part of that country.
And I wouldn't want to become part of another country, I want to be at home, to do something for my Ukraine, to make it better and to develop it. That's why I want to go home terribly, just terribly.
- How long has it been since you've been home?
- The last time I came at the end of April for five days. But you understand what five days it was - to meet with this person, to meet with that person, to help that person, to gather something. And I did not even feel those five days. I just fell into my bed and thought, "Oh, shit".
- Do you miss your bed in Germany, too?
- Everything is missing - the house, the bed, just what you have, the fact that you can wake up in the morning and just live your own life.
- But the news is often not very good. How do you then abstract it away? How does that affect you at all?
- I try not to think negatively. We are well aware that in order to make progress, we very often take a step back. As, in principle, in sports. When I have had three successful starts, the fourth is my step back in order to take two steps forward.
War is the same principle. We are well aware that no matter how much we want it, we are at war with a country that has total resources. And we need a lot of time. So in difficult moments like this, I just believe that today is a bad day, but in a little while our day will come anyway, and we will get our way anyway. Because our people are very strong, colossally strong.
It seems to me that only we can really resist and only we can really prove what the will is, what it is to live in a free and civilized country, without any occupant, without all these swamps, because you can't really call them any other way. So I believe in good, I believe that everything will be fine.
And after the Olympics 2024, no matter what the circumstances, I'm going back home, I want to be at home and do everything to improve the lives of Ukrainians and Ukraine in general.
- Isn't support for Ukraine waning abroad? I have already heard the opinion that Europe is getting a little tired of the war.
- I didn't feel it on myself. Even in Germany a lot of people help us and support us. And so far we haven't felt such a reaction in our address: How you've had enough of us, how much we can do. On the contrary, people support us; they ask us how and what is going on there, whether the situation has changed. They also watch the news, they are interested.
I was competing now in Oslo and I felt tremendous support. Frankly speaking, despite the fact that it's been so long since the war started, it was the best support I've had in this whole period.
The stadium was so supportive - I would get on the starting line and I would get goose bumps all over my body. And I wondered how I was going to make my attempt, because the emotion was overwhelming from how much people were with me in that moment. So in my social circle, I didn't feel world-weary about what was going on.
Only verified information in our Telegram channel Obozrevatel and in Viber. Do not be fooled by fakes!