Trending:
Ukrainian "hostage" of the Russians rests in the Maldives and gives his wife a salute: the footballer plays in Russia, despite the war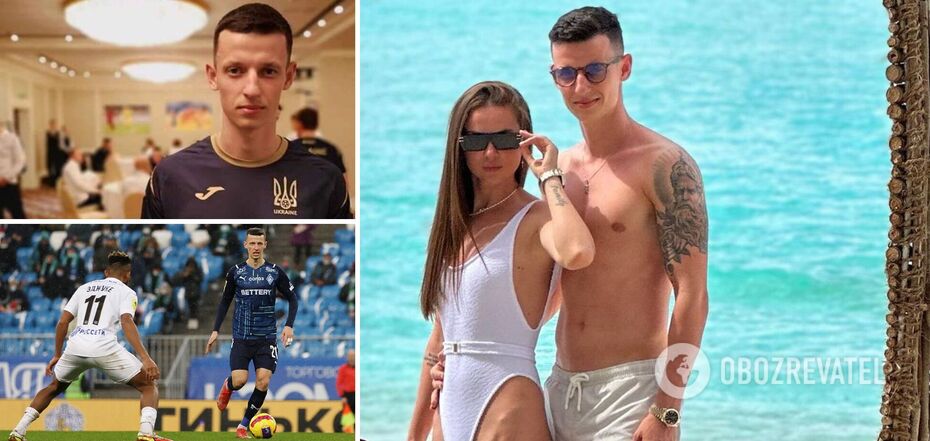 Former Ukrainian national team player Dmitriy Ivanysenya stayed to play at Krylya Sovetov despite the full-scale war in his country. When Rakitskiy, Ordets, and foreign legionnaires fled Russia en masse, a friend of the midfielder talked about the crazy fine for breaking the contract. Now Dmitriy spends the money he earned in Samara on expensive vacations and gifts for his wife.
29-year-old Ivanisenia was born in Kryvyi Rih and is a pupil of the local club "Kryvbas". At the youth level, he also managed to play for Zaporizhzhya Metallurg and Shakhtar Donetsk. From 2011 to 2016, he belonged to the Pitmen but did not play a single game for Shakhtar-3 and on loan to Mariupol Illichivets.
Dmytro also played for Mariupol and Dinamo Tbilisi. However, his career took a sharp turn after moving to Zarya in 2019. The midfielder became a leader of one of the best clubs in Ukraine and received a call-up to the national team. But in 2021 he crossed out all prospects of playing for the national team by moving to Russia.
Ivanisenya, who dreamed of playing in Spain and even got penciled in by Alaves, signed a contract in the summer of 2021 with Samara's Krylia Sovetov, which returned to the Russian Premier League. That is, there had been a war in eastern Ukraine for seven years, and Crimea had been under Russian occupation for the same amount of time, but that did not stop the midfielder from an agreement with a representative of the aggressor country.
Naturally, the key factor in Ivanniseni's move appears to have been money. According to media reports, he earns €490,000 per year in Samara, almost 41,000 per month. It was reported that his salary at Zara was several times less.
It should be said that in the first days of the full-scale war, Dmytro called on his social networks to stop the war in Ukraine and even published a touching video. And in early March 2022, there was information that he was going to terminate the contract with Krylia, but it did not go further than that.
In turn, Zorya player Artem Gromov defended Ivaniseni, assuring that he cannot terminate the contract with the Russian club, as the Samara management does not let the Ukrainian go. And he would have to pay a huge amount for early termination.
"A friend of mine, Dima Ivanisenya, is stuck in Russia. He can't get out of there because Krylya Sovetov won't let him break his contract. He's being billed so much for breaking his contract that he'll just have to sell himself piecemeal," Gromov said.
This situation looks very strange because FIFA allowed all legionnaires to unilaterally suspend their agreements with Russian teams first until June 30, 2022, and then extended it to June 30, 2023.
Taking advantage of this opportunity, many legionnaires and a number of Ukrainians, led by Rakitskiy and Ordets, fled from Russia. And Ivanisenya stayed. He took his wife on a vacation and returned to Russia. Except that because of a serious injury he was forced to miss most of the season. Midfielder did not play from July 22, 2022, to March 15, 2023. And in the middle of April again got an injury at training.
Ivanisenya does not talk about the war in Ukraine, instead, Dima about the state of the player decided to tell the head coach of Krylia, who refused humanly to part with the player, whose country is being destroyed by Russian soldiers.
"Dima is a wonderful person. He understands the complexity of his situation. He's been through a lot during this time. God forbid anyone to go through such a difficult stretch, plus the overlap of injuries, and unhappiness in the family. I just want him to get back to soccer as soon as possible. His overcoming the adversity of life is admirable," said Igor Osinkin.
Be that as it may, while the Russian occupiers are killing Ukrainian children with their rockets, Ivanisenya continues to perform quietly in Russia, go to restaurants in Samara, and pamper his wife, Yulia. The couple got married in February 2021 in Zaporizhia, where Zarya, for which the midfielder played, was based at the time, but together for about 9 years.
It should be said that at the beginning of the war, Yulia, who also played soccer at one time, called for Ukraine to stop the war, publishing a post on February 27: "Stop the war! No people in the world deserve it! No one deserves it! My beloved country, my family and friends, the Ukrainians."
And on her birthday on June 2, while on vacation in Dubai, she published a post in which she talked about her only wish.
"Today, on my 28th birthday, I have only one wish and a huge dream: our country should be free, integral, and live in peace! Even six months ago I did not think that I would make this wish, but the reality turned out to be scarier than all present! I do not need anything, except that our citizens, Ukrainians, our people, my country, and my family would live in peace, and that they would stop pretending to "protect" us! I love you all! I believe and know that this hell will end soon, and we will celebrate OUR victory together and in friendship," Skachkova wrote.
The only thing is that nowhere was there any condemnation of Russia, which started this "hell" in Ukraine.
And after that post, Ivaniseni's wife did not mention the war in Ukraine or Russian atrocities on our territory in social networks anymore. She and her husband returned to Russia, posting photos of their travels, and huge bouquets of flowers, and giving advice on proper nutrition.
Just last winter the family had time to relax in the Maldives, and Julia visited the Spanish resort of Marbella and the Italian fashion capital, Milan.
On March 8, while missiles were exploding in Ukraine, the soccer player decided to surprise Yulia with fireworks in her honor in Samara. The couple was celebrating the anniversary of their relationship.
"I quietly lay down to take a nap on the 8th, Dima calls and says 'Come to the window and turn on the camera'. The only thought I had in my head was that he would drive up to the house and signal me from his car or flash his lights... I just went to the window, waiting for the car and its headlights, as on the frozen river in front of our house Dima began to fire the salute. I'm freaking out. After 9 years of relationship, we have a great desire to surprise each other, and this is great happiness", - Julia wrote in a comment to the video on her Instagram.
This is the life of a Ukrainian "hostage" in Samara during a full-scale war in his country. Perhaps, of course, the footballer very secretly donates Russian salaries to the ZSU or buys drones for the front, but we know nothing about it...
Previously OBOZREVATEL told how the Ukrainian footballer plays in Russia after the bloody occupation of his native Izyum, and his wife built a business in Kyiv.
Only verified information in our Telegram channel Obozrevatel and in Viber. Do not be fooled by fakes!