Trending:
Provoked Ukrainian women and betrayed Lukashenko: facts about the dictator's favorite Sobolenko, who was running from questions about the war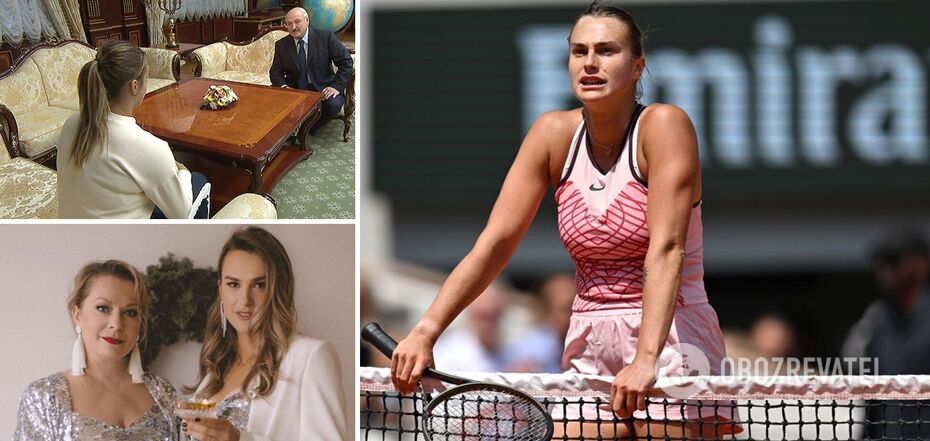 Sobolenko likes to put on a show
At the "Roland Garros"-2023, which is now held in Paris, the Belarusian tennis player Arina Sobolenko provokes the Ukrainians, but is afraid of talk about a full-scale invasion of our country and for several days she literally hid from the world press. And after the 1/4 final of the French "Slam" against Elina Svitolina hypocritically said that she now does not support the war and Lukashenko, although she is a favorite of the Belarusian dictator.
OBOZREVATEL gathered interesting facts from Sobolenko's biography, including about her connection to the self-proclaimed head of Belarus, who provided his territory to the Russian Federation for a full-scale invasion of Ukraine and continues to be an ally of the Kremlin.
1. BEHIND FATHER'S BACK. Tennis is a rather expensive sport. And in most cases you have to have either parents with deep pockets or sponsors who believed in the talent of the child. Arina came to the sport thanks to her father, who once drove by the tennis club and brought the girl to the courts at the age of six.
Sergei Sobolenko was a professional hockey player until the age of 19, but then the goalie had a car accident and had to put an end to his career, appearing on the ice only in amateur matches. After the injury Sobolenko went into business, as the tennis player herself said, but never specified which one. However, the Sobolenko family had money and the girl was used to comfort.
At the end of 2019, Sergey Sobolenko, who was a reliable support for Arina, died of transient meningitis: "Mom called an ambulance three times. Only the third time the ambulance took my father to the hospital, when he was almost clinically dead, they tried to save him, but a week later he was gone.
2. "SERVITUDE". For a long time on tour, Sobolenko played the sheep, and after the start of the war in Ukraine, she portrayed herself as a victim of journalists who kept her busy with their tricky questions. But the pampered diva's temperament is far from sweet.
The first trainer Elena Vergeenko told SB.by that Arina immediately stood out in the group not only for her physical characteristics - she was more powerful and faster than the others - but also for her character.
"I go into the gym, tell the kids to line up for warm-up. I see that Arina has pushed the others with her hands and feet and got up first. One training session goes by, the second... Every time it's the same: she pulls one away, moves the other with her elbow - and she's the first again. I told her: "Arina, it's a warm-up. It does not matter if you're fifth or tenth. And she answered: "I don't want to be fifth or tenth. Only the first!", - recalled the coach.
Also Vergeenko admitted that Sobolenko was the only student she had a hard time working with: "It was impossible to work together, although I had been coaching Arina for six years. Once I kicked her out of the training, the second time... I admonish her and she gives me ten words back. The staff heard it, it was unpleasant for me, too. And I went to work and thought: this is not a job, but some kind of psychological servitude!
According to Yelena, Sobolenko actually commanded the parents: "I think it was she who influenced them, not the other way around. For example, the championship of Belarus in tennis is taking place, and the parents of many athletes sit on the stands and support them. And Arina banned her own, I saw them as fans, maybe once. So already at a young age Arina liked to give orders".
As a result Vergeenko asked Arina's mother to find another coach for the 11-year-old: "There were tears and resentments. Arina Sobolenko is the only child whom I kicked out of my group during the whole time of my coaching".
Thanks to her father's opportunities Sobolenko was not left without a coach, but she was not going to change and continued to have conflicts with her mentors. Because of her difficult character, she broke up several times with the Russian coach Dmitry Tursunov, who eventually could not stand it and left. Although Sobolenko said that she herself stopped cooperating because the coach allowed himself not to attend trainings, not answering the phone and using foul language.
Belarus' Anton Dubrov is hanging in there. Although it remains Sobolenko's trademark to clash on the court with her own boxing. It is said that she takes her anger out on the team. Last year at Roland Garros, in a match against Frenchwoman Chloé Paquet, she fumed at her coach and sparring partner, "I play at this speed, the ball does not fly, I can not hit the court. Why are you laughing?" "Don't you know Arina?" - Dubrov justified her.
3. BOYFRIEND WITH A STICK AND Z. Sobolenko, who idolized her father, was literally drawn to hockey players. First she had a relationship with Lokomotiv Orsha and then Neman Grodno striker Matvei Bozhko, who also showed his own wacky nature by signing a pro-government letter in 2020 supporting Lukashenko after the rigged presidential election.
In 2018, the first joint photos with Bozhko appeared on the account of the tennis player. And in November 2019 the tennis player appeared on state TV with a ring on her ring finger. Sobolenko then veiledly replied: "It's just an engagement, there will be no wedding. I'm just a person who is a little bit against weddings.
And in 2020, the tennis player told how it really was: "I was a little depressed. And then my ex-boyfriend showed up. And I was like, 'Okay. Roughly speaking, it turned out that I took advantage of the man. I don't see myself with him. When I saw the ring, I said: "No!" I was told, "Well, at least wear it as a gift."
But Arina was not ashamed to break up the family of former hockey player Konstantin Koltsov, who is 17 years older than her. The athlete has three children, but Sobolenko is used to getting everything she wants.
About their relationship, rumors began to swirl in the spring of 2020, when Koltsov's wife Yulia announced the separation from her husband and in social networks angrily addressed to "girls who hang on other people's husbands" and noted the tennis player.
Konstantin then said that Sobolenko had nothing to do with the divorce, but in 2021 the couple stopped hiding.
By the way, Koltsov has been a member of the coaching staff of the Ufa club Salavat Yulaev, which openly supports the war in Ukraine, since last year.
At one of the Gagarin Cup matches, Bashirov, the general director of Yulaev, together with Khabirov, the head of Bashkortostan, and Nazarov, the prime minister of the republic, staged a political action, raising a banner with a picture of a Russian soldier, the letter Z and the Bashkir national hero Salavat Yulaev, who, incidentally, in the 18th century took part in Yemelyan Pugachev's rebellion against the Russian Empire. But who's there to learn history...
4. LUKASHENKO'S FAVORITE. Lukashenko celebrates all Sobolenko's victories as if they were his own, telling the local press about it. He even raised a glass to her trophies... The head of Belarus liked to meet with Arina and give advice on the game. There were rumors that she even received bonuses in hard currency from him. And in return the tennis player pleased the dictator.
Thus, after the scandalous elections of 2020, when Lukashenko, in spite of the opinion of the people, declared himself president of Belarus again, Sobolenko sided with her patron and signed a letter in support of him. In the meantime, Belarusians protesting, including athletes, were beaten, taken to detention centers, and even hanged for the edification of others.
Former head of Belarusan tennis Teterin praised Arina for "not confusing politics and sports, for her country exists, the flag exists". And then a smiling Sobolenko appeared close-up in Lukashenko's New Year video.
5. "IT'S NOT MY FAULT". Sobolenko, who claims to be the world's first racket, was regularly asked at press conferences to openly condemn both Russian aggression against Ukraine and Lukashenko's behavior in granting Russia its territory. But Arina always tried to get out of it, saying that none of the athletes supported what was happening, but it was not in their power to influence or stop it.
"It's really terrible because no one supports the war. Nobody! The problem is that we have to be loud about it. But why do we have to shout about it on every corner? That doesn't help at all," the tennis player declared.
"People's reactions, some different things made me feel really bad, to think that the events in Ukraine were my fault. But then I realized that I can't control the situation. I didn't do anything bad to the Ukrainian people, nothing. It's just not my fault," wailed the first racket of Belarus.
And on March 24, Sobolenko, at a press conference before the start of the Miami Open, touched on the topic of her relationship with Ukrainian players. According to the second racket of the world it was very difficult for her, as she had never faced such hatred in the locker room before.
6. HYPOCRITE IN PARIS. But the dictator's favorite put on a real show in Paris. Having beaten Ukraine's Marta Kostyuk in the first round, she acted surprised when the Kyiv woman did not shake her hand, and was clearly pleased when the audience booed Marta.
Then Sobolenko twisted like a frying pan when asked at a press conference about her support for the war in Ukraine and her relationship with Lukashenko. "I have no comment for you, so thank you for your question," the tennis player babbled.
And then, ignoring the rules, she twice refused to hold the press conference after the match. She said she was worried about her mental health. And the organizers of "Roland Garros" shamefully covered her.
After she defeated Elina Svitolina, Sobolenko set up a provocation for the Ukrainian player, expecting to congratulate her at the net. And she made an offended grimace when the young mother proudly walked past.
But the final point from Arina awaited everyone at the press conference, when she unexpectedly declared: "I don't support the war, that is, I don't support Alexander Lukashenko right now. I have already said many times that I do not support the war. I don't want my country to be involved in the conflict".
Apparently, Sobolenko's team calculated her reputation losses due to her connection with Lukashenko. And materials about the tennis player and the dictator had already started to appear in the European media - Polish and French. That's why Arina decided that it's more profitable to disassociate herself from him and, as the Belarusians write in the comments in the social networks, "it's better to have a house in Miami than a house in Minsk".
Earlier OBOZREVATEL reported that Svitolina responded to fans who booed her after the match with Sobolenko.
Only verified information in our Telegram-channel Obozrevatel and in Viber.Do not be fooled by fakes!