Trending:
"Our house was hit": the world champion from Irpin fled his home at the beginning of the war, did not train for a month and set a record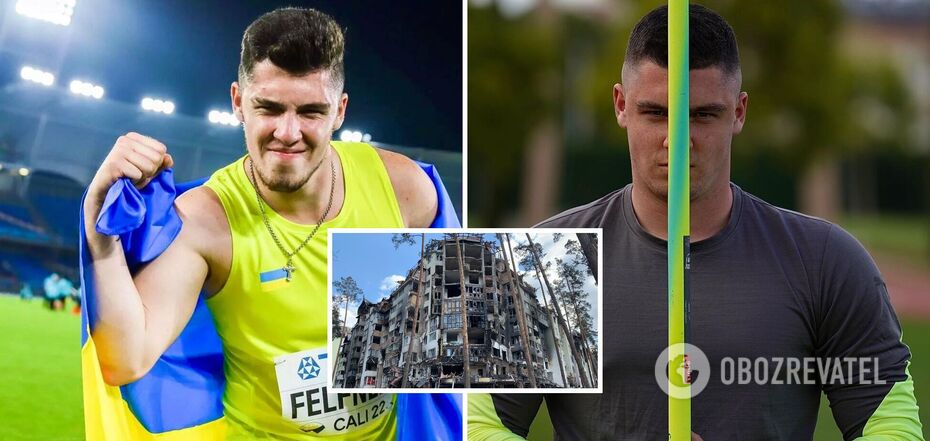 Arthur Felfner has no competitors in Ukraine today
Artur Felfner, a 19-year-old Ukrainian javelin thrower, met Russia's invasion in Irpin, where he was forced to flee with his family. But despite the bloody war in his own country, in 2022 the boy brought Ukraine gold at the World Athletics Championships under 20, set a national record (84.32 m) and is ready to fight at the adult level.
In a conversation with OBOZREVATEL on the eve of the 2023 European Games, Arthur recalled the first day of the full-scale Russian invasion, his motivation, and told how difficult it is to compete during the war.
- Of course, there are always difficulties. But now, when there is a war going on, it is very difficult to redirect all emotions into a projectile - into a spear. You think a lot about what is happening in Ukraine, watch the news. And it makes you a little bit confused. But we understand that we are acting and representing our country and defending it, so to speak, on our own front.
- What were your first competitions after the war started?
- After the start of the full-scale invasion of Russia, I hardly trained for a month, we stayed with my family and my friend in the village. And then my coach told me that we could go to a training camp in Portugal. We stayed there for a month, after which I immediately threw a personal best and a Ukrainian record of 83 metres at a competition in Germany.
I was very surprised because I had only a month of preparation. Maybe it was some kind of, you know, motivation that played a role - because there is a war going on in Ukraine, which has attracted all the attention. And that motivated me.
- Where did you meet a full-scale war?
- I am from Irpin, but I study in Brovary. So does my brother. On February 24, my mother called me and asked me to bring my brother home from school, because he could only be picked up with his parents. I took my friend with me, and we put a few things in my briefcase - a couple of T-shirts, socks, underpants. We didn't take anything else. And we went to Irpin. While it usually takes me about an hour and a half to get home, that day we drove for seven or eight hours. And it was very hard.
And at night, the shelling started, and my friend offered to move with my family to his place in the Khmelnytsky region. We stayed there for a month. Of course, we followed what was happening in Irpin. The news reported that the city was being shelled.
We have a group for the residents of our high-rise building and we got the news that our house was hit. But, thank God, it wasn't very hard, everything has been repaired now. And last summer we returned home.
- How has the sector's attitude towards you and Ukraine changed?
- Even the strongest rivals - world, European and Olympic champions - are very supportive of Ukrainians. We have been to meetings and talked to them. And they are doing everything they can to help us win this war.
- What do people ask you most often?
- Usually just, how are you? How's everything at home? Is everyone safe? Of course, they still don't fully understand what we have going on. But we, who know English, tell them all the time, both in person and in interviews, about the horrors in our cities, how missiles are flying, what the latest news is from home. And then they all understand. And when they watch on TV, they only see the shooting, but they don't understand what the Ukrainians are going through. So we try to pass this on to them.
- In less than two weeks, you will start at the European Games. Will it be difficult because Ukraine was eliminated from the top division in the team competition?
- It's okay, we are going to win. I believe that our preparation was successful, without any injuries. I think our throwing team is ready, and we will do everything to win.
- It's been a long time since Ukraine had any major victories in men's javelin throwing. I mean in adult competitions.
- In adult competitions, yes. Because the level in Ukraine is no longer the same. I mean, the results are quite weak compared to what they were 5-7 years ago. Back then, for example, we had three results for 78 metres. Now, if you throw 70 metres, it's a great result. You'll be second (smiles).
- How do you adjust then?
- At the Ukrainian Championship, you don't really want to show everything you can. Therefore, we can say that we restrain ourselves. And we prepare more for international competitions, getting in shape to show the results we expect.
- Do you feel that you are ready to take on world leaders at the age of 19?
- Yes, I do. I've been wanting to do this for a long time. And I think that this season, if there are no injuries, I will succeed. I believe that I will be able to compete with the strongest rivals - world and European champions and Olympic medallists.
On July 30, I will play in the Diamond League. There are going to be quite strong rivals and I will try to compete with them. We will do everything for this.
Earlier, OBOZREVATEL reported that the athlete who died in the battle for Bakhmut used to climb walls and create things out of nothing.
Only verified information is available in our Obozrevatel Telegram channel and Viber. Do not fall for fakes!