Trending:
'More than a she-wolf': Kharlan interview on reports from Russians, World Cup disqualification and support for the military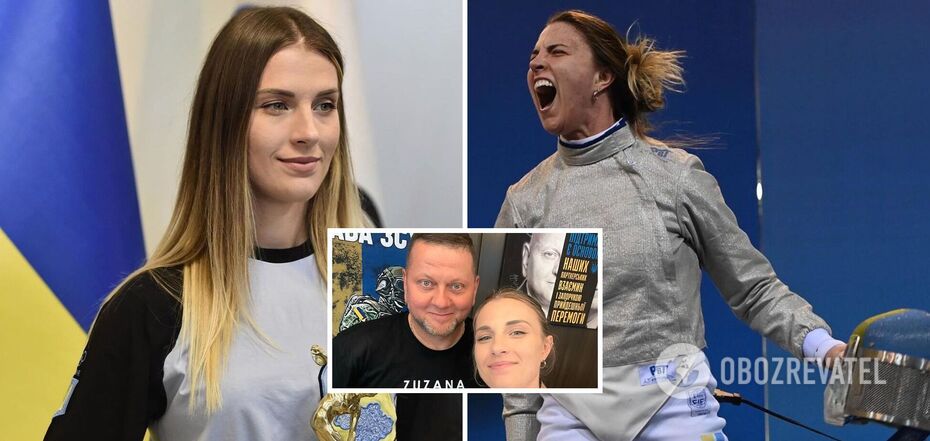 Olga Kharlan is touched by the support of the military
Olympic fencing champion Olga Kharlan, who did not shake hands with Russian Smirnova at the World Championships-2023 and received an undeserved disqualification, has become an example of how to treat representatives of aggressor countries. The titled saber fencer is in favor of an active fight with athletes from the Russian Federation, taking an example from the military of the AFU.
In an interview with OBOZREVATEL Harlan told about the first emotions after the black card, thoughts about the end of sports career, support of Ukrainian defenders and favorite and remembered what she was at the 2008 Olympics in China, when she snatched "gold" from the hosts of the competition.
- August 14 marked the 15th anniversary of the Olympic gold medal of Beijing-2008, which you won in the team. What is the radical difference between today's Olga Kharlan and the one who was on the track in China then?
- I have a very strong and powerful team, and we support each other. And it's all been going on ever since. For 15 years, the composition of the team has changed, but once the soul remains always, as well as the support. I've been lucky in that respect. And what has changed in me? Well, of course, over the years I have learned a lot of things in fencing, I have seen a lot of things. I have my own opinion about fencing.
Well, and over the years I have added some medals too (smiles). But at certain times I am very jealous of Ola, who was in 2008. Because I was younger, I had less on my shoulders. That is to say, not much was expected of me. So it's a little bit harder now in that respect, because there is a certain responsibility.
- Is there still that "wolf cub" inside? I remember, even some media even called you that because of your grip and intransigence.
- As you saw in the case at the World Championship, so it is probably not even a wolf cub anymore.
- A she-wolf?
- I don't even know... (Smiles). It's more than a she-wolf. My character is the same, I've even become more radical. I am forced to take more responsibility, to bear it and understand it well. Because when I went to this fight in Milan, I realized that now I represent all athletes, all fencers who, unfortunately, could not perform at this World Championship. You could say that I was lucky in quotes.
When everyone found out that I had received the order and I would fence, they started to write to me: Olya, come on, let you be lucky tomorrow, our fencers wished me luck. I thought: God, don't write to me, please, that's enough, I don't want to anymore. I didn't answer and it was honest: I don't want to answer because I need to tune in.
- Was the opinion to start anyway, regardless of whether the order from the Ministry of Sports to cancel the boycott of tournaments with the participation of Russians would come out or not? After all, in case of refusing to fence at the competitions in Milan, there were not many chances left to participate in the Olympics.
- The order had not been issued yet. And when Igor Reizlin went out to compete and hit a Russian, our fencing federation took him off. And they would have taken me off as well. But of course, I would like to go out and fence.
- In general, in your opinion, should you go out and compete with Russians and Belarusians, or should you avoid contact with athletes of aggressor countries?
- Different athletes have different opinions, but I have always been in favor of going out and showing my position by active boycott. And my case is such an example of how athletes can behave and how international federations should also get into the position of Ukrainian athletes and allow them not to push their hands.
Of course, the final decision as to whether to compete should remain with the athlete. To go out and fence, play or perform against the Russians is a very important and difficult step. But now we are in a state of war, and I see it as a struggle that our military is going through. For me, the example is the AFU fighters countering their enemy. And this is our frontline.
- When did you find out that the first opponent would be a Russian? Because in general it looked as if it was set up by someone: two leaders of the Ukrainian national team and immediately start fighting at the tournament with representatives of the Russian Federation.
- Yes, it was very strange. Of course, it can happen, but it looked very strange. And everyone was shocked. When I saw that Igor would fence with a Russian, I was like, "Well, that's it." And I just felt with my one place (smiles), that it will fall to me, it must be very hard and it's some kind of turning point.
And when I saw that I really had to fence with a Russian, I was upset at first. And then I thought: "If there is no order, I will not go out to fence anyway, what does it matter". But there was an order and I: okay, so I have to go.
- I understand that you didn't know much about this Smirnova, because even at the Russian Championships she was outside the top five?
- I didn't know who she was at all before the World Championships. Now everyone knows him.
- While she sat in that chair for almost an hour and tested, what were you doing?
- I was warming up because I had my next fight. I had already exhaled after that fight and saw myself in the next round of the tournament.
- Did you see how the representative of the Russian team gives the phone to the head of the technical committee of the competition, and just after that conversation you were disqualified?
- No, I already saw the video about two days after that. And then I didn't see anything, because I wanted to concentrate on the competition as much as possible and prepare for the next fight.
- It is known that there was a preliminary agreement with the Acting Head of the International Fencing Federation (FIE) that you will not shake hands with the Russian women - a greeting with weapons is enough. Vadim Gutzeit, the head of the NOC, also confirmed it. How was the reason of disqualification explained to you then, if everything was agreed?
- They said that I broke the rules. There were no explanations. But this black card was not given to me immediately, as it is stated in the rules. But only half an hour after the fight. It was very strange. And it seems to me that they themselves broke more rules than I did.
- What about that disqualification now? Has it been canceled or not?
- No, it has not been canceled, I still have a black card, but now somehow they do not confirm it. I talked to the president of our federation, and there is not this term of my suspension. But I'm not completely sure. The black card is still under consideration. The president of our federation Mikhail Ilyashev is dealing with it now. And I'm very grateful to him for that.
- You said that after this unfair disqualification you were even physically hurt, but the support of people helped you a lot. When did you see that in the media and social networks there was a wave in your defense?
- It was really hard for me. Probably such a state has never happened to me in my life. Already when I began to withdraw a little, my whole team came and was near me, one of the girls said, like, Olya there already Telegram-channels began to write. And I was sitting there and I didn't see, although I realized that my parents and sister might be writing on my phone. When I heard about the channels, I thought: okay, but now it's not about that at all.
And then I went to my Instagram and saw that I had 5000 subscribers in the first 20 minutes there. And then it was all over.
- In fact, it was an unreal emotion to have an entire country rise up in your defense. Even I couldn't hold back the tears.
- Yeah, I know. I think I left everything I could cry in Milan. I just didn't have any emotions left. I was very surprised when I was still fencing in team competitions, because everything that I could get out of me in those days was very hard.
And the fact that Ukraine united.... And not only sports fans or people who know me or follow fencing. It united all the representatives from many other spheres, the military. And the military in general... They thanked me for what I did, at a time when I go to bed every day and thank them. And now they're thanking me. For what?
But then I began to realize how the military felt and how they saw it. I felt incredibly uplifted: if I have people like that behind me and I motivate them, everything that was done was definitely not for nothing, and my whole career is not for nothing. And perhaps it should end that way, because these people need more motivation now.
And I think our citizens need to support the WSU even more now, both morally and, of course, with donations. Because it's hard for them, but they are holding on, and everything will be fine. Everything will be fine for all of us, but we need to make even more effort. And such cases as mine give them strength, support gives them strength, and donations add strength.
- Speaking of support. You live in Italy now, do you feel that the support for Ukraine is weakening a bit? That now it is not the same as it was at the beginning of the full-scale war?
- A little bit yes, it's going down and people don't look at it that way anymore. Some people already think that someone is benefiting from this war, and some people are fed up with it. But, you know, all of us Ukrainians are standing our ground. Of course, we talk about the war every day and watch the news. Unfortunately, sometimes it's just our war. But only sometimes. And I am very grateful to the partners who do support us. And very grateful to our president who, I don't know where, takes that strength.
I watch our president's interviews. The last one was to members of the Hispanic press. And I think it's very important. During this time after the full-scale war started and when "neutral" Russian Federation athletes were allowed in, I've been talking to foreign media a lot, because I think it's very important.
I really love our, Ukrainian media, but it is also important to spread our opinion. I had time to talk to American journalists, Japanese journalists, French journalists. Well, a lot of them came out to me.
I think it is very important to inform people who live three or six thousand kilometers away from us, so that they feel and understand, for example, why I did this. And I see from the example of our president that he is already tired, because, of course, physically it is very hard, but he is fighting and our fighters are fighting. And they motivate me, so going into this fight, I motivated myself by the fact that they are going forward and I have too.
- Was the decision of the International Olympic Committee to grant you a license to participate in the Olympics-2024, regardless of the selection results, a big surprise?
- Of course, the IOC decision surprised me a lot, because I didn't count on it and I didn't know it was possible. That is, that you could be given a wild card to the Olympics for something like that, I had no thoughts. Honestly, I was already done with my career.
I was done with my career after I got disqualified. Because I was also suspended from the team event at the World Championships. I didn't know how long I would be given this black card - maybe six months. I mean everything. These were my opinions. But when the whole country stood up for me, I still had such thoughts, but I felt better. I thought: I guess it must be like this, and all this was not in vain.
- Your favorite Luigi Samele, who criticized the current system in fencing, supported you very selflessly and at the same time touchingly. But I saw that not everyone in the Italian media supported him.
- Yes, he was not supported, and he also thinks it's somehow part of the fact that this topic is clear to us, and there - it's clear to some and not to others. Butter my boyfriend Gigi is also directly in all of this. He feels my reactions, checks the news every day and helps out. He is also experiencing this war, although he came to Ukraine before the full-scale invasion. But he really liked it here and it is hard for him to watch it all. And so is my coach.
When the whole situation with the black card at the World Cup-2023 happened, we were there in the directorate. Among my coaches there is both Ukrainian Yevhen Stetsenko and Italian Andrea Terenzio. And Andrea went and proved to them why I did that. So he was also completely Ukrainian at that moment. And what he said to me afterwards...
Andrea understood that it was a risk and that I would not fence anymore because of my refusal, etc. But he said: "Olya, I'm totally on your side, you did everything right. I know that you simply could not do otherwise. And I'm totally with you." So I know that I did what I had to do.
- We have all seen the reaction of colleagues from Russia to your case - Olympic champion Egoryan threw mud at you. Are there any adequate people left there, with whom you once crossed paths at competitions, perhaps you contacted some of them and expressed your support?
- Maybe there are, but they are silent. By the way, I can say that ordinary people from the Russian Federation wrote to me and supported me. They wrote that we are from Russia, but we are on your side, you did everything right. So there are people who are adequate and understand everything, but they cannot say it publicly. Of course, I didn't respond to that, but I took into account that I have support there too.
But, of course, the majority, I don't know how many millions there are in the Russian Federation, sided with their athlete, they support their president, who kills people. What else is there to talk about... And if some sportswomen believe that they should be respected, I think that at this point it is better to keep quiet. Because since the beginning of the full-scale invasion, they've been silent, and now they've opened their mouths. Well, it goes something like this...
- At the end of 2021, just a couple of months before the full-scale war, your big and frank interview came out, where you admitted that you plan to devote more time to your personal life, and in sports you have achieved almost everything possible. And I got the impression then that you weren't really looking forward to the 2024 Olympics.
- At that time I was tired very much. First of all, it was after "Dancing with the Stars", and secondly, the 2020 Olympics were still on my mind. But somewhere in my heart I knew that I would still go to the next Games, because I am stubborn even to myself. I also knew that there were people who would push me to go. I think they will push me to go to LA as well. But I'm not going to push myself any further. I guess that's it.
I don't know, but I hope Paris will be my last Olympics. But we'll see. Right now, I just want to get through this year. Above all, I want my country to be safe. And my family too. Those are my most important wishes. And the Olympics are secondary, you know. But if we go to the Games in Paris, we should live this moment and enjoy the Olympics, not survive there.
And, of course, the war changed my plans. Because now I don't even think three months ahead, just a month at the most.
Only verified information from us in Telegram-channel Obozrevatel and Viber. Do not fall for fakes!