Trending:
"I've already finished my career." Kharlan reveals how she reacted to World Cup disqualification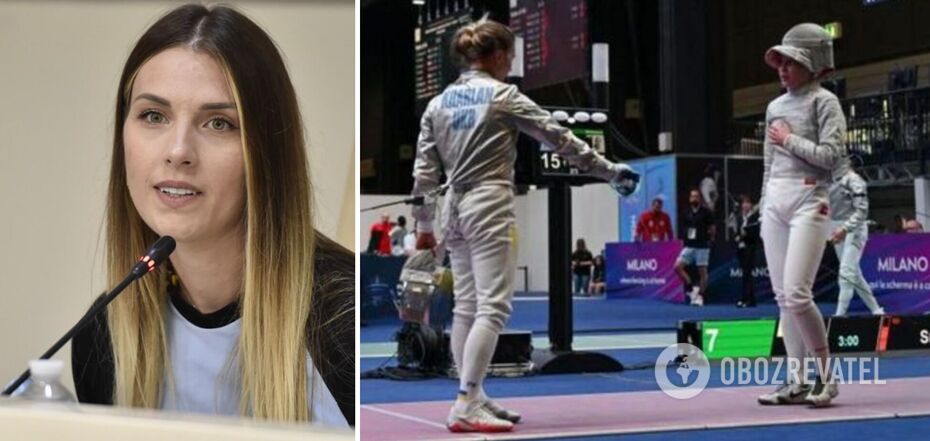 Olga Kharlan was broken after her disqualification, but the support of Ukrainians motivated her
Olympic fencing champion Olga Kharlan has admitted that after being disqualified from the 2023 World Championships for refusing to shake hands with Russia's Smirnova, she had mentally ended her career. That's why she was very surprised by the decision of the International Olympic Committee and its head Thomas Bach to allow the Ukrainian to participate in the 2024 Olympics in Paris regardless of how the qualification ends.
In a commentary to OBOZREVATEL, the titled sabre fencer said that in difficult moments, she was helped by the support of her team, the military and all Ukrainians who stood up for Olga. But the IOC's decision to allow her to compete at the 2024 Olympic Games shocked Kharlan.
"Of course, the IOC's decision surprised me a lot, because I didn't expect it and didn't know it was possible. I mean, I had no idea that they could give you a wild card to the Olympic Games for something like that. To be honest, I was already finishing my career," the athlete said.
"I had already finished my career after I was disqualified. Because I was also suspended from team competitions at the World Cup. I didn't know how long I would be given this black card - maybe six months. That is, that was it. Those were my thoughts. But when the whole country stood up for me later, I still had those thoughts, but I felt better. I thought: maybe this is how it should be, and all this is not in vain," Kharlan said.
Olga confirmed that after her suspension from the competition, she had a hard time psychologically, and it took her a while to recover from what she went through at the World Championships in Milan.
"It takes more than a week and a half to get out of this state. Now I am happy because I am in Ukraine and will see my family, and I feel very good because I have come home. Of course, the support that I felt then and feel now, especially from our military, is just in my heart," said the sabre fencer.
"When the military thank me, I don't know how to respond. I answer them: "It is I who thank you. I thank you for being here and for fighting. Looking at you, I tell them that I was fighting too. But there is something that the military would never do either - shake hands with their enemy. That's why I did what I had to do, it's what I felt," Olga emphasised.
Kharlan added that she was greatly helped by the support of her team, the federation and the entire Ukrainian nation, which gave her the strength to go on.
As a reminder, following the World Cup scandal, the International Fencing Federation initially disqualified Kharlan, but suspended its decision the next day.
Earlier, as OBOZREVATEL reported, Kharlan told us for the first time what she was afraid of in the scandal with the Russian woman at the Fencing World Cup.
Only verified information is available on our Obozrevatel Telegram channel, Threads and Viber. Don't fall for fakes!