Trending:
Dynamo and the Surkis Brothers Foundation hand over seven off-road vehicles to the military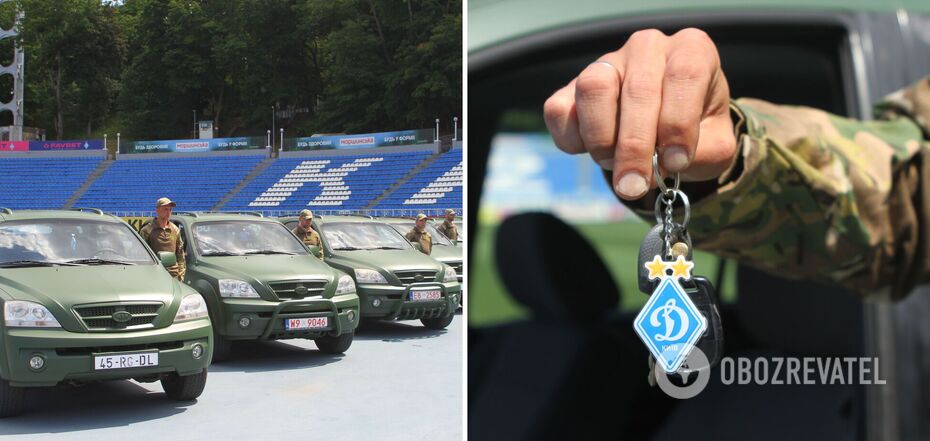 Dynamo supports the Armed Forces of Ukraine
Russia's war of aggression in Ukraine has been going on for sixteen months now, and FC Dynamo Kyiv continues to help our military defend our homeland and bring victory closer. The club timely provides them with everything they need, promptly responds to requests from various units and formations, and meets the urgent needs of our soldiers by financing the transfer of items to the front for the Armed Forces of Ukraine. After all, assistance to Ukraine's defenders during the brutal war unleashed by Russia must be provided on a regular basis.
FC Dynamo Kyiv and the Surkis Brothers Foundation send the necessary goods to the frontline day in and day out to make it easier for our defenders to fulfil their responsible task of defending our country.
On June 6, our club handed over seven vehicles to the soldiers of the joint assault brigade "Lyut" of the National Police, which is part of the Offensive Guard, to perform important tasks at the front. The event took place at the Valery Lobanovsky Dynamo Stadium. The keys to the SUVs were personally handed over to the military by Dynamo President Igor Surkis, who then spoke about further plans to help our defenders:
- We do not stop helping our soldiers for a minute. We have already delivered cars and food, in particular, we have delivered more than ten tonnes of goods to the frontline, and we will continue to do so. Soon we will receive more vehicles, which are currently undergoing final preparations, and in a week or ten days, when all formalities are settled, they will be delivered to our soldiers. This is very important, we are doing this for our victory. Everyone is helping now: volunteers, ordinary people and presidents of other football clubs. FC Dynamo Kyiv and the Surkis Brothers Foundation have been helping since the first days of the war and will continue to do everything possible to support our defenders in the future.
The Lyut brigade asked us to provide them with as many vehicles as possible: not one or two, but 10-20. We sent some of them earlier, seven SUVs have arrived now, two vehicles will be delivered very soon, and we have also purchased vehicles that are in the process of being painted in Poland. I am grateful to our Polish friends for taking on this work, because the vehicles must be a certain colour.
This unit orders the vehicles they need. And they are needed at the frontline all the time, because today they have a car, and tomorrow it is gone, and they need a new one, because the guys have to move around. Today they also said that they also really need trailers to put certain equipment on, so we will deal with this issue. We need to act very quickly, we can't stretch it out for months, because every day we bring our victory closer. We are waiting for our offensive, and, once again, FC Dynamo Kyiv and the Surkis Brothers Foundation will do everything possible, everything in our power to bring our victory closer.
In addition, after today's news, I held a meeting, and we also decided to support the people of Kherson who suffered after the racists blew up the Kakhovka hydroelectric power station, which caused a humanitarian catastrophe of enormous proportions. This is a tragedy, a real terrorism on the part of the Russians against civilians. We will help people with construction materials, food, accommodation, etc. Together we must contribute to our victory.
Roman Polishchuk, deputy commander of the joint assault brigade "Lyut", police colonel, also took the floor and thanked Dynamo football club for the SUVs:
- It is not the first time that FC Dynamo Kyiv and the Surkis Brothers Foundation have helped our Lyut brigade with both food and vehicles. Today, we have received seven vehicles, and we plan to deliver the rest in the future. They are essential for performing combat missions in the field, where vehicles often break down. In fact, they are like consumables. These vehicles are very useful in the course of missions.
It should be noted that Dynamo Kyiv continues to make its contribution to a large and extremely important process - bringing our Victory closer and ending the war as soon as possible.
Only verified information is available in our Obozrevatel Telegram channel and Viber. Do not fall for fakes!