Trending:
"Cleaning weapons calms me down": a fitness trainer with the call sign "Hooligan" destroys the enemy in Donbas as part of a mortar battery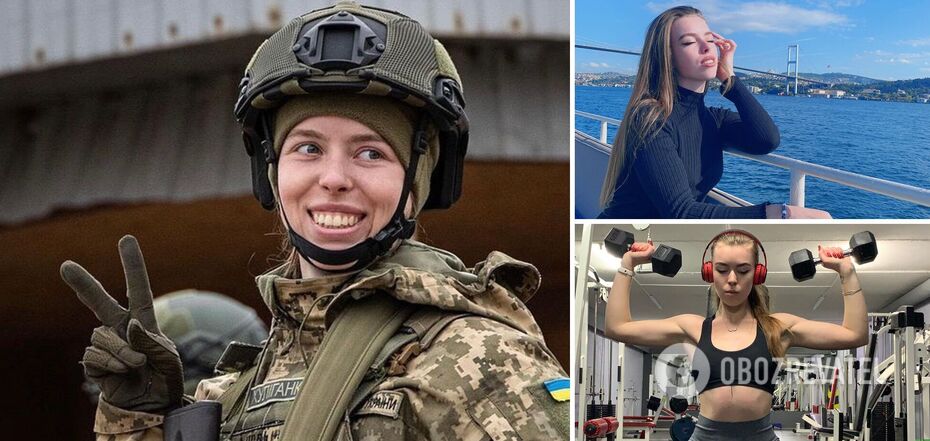 Vladyslava went to the military enlistment office three weeks before the start of the full-scale war
Before the full-scale war with Russia, 23-year-old Vladyslava from Kyiv worked as a fitness trainer, but in February 2022 she joined the military and became a mortar operator with the 127th Battalion of the Territorial Defence of the capital. Currently, the Ukrainian defender with the call sign "Hooligan" is on one of the most dangerous parts of the frontline in Donetsk Oblast, where she is destroying the enemy she has hated since 2014.
In a conversation with OBOZREVATEL, Vladyslava told us how she joined the TRO secretly from her family, why she decided to work in a mortar battery and refused to wear make-up, and whether the Russian occupiers manage to intimidate the Ukrainian Armed Forces with their atrocities.
- Vladyslava, what was your attitude to the information about a full-scale war with Russia on the eve of the invasion? Did you prepare in any way in advance?
- I understood that something would happen in the spring, so on February 4, 2022, I went to the military enlistment office to sign a contract. And I remember that on February 24, at 6:30 in the morning, I was already calling the military enlistment office and asking where and when to go.
- Didn't your family try to talk you out of it?
- When I decided to sign a contract for military service, of course, I didn't tell my family anything, because I knew they would refuse me and no one would support such a decision, so I did it secretly from my family. The first weeks, of course, they cried every day, but then they accepted my choice. And now they are very proud of me.
- Did you have any special training beforehand? Have you ever held a weapon in your hands?
- Back in my school days, which were the 10th and 11th grades, instead of studying medicine with girls, I went with the boys to the pre-conscription training for young people (Defence of the Fatherland), where once a year our teacher brought an AK-74 rifle, a magazine and a pack of ammunition so that we could study its tactical and technical characteristics, assemble and disassemble the rifle for a while and learn how to load the magazine.
- Why did you decide to become a mortar operator?
- I wanted to serve in a combat unit, not just sit at the headquarters. Besides, I'm just a fidget spinner, I can't sit in one place for long, so I need a job that keeps me moving.
- How much does good physical fitness help you at the front?
- Physical fitness is needed more than ever, many tasks require physical endurance, so everyone needs training at all times.
- You look so fragile in the photos, so I wonder how much your weapon weighs and what is the longest distance you have had to cover with it?
- You know, ammunition and additional ammunition weigh the most. And the distance varied. Many factors affect the distance covered, so it's hard to say for sure.
- Were you injured during your service and how quickly did you return to your comrades?
- Fortunately, I was not injured.
- What hotspots did you have to visit?
- I can say that it was everywhere in the Donetsk region where we fought.
- What was life like at the front? Where did you have to live? What was the hardest thing to get used to?
- We lived in many places. Often, there were simply no conditions, so we did everything with our own hands, arranged the most necessary things to have a place to sleep, cook, etc. I quickly adapt to any conditions, so a few days were enough to get used to the new place of residence, as we say: "Where you leave your backpack, there is home".
- What helps you to keep going in the most difficult moments? Perhaps there is something you do that calms you down or, on the contrary, invigorates you?
- Memories of my family and friends help me to hold on. It gives you strength. And cleaning my weapon calms me down.
- You have the call sign "Hooligan", why did you choose it?
- This is what the chief of intelligence called me on 24 February, when we worked in the same office. And this call sign stuck with me. And when I moved to a new unit, everyone also called me that.
- I know from talking to female soldiers that, unfortunately, not everyone takes women in the army seriously. Have you ever had to prove that you can fight as well as the guys?
- There is discrimination against women in the army, but now girls are proving more and more that we are not the weaker sex, and in some ways even stronger. And over time, we will be treated on an equal footing with men.
- When you return from the front, what is the biggest contrast?
- People. This is the biggest contrast. It's hard to join the civilian population, hard to communicate with those who live in peaceful Kyiv and don't even think about the fact that life is completely different 700 kilometres away. So during the rotation, you can't find your place anymore and you want to go back to the battlefield, no matter how it may sound.
- It seems to me that wherever a woman is, she still tries to take care of herself. In the photos, our military women are all well-groomed beauties, despite the very difficult conditions. Is there time for grooming or even cosmetics during the war?
- When you have time and opportunity for personal hygiene, it's heaven! Usually it was just wet wipes or a dry shower. And that was enough. There was no particular desire to use cosmetics, because it was not practical.
- What was your impression of the enemy during your service? A lot has been written and said about how they are poorly trained and have no leadership. And now the vast majority of them are just bums. Maybe you've seen and talked to prisoners, what do they say?
- They don't tell civilians much about the enemy, and they don't need to know it. My opinion and impression of them has not changed and will never change, even after our victory. My hatred for these people started back in 2014. Although I was still a high school student at the time, I already clearly understood who they were and that they would not do me any good.
And now, after the full-scale invasion and all their crimes, I have once again been convinced of my opinion about them and will never give up my position to destroy the enemy who brought so many deaths, pain and grief to our home.
- I understand that this is a painful issue, but we recently saw a video of the execution of an AFU soldier. It was written that in this way the enemy is trying to intimidate our fighters, exerting psychological pressure. But what effect do these atrocities and videos really have on Ukrainian defenders?
- These are just more provocations and attempts to break our morale and instil in our minds a lack of confidence in the Armed Forces. But we understand that they will not succeed.
- I think we all have our own plan after the victory. What would you like to do first?
- First of all, I would like to visit my family. And not just for one or two days, but to stay with them for at least a week or two. And then to our Crimea - to the sea.
Earlier, OBOZREVATEL told how doctors in Dnipro spent six hours saving the life of a famous rower who was wounded at the front.
Only verified information is available in our Obozrevatel Telegram channel and Viber. Do not fall for fakes!