Trending:
While the Russians were spreading fakes about his death: Zaluzhny appeared at the wedding of the Ukrainians and congratulated them on their celebration. Photo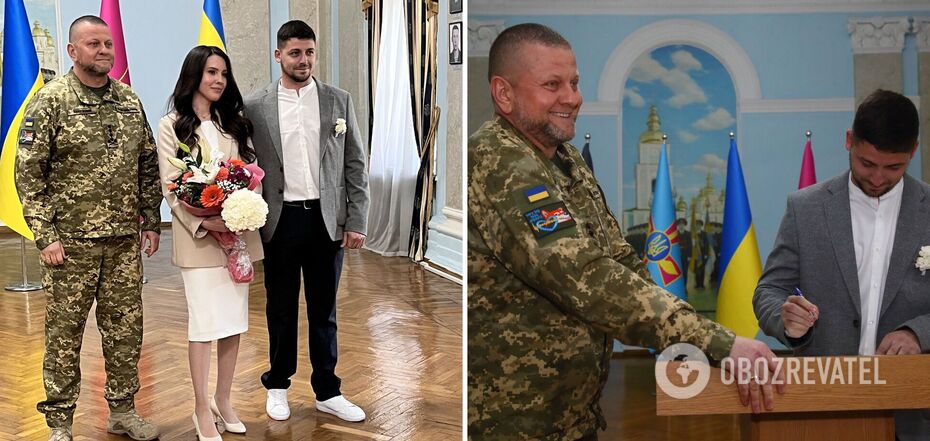 Zaluzhny visited a wedding of Ukrainians
The commander-in-chief of the Armed Forces of Ukraine, Valery Zaluzhny, unexpectedly appeared at the wedding of Ukrainians Maxim Alexeyev and Ekaterina Polishchuk. Meanwhile, disinformation about the death of the Ukrainian general was actively spread in Russian infospace.
A photo from the ceremony attended by Zaluzhnyi was published personally by Alexeyev's newly wedded spouse on Facebook. He noted that he dreamed that such a special moment of his life was carried out by a special person.
"And it worked out: Valery Fedorovich agreed. Now in the beginnings of our family stands a legendary man who is an example to me personally and, I'm sure, to everyone else. And now for our family as well. So very grateful, Valery Zaluzhny, for agreeing and making this moment truly incredible, "- wrote Alekseev.
At the same time, even the day before, Russian propagandists began spreading fakes about the liquidation of Zaluzhny. Deputy Defense Minister Anna Malyar refuted the information about the alleged death of the commander-in-chief and other representatives of the top commanders the day before.
"There have been three reports during the week. Everyone is alive," she assured.
The representative of the ministry explained that usually such messages have several purposes:
- psychological influence on the person himself;
- Demoralization of the Ukrainian army troops;
- a short-term haip on the topic to raise the spirits of one's own troops.
The reason for the Russian disinformation was Zaluzhny's refusal to participate in the NATO Military Committee conference on May 10 because of the difficult situation at the front.
As OBOZREVATEL reported:
- Zaluzhny previously met with the Inspector General of the Bundeswehr, General Karsten Breuer. During the conversation, Zaluzhny told the distinguished guest about the situation at the front and how the Ukrainian Defense Forces were preparing for a counterattack;
- Zaluzhniy in a telephone conversation with US Joint Chiefs of Staff General Mark Milley discussed the situation on the front. The AFU commander-in-chief informed his colleague about the preparations for the upcoming counteroffensive of Ukrainian forces.
Only verified information in our Telegram channel Obozrevatel and in Viber. Do not be fooled by fakes!