Trending:
Kuleba: If Ukraine is not taken into NATO after the war, it will be suicide for Europe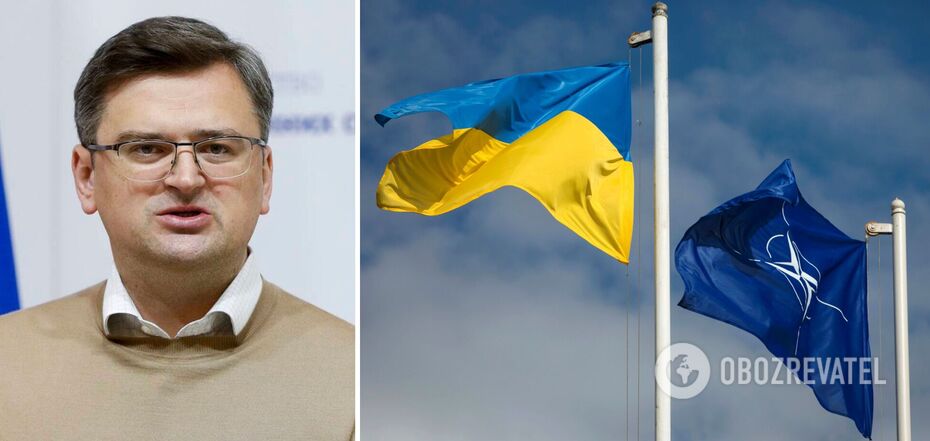 Foreign Minister reminded what the Alliance summit in 2008 had led to
Ukrainian Foreign Minister Dmytro Kuleba said that not admitting Ukraine to NATO after the end of the war with Russia would be suicide for Europe. Otherwise, the door to Russian aggression against Europe and the Euro-Atlantic space will remain open.
Kuleba said this in an interview with Axel Springer on Friday, July 1, in Kiev. "After the war is over, it would be suicidal for Europe not to accept Ukraine into NATO, because it would mean that the option of war would remain open," he said.
Kuleba added that Ukraine's accession to the Alliance is "the only way to close the door to Russian aggression against Europe and the Euro-Atlantic space as a whole," when Russia "would not dare to repeat this experience again.
The Ukrainian foreign minister warned against an outcome similar to the decisions of the NATO summit in Bucharest in 2008, when Germany and France denied Ukraine and Georgia membership in NATO.
"Do not repeat the mistake Chancellor Merkel made in Bucharest in 2008, when she vehemently opposed any progress towards Ukraine's NATO membership," Kuleba said.
According to him, the summit decision then opened the way for Putin to invade Georgia and ultimately, the illegal annexation of Crimea.
"If Ukraine had been accepted into NATO by 2014, there would have been no illegal annexation of Crimea. There would not have been a war in Donbass, there would not have been this large-scale invasion," the minister said.
At the same time, he rejected statements by Hungarian Prime Minister Viktor Orban that it was allegedly "impossible" to defeat Russia, saying he was "tired of refuting all these nonsensical arguments."
"It's all just blah-blah-blah," Kuleba said.
According to Politico, Kuleba's comments came ahead of the NATO summit in Vilnius, when Kyiv's bid for membership is expected to be "the most politically sensitive topic of discussion."
"Ukraine hopes to get a commitment from the defense alliance regarding its NATO aspirations, but a number of allies say that serious discussion of Ukraine in NATO can take place only after Russian troops are no longer on its territory," the article says.
As OBOZREVATEL reported:
- On the eve, Ukrainian President Volodymyr Zelensky said that Ukraine will not make territorial compromises for the sake of joining NATO. According to him, the Alliance puts forward many proposals, but not all of them are suitable for the Ukrainian sovereign power.
- According to Zelensky, by the NATO summit in Vilnius Ukraine wants to show results on the battlefield. However, the price of every kilometer is measured by the lives of our soldiers.
- At the summit in Vilnius in July, Kyiv hopes to receive specific decisions on its further integration into NATO, as well as security guarantees for the period of preparation for membership.
- Read more about the discussions in the West about Ukraine's membership in NATO in our story.
Only verified information in our Telegram channel Obozrevatel and in Viber. Do not be fooled by fakes!