Trending:
"No need for theatrical gestures": Putin makes cynical statement on talks with Ukraine and mentions the US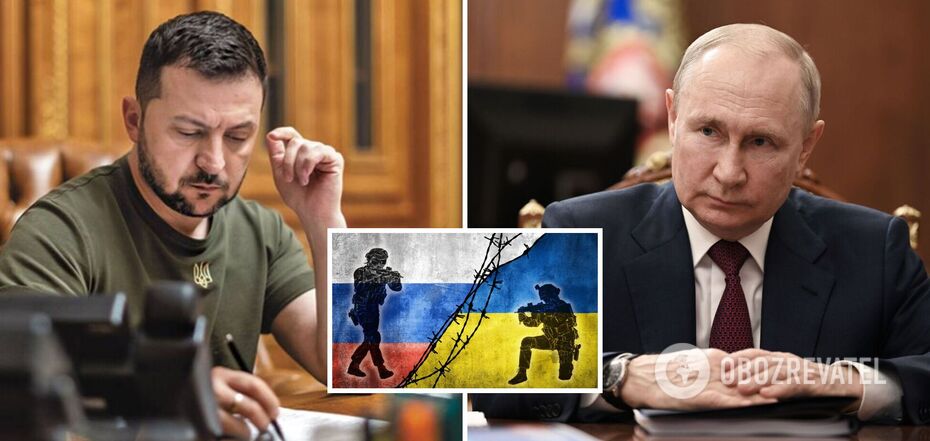 Volodymyr Zelenskyy, Vladimir Putin
Russian President Vladimir Putin has once again made a series of cynical statements about the war against Ukraine and about peace talks, which, judging by the constant references, are very much wanted in Moscow. The Russian dictator condescendingly praised the West for wanting to end the war diplomatically and advised Kyiv to abandon its earlier decision not to negotiate with representatives of the Putin regime.
Putin also delivered a "message" to US President Joe Biden, who had previously stated that Russia had already lost the war with Ukraine in strategic terms, and repeated several times that Washington should take back the ATACMS missiles and other weapons. The dictator's statements made during his visit to China are being replicated by Russian propagandists.
Judging by Putin's speech in China, Russia is increasingly in need of negotiations. However, the dictator attributes this desire to Ukraine and its Western partners.
In particular, judging by the Russian president's rhetoric, he is offended by Kyiv's refusal to negotiate with him and his dictatorial regime.
"If the Ukrainian side wants a real negotiation process, it should not be done with some theatrical gestures. The first thing to do is to cancel the decree of the President of Ukraine that prohibits negotiations. We hear now that they seem to be ready for some kind of negotiations," Putin said.
He also could not resist his favorite Russian propaganda song about the West's "fatigue" with Ukraine. Putin sees the desire of Western countries to avoid further bloodshed and destruction as weakness.
"The responsible persons in charge of foreign policy, who recently spoke about the need to inflict a strategic defeat on Russia on the battlefield, have already started to speak with a different voice, and are already saying that these problems should be solved through peaceful negotiations. This is the right transformation, a transformation in the right direction. Mr. Borrell is already talking about this. I commend him for that. But this is not enough. We need to take concrete steps. If there is really a desire to negotiate," the dictator began to dictate his terms.
At the same time, when he spoke about Ukraine's alleged desire to "negotiate" with the aggressor state, Putin eloquently scratched his nose.
But most of all, judging by Putin's speech, he was alarmed by the US supply of the first long-range ATACMS missiles to Ukraine, which the day before, on October 17, caused heavy losses to the occupiers during their first use to strike airfields in the temporarily occupied Berdiansk and Luhansk.
Thus, Putin really wants Washington to take away all the weapons provided to Ukraine, and for US President Joe Biden to come to him for a "tea party with pancakes."
"Why supply ATACMS? Let them take back ATACMS and all other weapons. Let him (Biden - Ed.) sit down for pancakes, come to our tea party. If the war is lost, what are we talking about? Why ATACMS? Ask him this question. It's ridiculous!" Putin said.
Earlier, it was reported that Europe officially recognized Putin as an illegitimate president, a dictator, and suspends all contacts with him. The relevant resolution was adopted by the Parliamentary Assembly of the Council of Europe (PACE) on October 13. The resolution also calls on all countries to comply with the International Criminal Court's warrant and arrest the Russian president.
Only verified information is available on the OBOZ.UA Telegram channel and Viber. Do not fall for fakes!