Trending:
Woman lost 50 kilograms after being afraid of health problems: three simple rules helped her. Before and after photos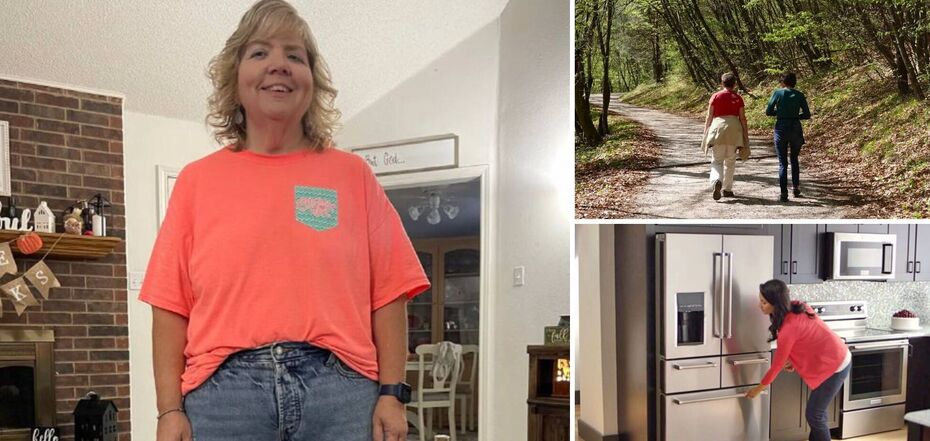 Angie after losing weight
Angie Estes, a 53-year-old American woman, has been struggling with weight all her life. Before losing weight, she weighed 133 kilograms, but due to her deteriorating health, she realised that she needed to pull herself together. Estes has four children and two grandchildren, with whom she could not play on the floor or go for long walks because she was overweight.
Angie had been on diets since she was 20, which did not bring any results: she would lose weight and then gain it back, reports Today. "I was walking around the room and knew that everyone thought I was fat. And when I sat on the bench, I realised that I was taking up a lot of space. The doctor told me that if I didn't lose weight, I wouldn't see my grandchildren grow up," the American woman admitted.
The mother of many children managed to lose 52 kilograms and now weighs 81 kg. However, her goal is to lose another 10 kg. Angie was helped by just three rules that she followed while losing weight.
1. Reducing calories
"I was probably eating 3,500 calories a day. I didn't concentrate on what I was eating, I just ate whatever I wanted. So I significantly reduced my portion size. I started eating about half of what I used to eat before," the woman said. She also replaced some of the foods her family often eats with healthier ones: cauliflower instead of white rice, zucchini noodles or whole grain noodles instead of pasta, low-carb or low-calorie bread instead of white bread.
2. Walking
At first, Angie couldn't walk for more than 10-15 minutes. She started walking after work in her neighbourhood in North Texas. She often talked to her mother or father on the phone to pass the time. Estes gradually added time to her walks, and once she was able to walk a mile (1.6 km), she started walking faster. At first, she completed the mile in 21 minutes, and soon set a new record of 16 minutes. The woman bought a treadmill, which she uses to exercise in bad weather. She also tries to take about 10,000 steps every day.
3. Support from family and friends
Every day, the American hears nice words from her colleagues, relatives and friends, which motivate her even more. "Not a day goes by when someone doesn't say: 'Wow, you look great,'" she said. She tries to encourage other people who are losing weight because she knows how much it means to her.
Earlier OBOZREVATEL wrote how not to gain weight during the cold season. An expert from a London college advised to stop eating 3-4 hours before bedtime and take cool baths.
Only verified information is available in our Obozrevatel Telegram channel and Viber. Do not fall for fakes!