Trending:
Woman buried in an M&Ms coffin she designed herself: unusual photos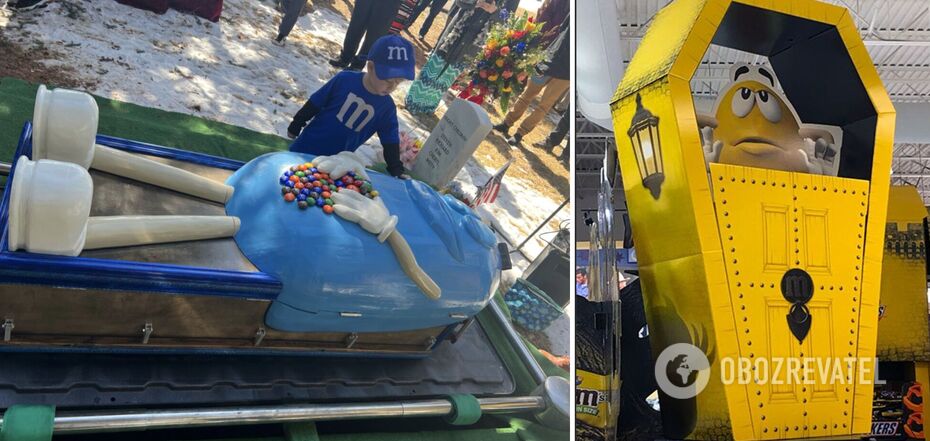 A coffin made of M&Ms
In many cultures, death marks a new beginning. The end of earthly life symbolises the transition to another, better world.
Death is inevitable, and is there any point in fearing the inevitable? Perhaps this is what Mary Esther Stokes Martin Haley thought, who, not wanting to make a tragedy of her passing, wanted to be buried in a coffin made of a giant M&M candy. The details were reported by Esquire middle east.
Roundtree's family buried the old lady in a large blue M&M candy. The grandson of the deceased, Scott Roundtree, noted that this was Mary Esther's will, and moreover, she personally designed the coffin project, long before her death.
A giant blue coffin in the shape of a candy bar was made and stood in Mary Esther's house for years. She made the unusual coffin with her son Tom.
"She (Mary Esther) designed it many years ago. She liked the way it turned out. It stood in her house for years," Scott Roundtree, who posted a series of photos of the coffin and the funeral, wrote on TikTok.
On the day of her farewell, Mary Esther's whole family wore T-shirts and caps with M&Ms on them. The grandmother was very fond of this candy brand and even collected a collection of small M&Ms toys.
Mary Esther Stokes Martin Haley was born on April 29, 1936, and died on February 2, 2023, almost three months before her 87th birthday.
Earlier, OBOZREVATEL published an interesting study, according to which scientists came close to unravelling what a person feels at the moment of death.
Subscribe to OBOZREVATEL's Telegram and Viber channels to keep up with the latest news.