Trending:
Which garden plants bloom all summer long: time to sow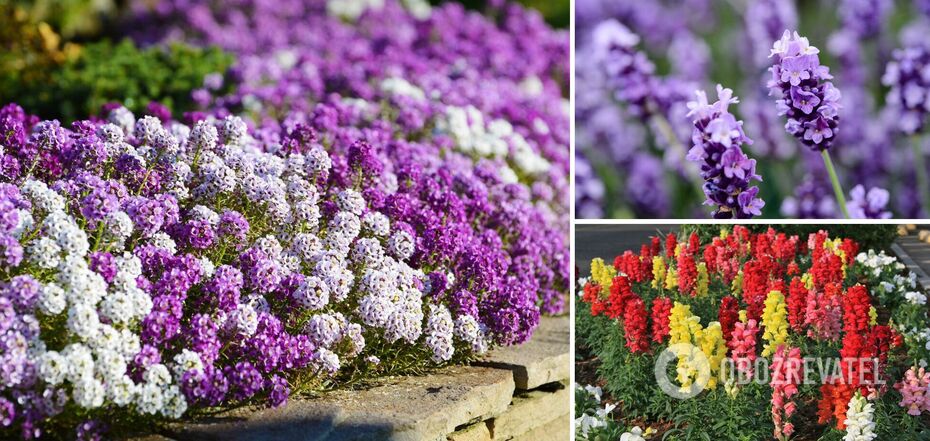 Alisum, lavender and rotis bloom until the first frost
The weather outside is getting warmer and warmer, which means it's time to take care of not only your garden but also your flower garden. If you want the flowers you plant now to delight you with blooms all summer long, choose one of the species that bloom the longest.
OBOZREVATEL has compiled a list of such plants. These are rather unpretentious flowers that will thank you for minimal care with real beauty.
Annual alyssum
This plant blooms with a real carpet of bright colours and smells wonderful. It covers the ground abundantly and produces many bright inflorescences. Now is the time to plant alyssum for seedlings. The flower can be transplanted into the ground when it is warm enough to be kept warm all day long.
Verbena
The flower is pleasing to the eye with its blooms right up to the frost, and it does not require any special care. Now verbena can be sown for seedlings, and in May it will be possible to transplant it to a flower bed or garden. It is better to leave 25-30 centimetres between the plants so that they feel free and bloom well.
Snapdragon
The flowering period of this plant begins in June and ends in November, and you can mix flowers of several shades in a flower bed. There are two ways to sow snapdragons: outdoors, when the soil is warm enough, and through seedlings, which can be started right away. Just mix the seeds with sand, sprinkle with soil and don't forget to water.
Annual phlox
Another plant that blooms from June to November. You should grow phlox through seedlings and sow them now. Since it is a very light-loving plant, it is best to place the seed pots on a sunny windowsill.
Cleome
In addition to its beautiful flowers, this plant has an extremely pleasant scent. However, tall flowers need space, so it is better to plant them in the ground at a distance of 50 cm from each other. Now is the time to sow cleome seeds for seedlings.
Lavender
Lush lavender bushes will not only bloom luxuriously all summer, but also repel various insects - flies and mosquitoes - with their aromas. At the same time, its smell is especially pleasant for humans and has soothing properties. Seedlings sown now can be transferred to the open ground when the spring frosts are over.
Petunia
This flower looks great not only in flowerpots on balconies and verandas - it grows lushly in flower beds and gardens. It's time to sow the plant in pots for seedlings. To do this, it is enough to pour the seeds on the surface and lightly cover them with soil. When the night frosts have passed, it's time to move the petunia outdoors. It will quickly cover the distance between the shoots of 30-35 cm with green mass and flowers.
Previously OBOZREVATEL told about indoor plants that bloom the longest.
Subscribe to OBOZREVATEL's Telegram and Viber channels to keep up with the latest news.