Trending:
When and how to prune clematis: autumn tips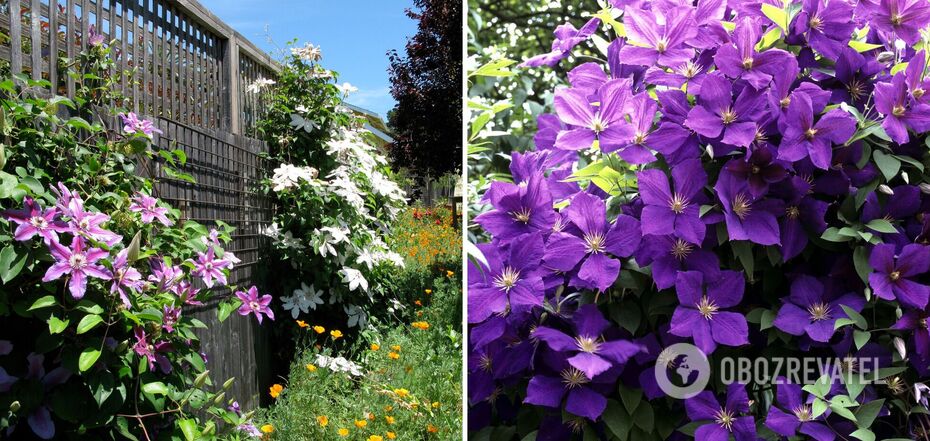 Correctly trimmed clematis will bloom extremely lushly next year
Beautiful garden creepers can turn your garden into a real paradise. But you can ensure lush flowering in the new season if you prune the plant in time and correctly before winter.
OBOZ.UA found out what experienced flower growers advise in this regard. First of all, they advise you to determine which group your plant belongs to and take care of it in accordance with the characteristics of this group.
Princes, mountain clematis, and tangut clematis
These species are united by the fact that they begin to bloom in early spring and release buds on last year's shoots. So they don't need much pruning. What can be done is to remove dried, diseased and damaged branches and, if desired, cut healthy ones by about 20 cm to improve the shape of the plant.
Florida, Lanuginoza, some Patens and woolly clematis varieties
If your clematis is able to bloom twice a year, it can be classified as the second group. In spring, flowers appear on the branches left over from last year; new shoots are needed for summer flowering. That's why autumn pruning means that the branches of the plant are cut in half. In order to achieve a second flowering, in summer, the clematis is cut to about a third of the length of the branches.
Variegated clematis, as well as the Jacquemart and Viticella varieties
The third group is loosestrife, which blooms in the second half of summer. Of course, for this purpose, they have time to develop young shoots in the current season. Therefore, in the fall, it is recommended to cut off these varieties completely. For the next season, only part of the stem is left, 10-15 cm high from the ground. With the onset of heat, a young clematis will develop from it.
Earlier, OBOZ.UA told you how to properly cover garden roses for the winter.
Subscribe to the OBOZ.UA channels in Telegram and Viber to keep up with the latest events.