Trending:
What treats shouldn't be given to dogs: it can even be fatal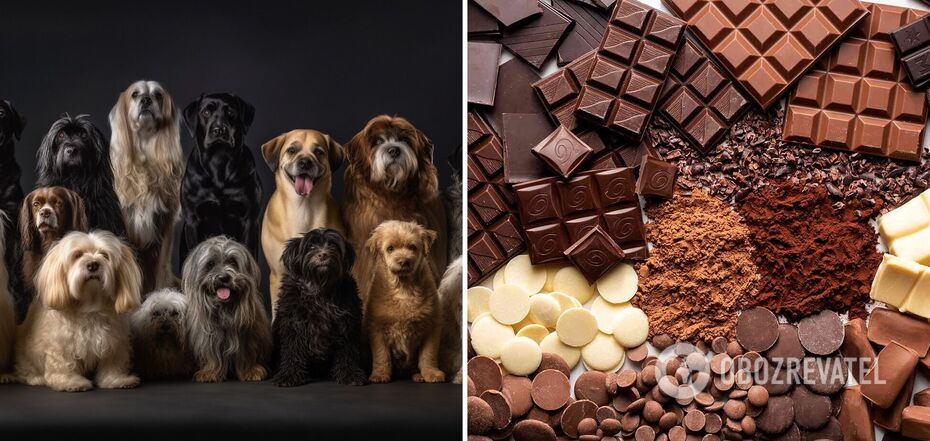 One piece of chocolate can cost your pet its life
When we think of a dog as a full-fledged member of the family, we can sometimes treat it like a human and thus unintentionally harm it. The simplest example is treating your dog to something that poses no danger to humans, but can even kill your four-legged friend.
A simple example is chocolate. According to the Daily Mail, citing researchers, the number of dog poisonings from this sweet treat more than doubles twice a year.
This happens during the holidays - Christmas and Easter. These days, it is customary to give each other small chocolate presents, and many people leave these treats unattended, where they can be eaten by a dog. And some even treat the animal with a piece themselves.
Why chocolate is dangerous for dogs
The cocoa beans used to make chocolate contain a substance called theobromine. This is an alkaloid that can be toxic even to humans, but its concentration in chocolate is too low for us. While for a dog, this content is more than enough to cause vomiting, diarrhoea, and even death.
That's why dog experts urge you to store chocolate so that the dog can't get to it. The dog's sense of smell does not tell him which food is dangerous, so the animal can eat something that will greatly harm him. And the treatment of theobromine poisoning in an animal is expensive and complicated. Therefore, it is better to simply avoid the problem and give your dog special treats designed for this purpose. In particular, in the form of a chocolate bar, but with a healthy composition.
What other foods can be dangerous for dogs
In addition to chocolate, veterinarians advise avoiding the following foods in the diet of dogs
cakes;
buns;
dried fruits - especially cranberries and raisins;
nutmeg;
garlic;
onions.
Inedible plants can also be dangerous. In particular, flowers:
lilies;
daffodils;
hyacinths;
tulips;
bluebells.
The bulbs of these flowers, like chocolate, contain alkaloids that are toxic to dogs. They can also poison your pet with glycosides.
How to recognise poisoning in a dog
Veterinarians advise you not to hesitate and seek help immediately if you notice your dog showing symptoms of poisoning. These include:
excessive salivation;
nausea;
vomiting;
diarrhoea;
heart palpitations;
rapid breathing.
The sooner you provide qualified assistance to the animal, the higher its chances of recovery.
Earlier, OBOZREVATEL told what cereals are dangerous to feed dogs.
Subscribe to OBOZREVATEL's Telegram and Viber channels to keep up with the latest news.