Trending:
What plants to choose for the garden arch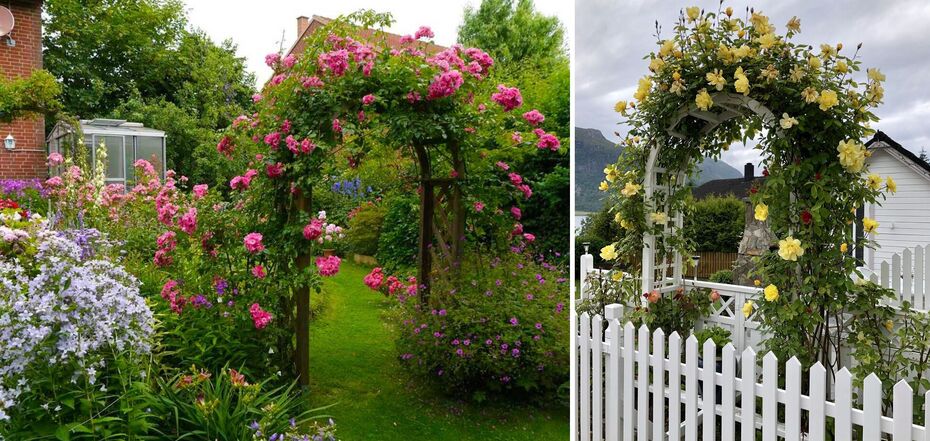 Climbing plants
Arches create a special and refined atmosphere in the garden. Experienced gardeners advise considering its material and making sure that the structure is strong enough to support the weight of a climbing plant even after several years.
The garden arch with flowers will become a real decoration of the yard. The best plants were reported by Homes and Gardens.
Japanese wisteria
The graceful cascades of wisteria will create a striking display from late spring to mid-summer. Japanese wisteria is quite hardy and will grow well both in full sun and shaded areas. The plant needs a sturdy structure, as the plant will sprawl each year. Pruning for more abundant flowering is a must.
Clematis
Clematis are unpretentious and colorful plants, a firm favorite for garden arches. They will bloom beautifully on willow frames. Specialists offer to equip a willow arch with your own hands: weave willow twigs and pre-moisture them for flexibility. Clematis will need a little time to bind around the frame, but they do not need to be tied up. They also go well with other plants, such as roses.
Climbing rose
The climbing rose is a versatile choice for the garden. Gardeners recommend choosing Iceberg, Constance Spry or Wollerton Old Hall. To create additional support for rose stems, choose an arch with inset lattice panels. You can also connect several garden arches along a path to create a flower tunnel effect.
Sweet peas
Arches covered with fragrant peas will fill the garden with a fresh fragrance and add brightness to the landscape. These plants need good vertical support and frame. A woven willow arch is an ideal choice, as you can also reinforce the sides of the arch and give the peas plenty of horizontal support to climb. Plant seeds directly in the ground or buy young seedlings and tie them to a vertical support.
Honeysuckle
Honeysuckle grows wild among shrubs and trees, winding around the branches. It is one of the best curly plants for arches. Thread the young stems through a support and the plants will continue to grow upward without additional help. Honeysuckle loves sunny spots. Light pruning of shoots in winter or early spring will improve flowering next season.
OBOZREVATEL also shared what to fertilize roses with so that they bloom lushly all summer.
Subscribe to OBOZREVATEL channels on Telegram and Viber to be aware of the latest events.