Trending:
What not to do in a cemetery: folk beliefs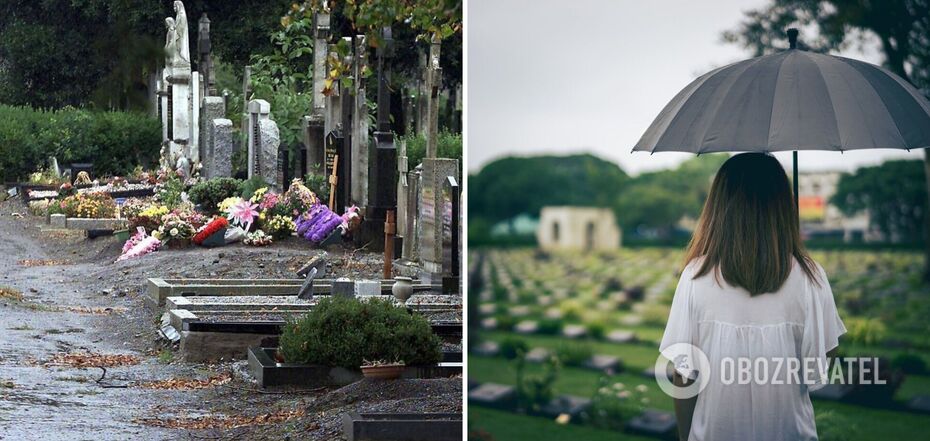 For centuries, people have had a special attitude to visiting cemeteries
A cemetery is a special place for every person, regardless of their religious views and beliefs. The resting place of the dead is highly respected in all cultures. Therefore, there are many rules for visiting cemeteries. As well as superstitions about it.
OBOZREVATEL deepened the topic and talks about the most common traditions and superstitions. And also about how and when it is correct to visit the dead.
When not to visit the cemetery
It is popularly considered a bad idea to come to burial sites after sunset. The dark time of day is considered the time of the dead, so this way, you can disturb someone's soul and even bring trouble on yourself.
Major church festivals are also considered to be days of the living. As a rule, each of them has a special memorial day. It is often called Parents' Saturday. And after the celebration of Easter, a whole week is devoted to visiting cemeteries, it is called Radonitsa or Provody (Farewells).
Bad time to visit the graves is also winter. It is believed that by the footprints in the snow, some soul may get out of the cemetery. Therefore, if you do happen to be in the winter between graves, try to cover the path. It is also believed that it helps to walk around a cemetery three times.
Things on tombs
Flowers, lamps and other things that are left on the tombs in memory of the deceased, according to belief, belong to the deceased. Therefore, nothing should be taken from the deceased. This even applies to items that have fallen on the grave by accident. The only way to safely "return" such an object is to exchange it for a few coins.
Allowed presents
In Slavic tradition, it is necessary to bring gifts to the deceased - for holidays, anniversaries or simply by the call of the heart. This can be different kinds of bread, sweets (candy, cookies, etc.), alcoholic drinks or cigarettes. The main rule is to bring what the deceased loved while alive. Some of what you bring should be eaten or drunk at the grave, and some of it should be left as a goodies.
Manifestations of emotion
Despite the fact that the cemetery is considered a place of grief, it is not recommended to show excessive emotions in this place. Neither great despair, much less joy. It is believed that the souls of the dead may pity the person who has lost its balance and take him with them.
Photos on graves
It is believed that taking pictures of living people in a cemetery is not allowed. This can inflict disease, including serious illness, and death on those who appear in the frame. It is also not recommended to take pictures of other people's graves. Disturbed by such action, the soul may begin to take revenge.
Can one turn around?
Folk omens do not recommend that departing from the cemetery turn around while doing so. Thus it is possible to take the troubled soul with you. And then this spirit will live near you at home.
Earlier, OBOZREVATEL told why you should wish health to the one who sneezed.
Subscribe to OBOZREVATEL channels on Telegram and Viber to keep up with the latest news.