Trending:
What iPhone models you shouldn't buy in 2023: their popularity in the past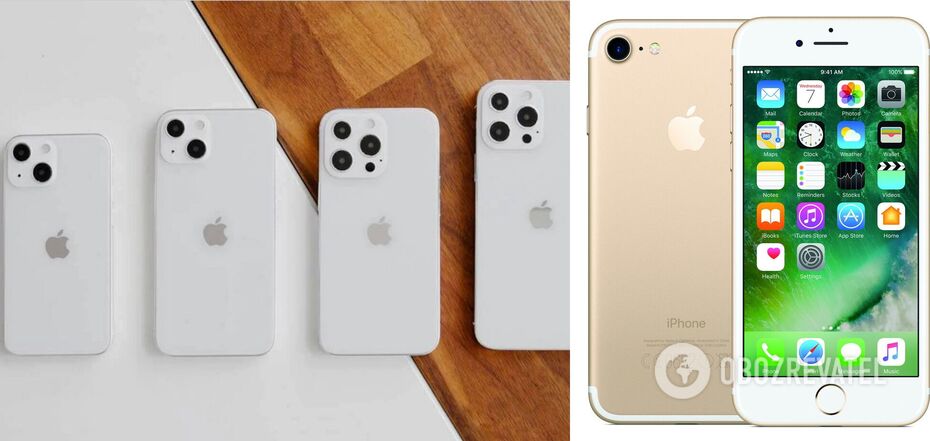 Which models are no longer worth buying
Over time, smartphone models become outdated, so experts do not advise buying them even at discounted prices. Batteries wear out, system failures occur, software becomes outdated - the list of problems is long.
Some iPhone models should definitely not be bought - their popularity is over, and now they bring only problems to their owners. Read the OBOZREVATEL article to find out which iPhones we are talking about.
iPhone 8
This iPhone has a very significant drawback - the battery capacity. 1800 mAh is a very small figure for smartphones. For comparison, Android models usually have 4000-5000 mAh. Is it worth overpaying just for the brand, given this functionality?
Since the release of the iPhone 8, users have complained that the battery power is not enough even for a full working day. One of the disadvantages of the iPhone 8 is its glass back cover, which is too fragile. According to statistics, most iPhone 8s on the secondary market have chipped or broken back covers.
The iPhone 8 Plus has already improved battery performance. 2700 mAh is still more than the iPhone 8, but it is still not enough for the gadget to work properly. When buying an iPhone on the secondary market, please note that the batteries in these models are very likely to be "killed".
iPhone X
This model was called a failure back in 2017. Six years have passed, and the iPhone X has not gained popularity.
And the thing is that back in 2017, users massively reported problems with Face ID. In the iPhone X, manufacturers used OLED matrices, but it didn't take long for iPhone owners to complain about its burnout.
The uncoated steel frame deteriorates very quickly from scratches.
In addition, it is not worth buying an iPhone X on the secondary market because the software is already outdated, and, according to experts, there will be no updates in 2023.
iPhone 7
The iPhone 7 was incredibly popular a few years ago. However, recently, iPhone 7 users say that the system hangs a lot. Probably, the iPhone processor simply does not pull the updated versions of iOS.
Please note that the iPhone 7 was discontinued in 2019.
Earlier, OBOZREVATEL told how and with what to never clean your iPhone.
Subscribe to OBOZREVATEL's Telegram and Viber channels to keep up with the latest news.